From this quick and simple tutorial, we will figure out what is WordPress landing page SEO optimization, how to create content and titles hierarchy and promote your website in the streets of cyberspace.
We will also learn why and how to create robots.txt and sitemap.xml files.
For most web developers, whether they are only making their first steps or are experienced specialists, the process of the landing page building doesn't constantly include WordPress landing page SEO tools. It happens because SEO optimization has always been shrouded in mystery a little bit.
However, SEO optimization comes as important as building a layout. Let's figure out how to combine Gutenberg and SEO!
Follow the WordPress Landing Page Tutorial on SEO Optimization
First and foremost, let's briefly figure out what is WordPress landing page from tutorial on SEO optimization. We can call it a method of making website content, from text to images, friendly both for visitors and search engines. SEO also helps to increase organic traffic and attract the target audience.
What does the target audience mean? Let's imagine that you turned to Google to find WordPress courses. No doubt, you'll be disappointed, if you find topics about car renting among the search results. To make your page show up for the correct search request, you need SEO.
If your one-page website answers people's questions, they are more likely to become your subscribers or customers
Firstly, let us explain the difference between WordPress landing page SEO best practices and optimization for a typical website with a few pages. You should be careful with the amount of content. As the website consists of one page, you can't assemble a huge semantic core or a lot of images.
That is why to increase your page quality rating and have more benefits, you'll need to combine Gutenberg and SEO optimization. Catch our simple tools and tips!
Keywords for SEO as Landing Pages Best Practices
One of the most important things while building an optimized landing page, is to work for the most successful result, not for the quickest. Therefore, all the process starts with a keyword analysis.
Think of yourself as a client, who is looking for services that you provide.
Build a list of keywords based on what people type in the search field.
Search them and check the amount of search query.
The fewer results you get, the better the keyword is for promotion and beating the competitors in this topic.
Also, you have to look at the related searches and Google suggestions. You can also check the list of related keywords in the special web tools.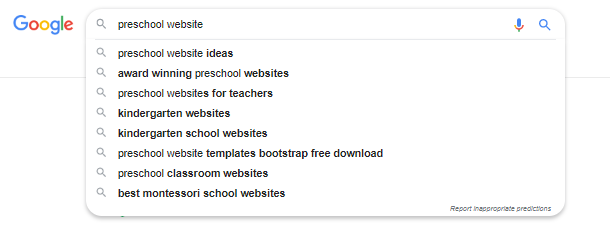 Don't forget, that we are talking about WordPress landing page SEO optimization, so 10 keywords will be quite enough. In addition, it is important to remember that the keywords must be closely related to each other.
WordPress Landing Page SEO Examples
Now let's explore quite an important part of WordPress landing page optimization – on-page SEO. We can roughly divide this topic into the three parts: headers and body text, meta elements and images. To build strong SEO you need all of them, so pay your attention to the following information.
The main headline on your landing page should be in H1 tag
You should always include the most important keyword in your H1 heading. However, don't forget about the sub-headers, which should start from H2 to H6 tags and also contain some keywords.
Sub-titles should certainly describe the content of your landing page. Moreover, each of them is also good for breaking up the text and building a clear structure.
Talking about body text, it should give visitors a piece of information about your services. Don't overload the text with too many keywords. It is better to make it more natural by adding additional elements like item lists or quotes.
Build SEO optimized meta title, description and URL
Despite the common thought that metadata works only for search engines, it has an impact on people as well. Meta Title should be clear and short. It is aimed to describe the advantages of your page and what people can get from it. What is more, there are some search engine tools for this title:
it should be no longer than 60 symbols;
the most relevant keyword should be at the beginning;
expand your click-through rate by using structures like "e.g. 5 tips for SEO".
The URL is an address landing page, which should contain the main keyword too. A meta description text should be no more than 16 symbols. It is a detailed piece of information on the concept of your landing page. This part of metadata may not have a keyword, because you mostly write it for the visitors.
Take care about the images
You may wonder how are the images related to the SEO landing page optimization? However, an image plays a very important role in website building. First and foremost, an Alt text is a description of an image, which may contain some keywords. As for the image itself, poorly optimized ones may slow your website down.
WordPress Landing Page Tutorial on Linkbuilding
So-called backlinks are links on your website, that lead to other websites. You have to use them to build a bridge between resources and your site, in order to gain both the visitors' and search engine trust. If other resources refer to you, your landing page will get excellent attendance.
Some search engine specialists pay for the links or prefer to cheat from time to time. However, we recommend you play it safe and follow our simple advice.
One more tip is to refrain from a large number of links. Remember that a link from one relevant website is more weighty than a couple of links from a website with a bad reputation. However, it is very important to gain links to other sources by writing guest posts.
In addition, you can add a rel="nofollow" to the link tag in HTML code, which refers to your partners. It closes the link from being indexed and thus counted as a referral to the third-party domain from your website.
Don't forget to pay attention to social links, which are extremely important for gaining visitors and engaging them to see more of your services.
These were our simple and useful SEO landing page optimization tips. We hope you like this tutorial! Stay with us to learn more about the most efficient WordPress SEO plugins and SEO-optimized WP themes that may contribute greatly to the optimization of your landing page.