ZeGuten has put on weight! Yes, your favorite extension for the flagship Gutenberg editor was recently refreshed. Now, it provides more Gutenberg blocks than ever before. As for today, we propose you Tabs WordPress widget. Let's begin!
Firstly, ZeGuten team has analyzed the requirements of modern users to add all the enhancements correctly. You can check it on your own working with new blocks. Each of them is extremely helpful for the effective creation and customization of content. The jam is ZeGuten Block. It allows everyone to style pages professionally.
Undoubtedly, your friends won't believe that you customize your blog on your own. And, if you run a web studio, this tool will let increase the number of projects. This is real, as polishing pages with ZeGuten is absolutely time-saving. Plus, your clients will enjoy quality.
Tabs WordPress Widget Close-Up
First of all, Tabs WordPress widget is a genius tool for taking full control over your pages. Tabs themselves are irreplaceable in the modern web design as they help save space. Due to this, they suit different websites of any complexity.
As for the Tabs WordPress widget for Gutenberg, it's here to answer your questions. For example, do you think tabs creating demands special skills? Now, add and customize diverse tabs in the handy drag-n-drop editor even quicker than before. Of course, without coding! Or, do you consider tabs hopelessly boring? Well, in general, it depends on website design. That's why the tool that is in our focus may be just what you've been searching for.
The Tabs Block Properties Overview
So, forget about unattractive, slowly-loading tabs! Rely on the updated ZeGuten Tabs Block and explore its functionality:
Items Count – with the Tabs WordPress Block, you can specify the number of items. This one-click action is available in the "Items Count".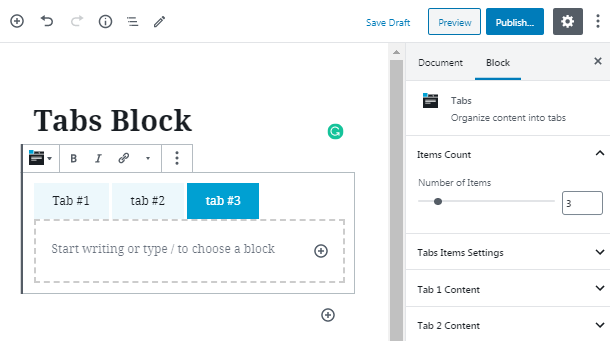 Tab Inner Align – get a hold of this feature to place the icons the way you prefer.
Tabs Items Settings – fill in tabs with your content and customize its colors (for text, font icon, border, and background). You can set different colors for normal, hover, and active positions.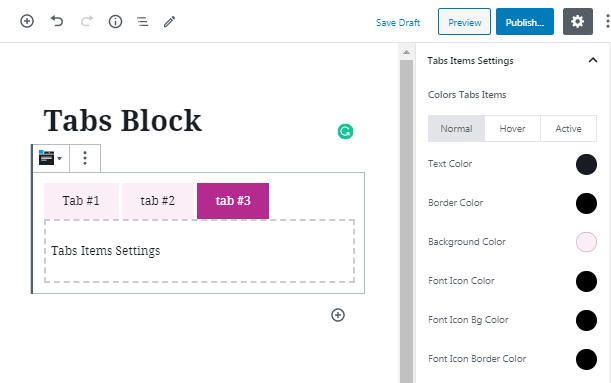 Items Text Labels – make all the necessary changes to your items' text labels. Adjust their typography styles, text size, and color. That is a good way to improve the whole look of a page.
Tabs Layout Settings – place your tabs vertically or horizontally, due to pre-made layouts, tweak up them for mobile devices. As well, pick out background color, border style, set paddings, blocks shadows, and margins.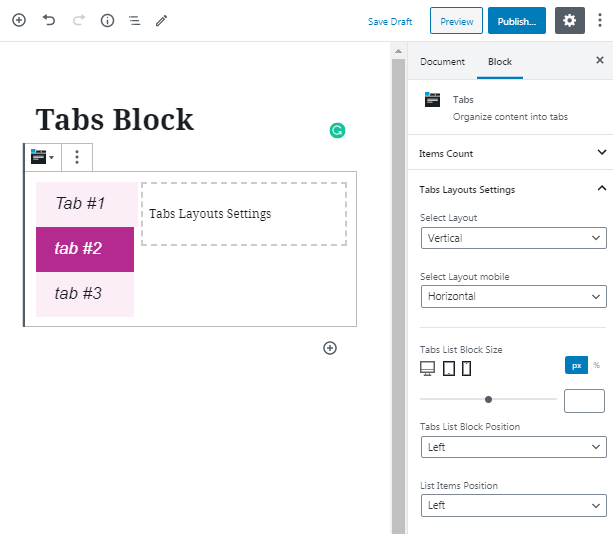 Extended Content Customization – the content block provides lots of styles. Using ZeGuten Tabs Block create listings, choose the position for your content. Of course, you can play with colors for background and text. Also, add hover effects to highlight core elements and buttons.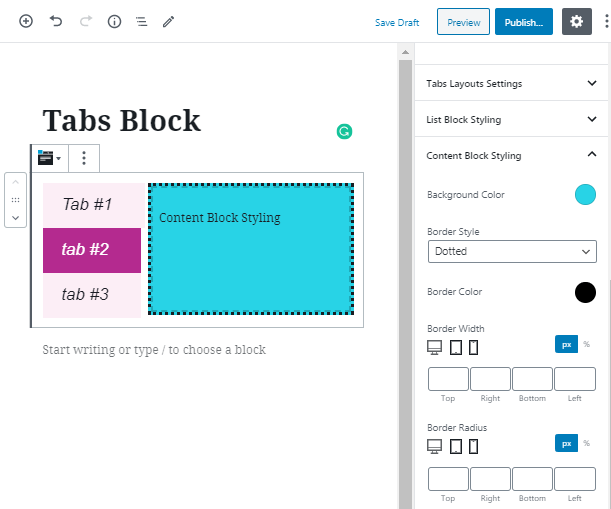 Add more images with your Gutenberg Tabs Block – bright, catchy tabs, full of colorful images, can be created in one click. Go and check it!
Mobile-Friendly Tabs – even when you create a new tab by yourself, it will be automatically adjusted to smartphones and tablets.
Conclusion
So, how do you like our ZeGuten Tabs Block overview? Maybe it's time to give it a try? Don't hesitate to share your mind in the comments. Or, ask questions about ZeGuten!