94% of web users consider navigation the most useful feature of a website. Users navigate websites using the main menu located in the website header. In many cases, a simple sitemap-styled menu is not enough to ensure the best website navigation.
A mega menu is an informative element as well as a must-have navigation tool. All mega menus have dropdown submenus, which helps you save space and reduce the number of user's mouse clicks in order to fasten their navigation.
To help your website menu turn into a valuable navigation tool and an attention keeper, use an Elementor mega menu plugin.
Learn about other WordPress plugins in our next posts:
Let's review and compare 5 Mega Menu plugins based on Elementor customization!
5 WordPress Mega Menu Plugins for Elementor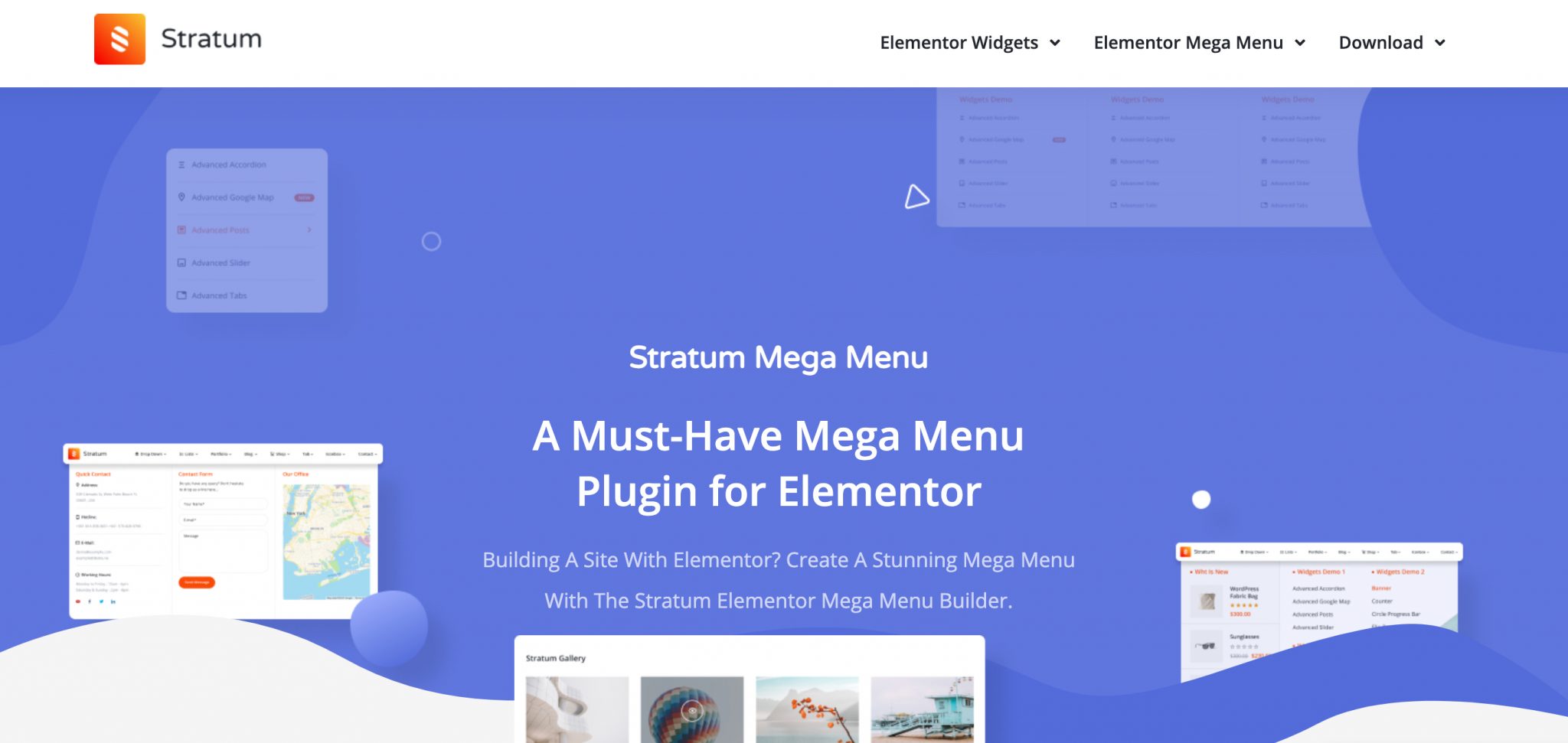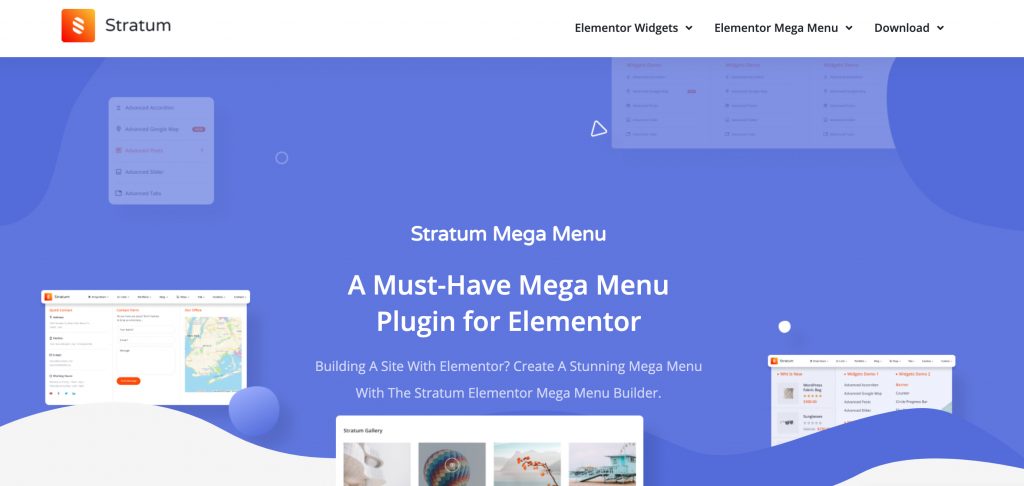 Let's start our list with one of the new relatively new players in the niche of megamenu addons. Stratum Mega Menu is an Elementor addon by MotoPress – a company with steady experience in WordPress software development.
The Stratum Mega Menu builder helps you build responsive and content-rich menus with any content type. In other words, the plugin's submenus may contain any Elementor widget from your list. The scope of application for Stratum is endless: from menus of online stores, or blogs to online magazines, news portals, and more.
The add-on allows you to transform the look of your Elementor menu using the next options:
Vertical & horizontal layouts (+ hamburger for mobile screens)
Icons for top-level menus
Tags & badges
Custom styling (colors & typography)
Animation effects
With exquisite content & styling settings, there is a whole area for experiments with borders, backgrounds, hover effects, and animation effects. Aside from vertical and horizontal alignment, you may set individual styling for a hamburger toggle (the mobile look of a menu).
Key Features:
Suitable for all types of websites (e-stores, blogs, online news websites, etc)
Supports ANY content type (widget) in submenus
Advanced styling options for each element
Horizontal & vertical & hamburger (mobile) layouts
Multiple animation effects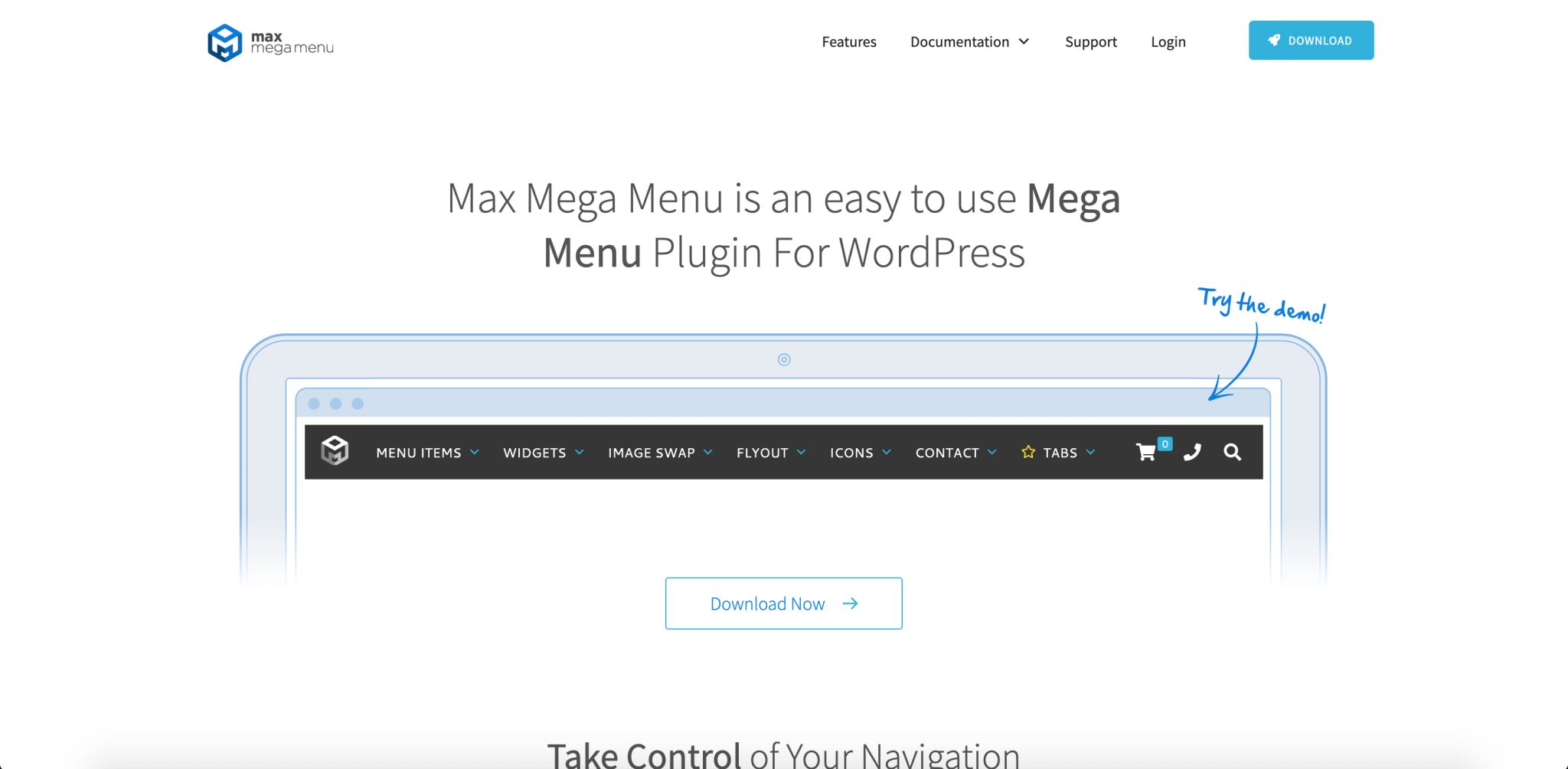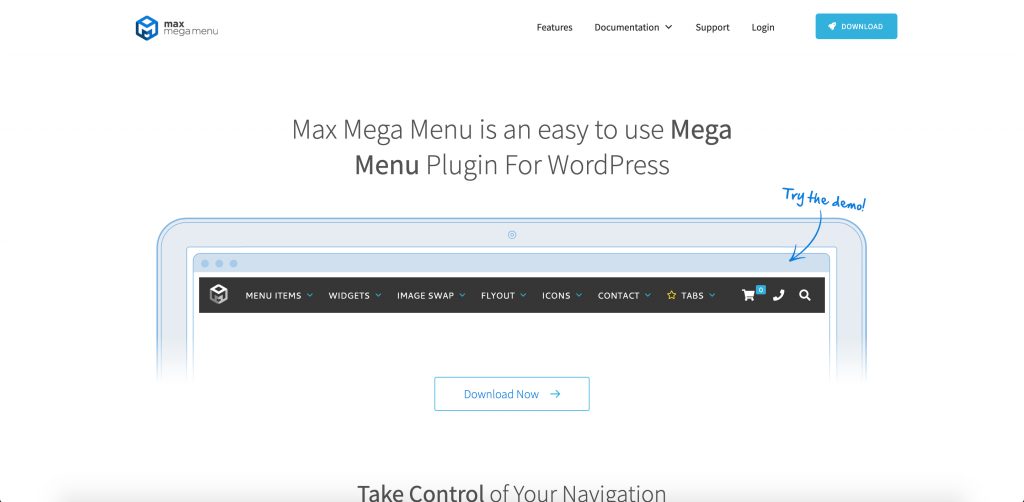 Max Mega Menu plugin goes as a universal WordPress solution and can work with multiple page builders, including Elementor. Designed to expand the site navigation toolkit, the addon meets the challenge a hundred percent. All you need is to add the addon as an Elementor widget in your WordPress dashboard, and you can get started right away.
Max Mega Menu provides you with a powerful and highly functional menu mechanism. With this Elementor menu plugin, you will be able to add any widgets to submenus using the perks of drag-and-drop editing.
The addon comes in both free and premium versions. The pro version offers you such features, as tabbed submenus, a sticky menu option, as well as the ability to build vertical or accordion menus.
Key Features:
Optimized for beginners
Multiple menu options (CSS3 transitions, horizontal & vertical alignment, etc)
Advanced customization & styling
Dedicated mega menu presets
Fully responsive & mobile-ready design
Free version available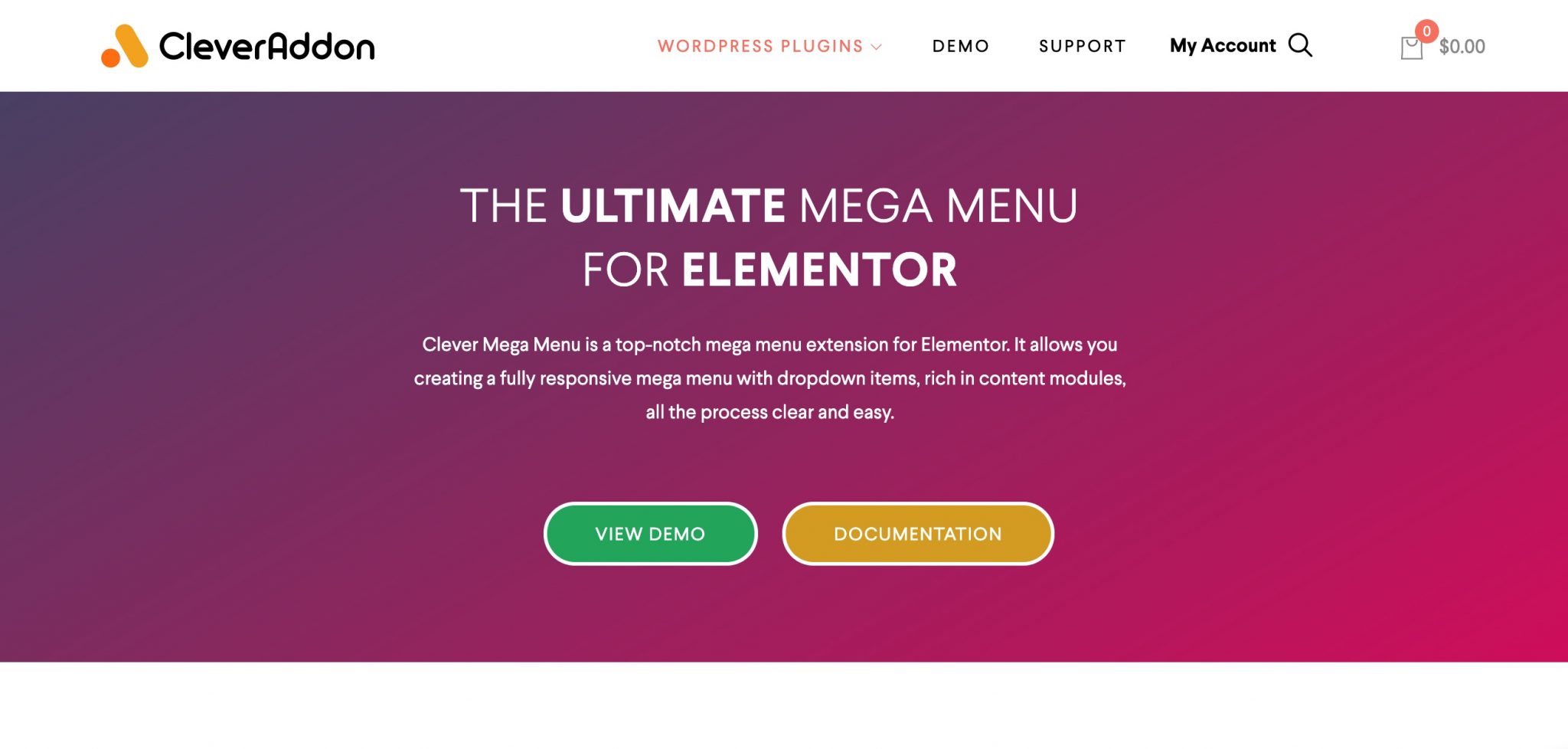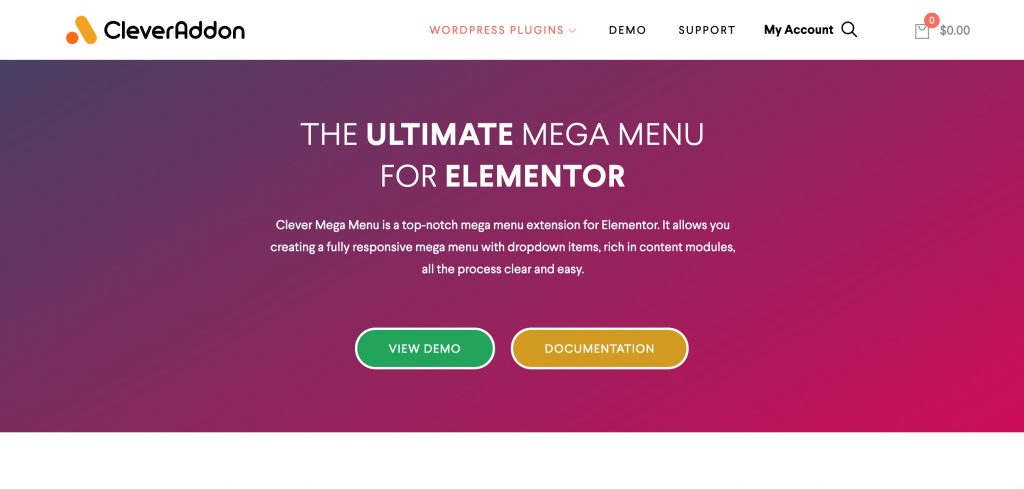 Clever Mega Menu is a handy, highly customizable, responsive WP mega menu plugin for Elementor. It offers all the needed features to ensure pleasant visual customization, including a range of skins, layouts, and widgets.
This WordPress plugin has a completely flexible look and feel, which allows you to define the background, width, and color settings. A custom Elementor menu module allows you to add your menu to any section of the page layout.
Similar to Max Mega Menu, you can choose between a free and premium plugin. The Pro version supplements the core plugin's functionality with features like dedicated menu presents, advanced menu widgets, specific restrictions for menu items, and the ability for export/import.
Key Features:
Beginner-friendly
Customizable widgets & menu animations
Dedicated mega menu presets
Fully responsive & mobile-ready design
Free version available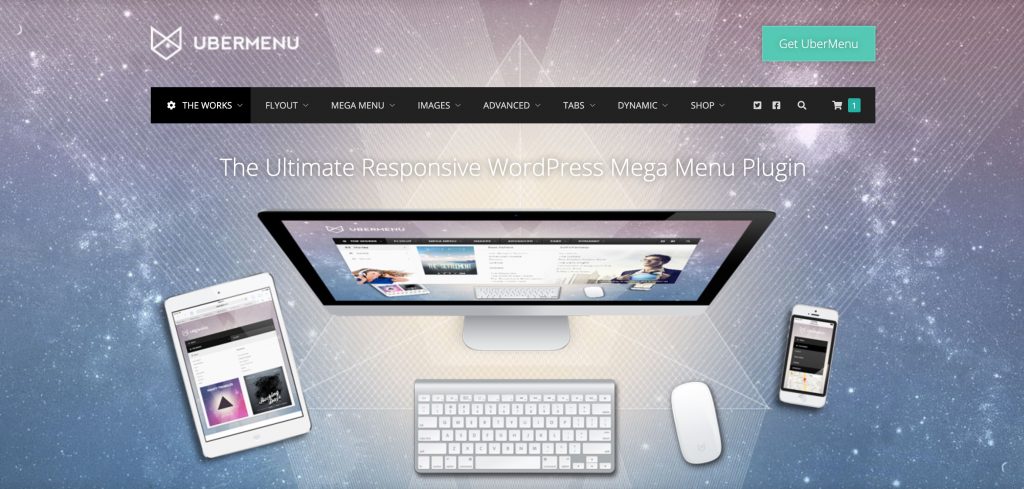 Ubermenu is another of the WordPress mega menu plugins for creating professional navigation menus for any WordPress theme. Although originally created for the needs of multiple page builders, UberMenu has a perfect interplay with Elementor.
This premium plugin lets you add responsive mega menus and flyout menus, as well as control transitions, fonts, menu al(vertical or horizontal), and background color as well.
Also, UberMenu comes with an admin dashboard where you can control all of its options. Also inside the dashboard, you can configure the width of each column, add widgets, shortcodes, and custom HTML to your menus, and view your changes in live preview mode.
Key Features:
Mega, Flyout & Tabbed submenus
2 menu layouts: vertical & horizontal
Advanced content types (build with any Elementor widget)
Automatic adjustment to the current styling of your theme
Fully responsive & mobile-ready design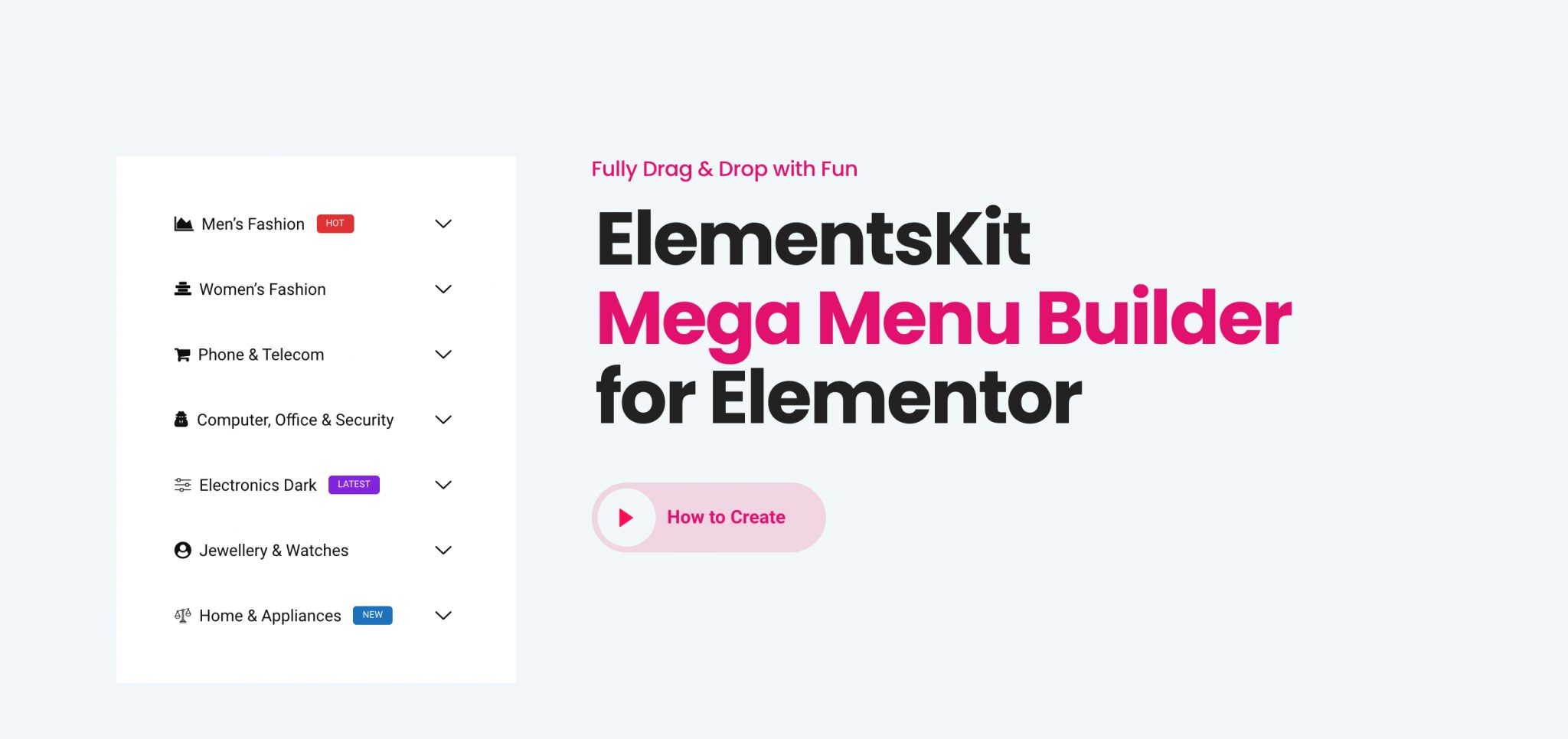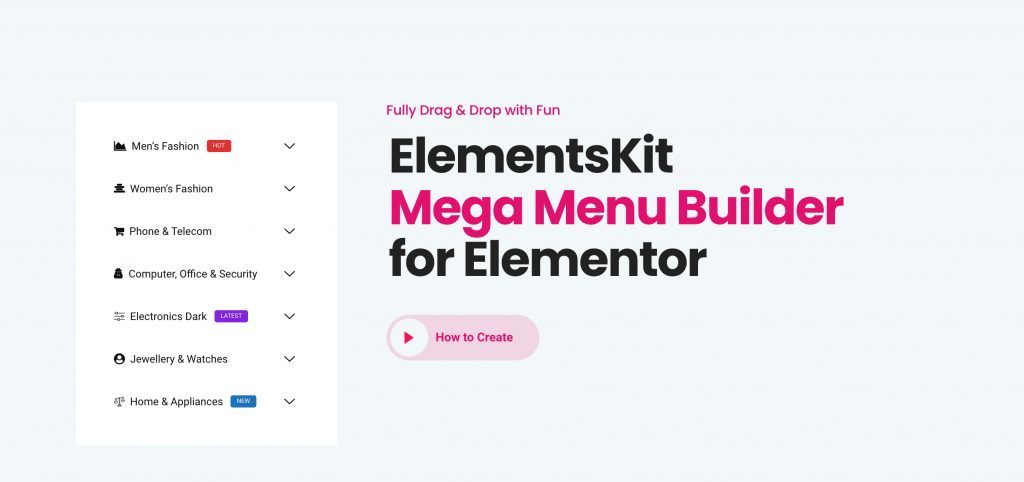 The next plugin you might want to check is ElementsKit. This versatile all-in-one add-on for the Elementor offers the next solutions:
Header & Footer Builder
Megamenu builder
85+ custom Elementor widgets
Pre-packaged 20 home page designs
250+ ready-to-go blocks
The plugin provides multiple menu categories or options. You will be pleased by how flexible customization features are. Some of the features from the PRO version facilitate editing to the level that you can create a menu almost installing (auto adding pages, social links, content categories, and many more).
ElementsKit also comes with advanced parallax options with the SVG library. This includes background parallax Tilt animation, mouse move effect, scrolling parallax, and CSS animation.
Key Features:
85+ Elementor widgets to use in your menu
2 menu layouts: vertical & horizontal
Compatible with WooCommerce
Fully responsive & mobile-ready design
Free version available
Improve Navigation With WordPress Mega Menu Plugins!
Dropdown mega menus are a godsend for designers. More and more users feel challenged while navigating multi-page websites with a classic sitemap-style menu. That gave impetus to build more complex drop-down menus with dynamic content in the submenus.
Even if you're running a WordPress site with a lot of content, users don't have to spend minutes finding the page they want. Meanwhile, you don't have to learn code to create a mega menu on your own.
With the right Elementor mega menu plugin, you will take care of the user experience, save time and clicks, and ultimately, earn more conversions and customers.