Are you about to launch your own business but not sure where to start? This list of the top small business ideas is created for you! They might help you if you're looking for the direction to becoming a successful entrepreneur. Along with popular niches worth checking out, you'll find profitable website ideas for each of them and tips on how to get started.
By all means, whether you pick an option from our roundup or keep the wheels turning with another idea, you need the dedicated experience or skills to make the grade. Let's get this show on the road!
How to Identify Good Small Business Ideas?
What makes an idea have legs? The first step is to find the solution effective for you. Here is a quick checklist of good small business ideas features:
Follows your expertise and passion;
Is easy to start and needs no heavy initial expenses;
Meets the market demands and trends;
Aligns with your resources (skills, time, costs, etc.);
Requires very little technical knowledge.
What Is The Best Small Business to Start in 2023?
1. Yoga Studio
If you're passionate about yoga, you may share your passion via a studio with professional instructors. Since the demand for a place to improve physical and mental health is growing, it may be a good idea to implement. At the outset, you won't need to purchase a lot of inventory or hire a large staff. All it takes is to rent or purchase a space, buy equipment & supplies, and pay for utilities and insurance.
On top of that, yoga studios often initiate classes on a subscription or membership basis to charge a recurring fee and have a steady income source.
How to start an online yoga business?
You need a professional website to promote your yoga studio online. WordPress is an open-source content management system (CMS) providing all the necessary tools.
For example, there is a yoga WordPress theme called Yogamo. Its fresh and modern design suits yoga teachers, fitness centers, dance studios, and more. The theme allows you to feature instructors, their profiles, and individual schedules. Yogamo includes pre-designed pages built with Gutenberg and Getwid.
What's more, it is packed with a booking plugin to accept online appointments on your website. It supports multiple payment gateways, different locations, automated email notifications, and the multibooking option.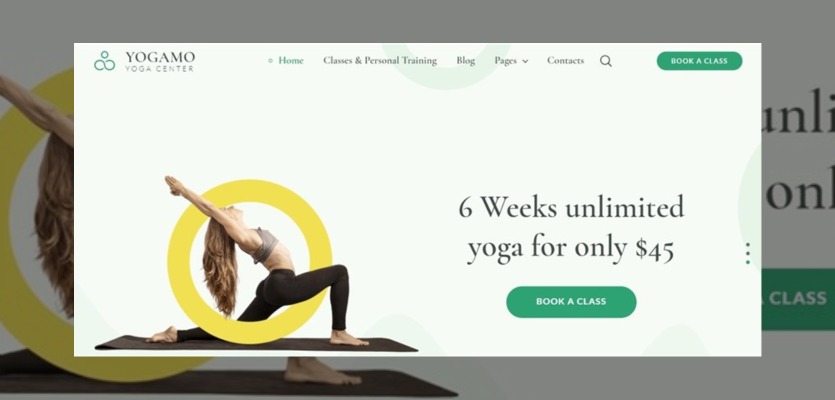 2. Design Studio
Along with the ability to show off your expertise and creativity in spaces, products, and websites, a design studio allows you to work with big projects or build ongoing relationships with repeat clients. You can offer different services, including graphic design, web design, interior design, or product design.
Overhead costs cover a small rented office space and design tools & software. Once you have a reputation for high-quality work, you'll sell your services at premium prices.
How to make a design studio website with Elementor?
Elementor is one of the most popular page builders that smoothens the site-building process. The Modernico free Elementor template has ready-to-go layouts for a beautiful and responsive design studio website. It has everything you need to let the world know about your best projects, display contact information, and highlight services.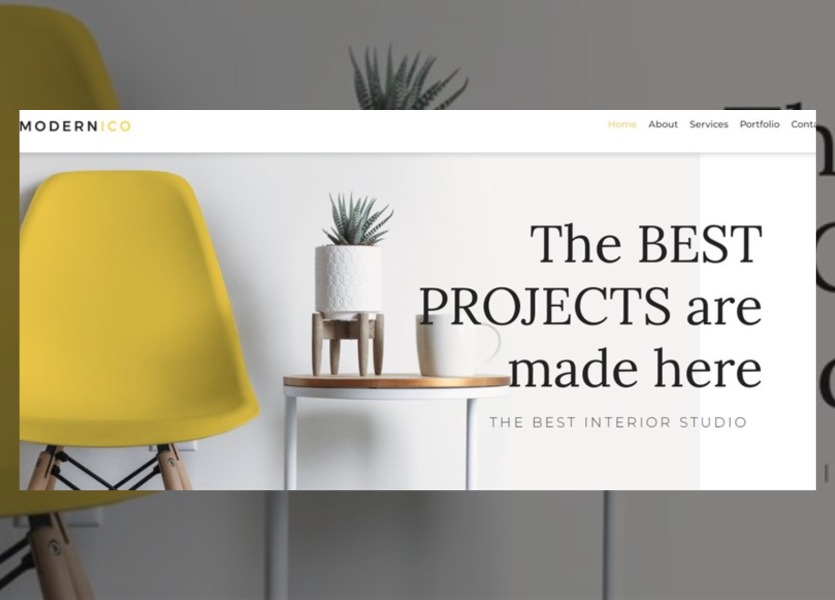 3. Online Store
If you have an in-demand product or service to offer, an online store is one of the best small business ideas to sell it. What gives? Compared to brick-and-mortar stores, its startup costs don't involve rent, utilities, and maintenance expenses. You may just need to pay for website development, hosting, and marketing.
Also, you reach a global audience instead of a local one. Customers choose online shopping to have all the required goods delivered to their doorway. While building your online store, you are free to manage it from home and gather stats on purchases, customers, and more.
How to start an e-commerce business website?
WooCommerce is a popular choice among online store creators. It's an open-source e-commerce platform built on WordPress. This plugin is used by small and large businesses with WordPress-based websites. WooCommerce simplifies making and managing an online store making it flexible.
You may check our collection of the Best WooCommerce Themes for WordPress to discover the design that makes a perfect match with your niche.
Read Also: How to Integrate WooCommerce Payment Gateways into Your Appointment Booking Business?
4. Tutoring
Do you have advanced teaching and leadership skills to explain difficult concepts but don't want to work at school? Tutoring services may be a small business idea you're searching for! This niche delivers you a flexible schedule and professional growth space. You can give individual lessons or form small groups.
Students cast around for ways to boost their knowledge and professionals who will help them.
How to promote tutoring services online?
As mentioned earlier, the WordPress repository consists of numerous plugins and themes useful for different small business websites.
When it comes to online tutoring services, the Edme theme is equipped with education-related page templates and online class scheduling software. It allows students to make an appointment with a teacher in a mobile-friendly booking widget, choose the available slot, and pay for the classes. You can create teacher profiles, set up timetables, and manage appointments on the dashboard.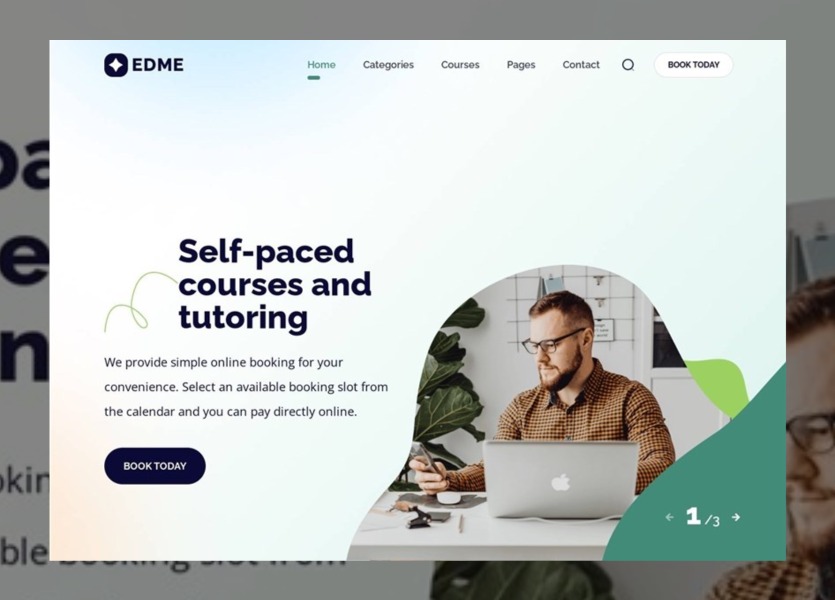 5. Developer Studio
A developer studio is one of the top small business ideas that combines a dedication to marketing, entrepreneurship, digital products, and related tools. From the ground up, you may set the stage for a few clients ready to spend their marketing budgets on digital services. Select the preferred projects, work remotely, and demonstrate cases you're proud of.
How to find a design for a developer studio website?
We have a ready option for you – the WePros template included in the Gutenix package. Simple yet attractive and responsive, its design covers all important pages: a portfolio, contact us, about us, and blog. Customization is easy thanks to Gutenberg and its blocks.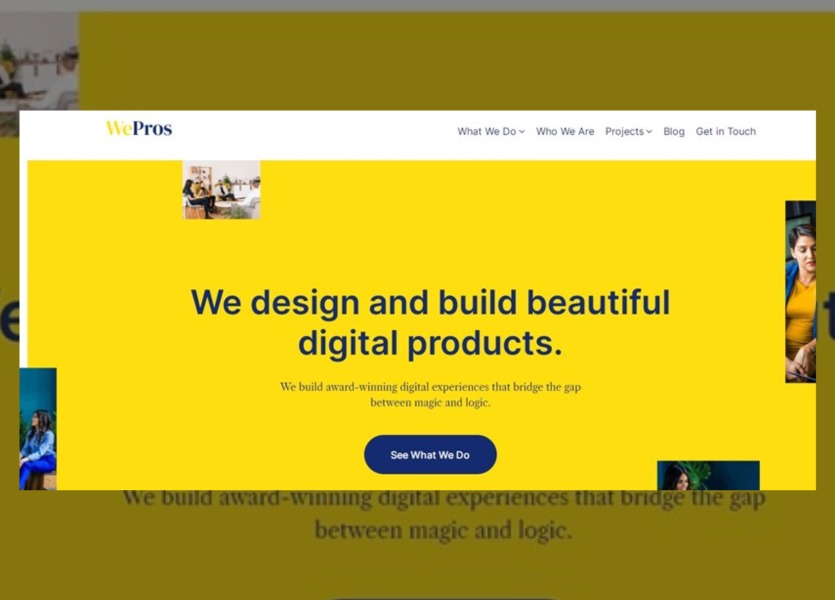 6. Life/Career Coaching
According to Grand View Research, the U.S. life coaching market is expected to grow at a compound annual growth rate of 4.85% from 2023 to 2030. Since many of us seek guidance and support in achieving our life and career goals, coaching may be one of the best small business ideas for those who can advise the right personal or professional direction.
You'll have to tailor your approach to each client's unique needs to ensure an effective coaching experience. In addition to certain personality traits, this business requires certifications and advanced training in professional development.
What is the best WordPress theme to promote coaching services online?
CoachZee is a multipurpose WordPress theme with 5+ coaching demos you can customize to fit your preferences. This theme comes bundled with the appointment booking plugin to arrange online service scheduling. Also, it enables online and offline payments, services in different locations, flexible working calendars, and hassle-free booking management.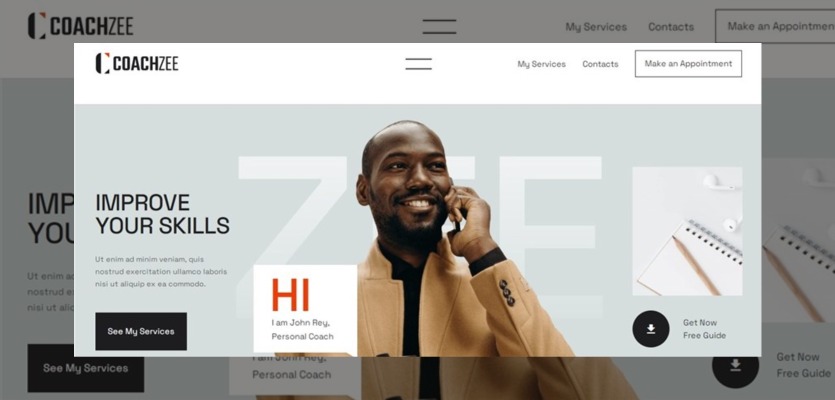 7. Event Planner
If you go this route, you can take on a specific type of event (weddings, concerts, meetings, etc.) or all occasions. You'll be responsible for developing concepts, designing spaces, and coordinating all the event elements to gain an unforgettable experience. You should be competent in dealing with different clients' demands and new challenges.
The event planning business enables you to build relationships with other people and contribute to creating lifelong memories.
When it comes to planning events for all occasions, don't forget the growing trend of sending digital birthday ecards as a unique touch to your event services.
How to make a wedding planner's website?
Wedding planning is one of the prevailing areas in this industry. And the WeddingFairies skin matches WordPress websites with an elegant design for wedding agencies and all types of wedding services. You can customize pages via the Brizy page builder and add different content elements.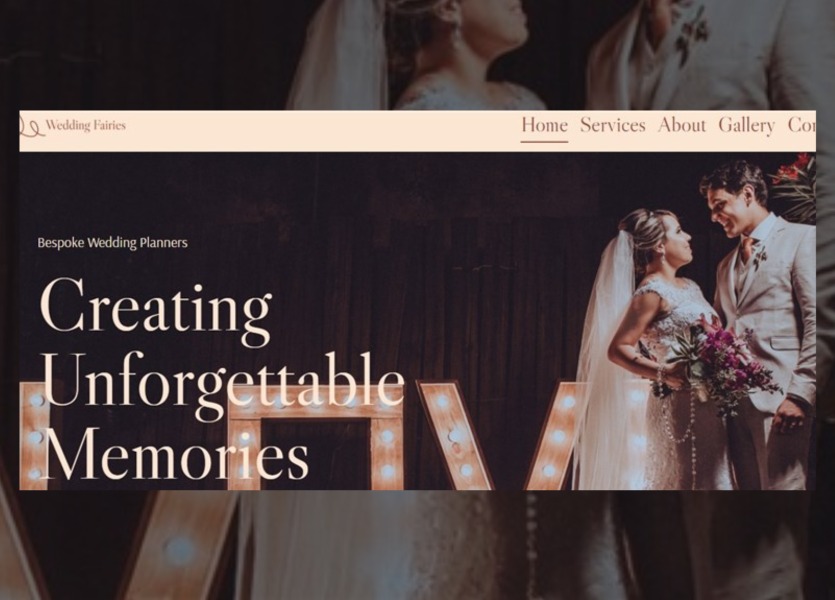 8. Cleaning Services
Tight working schedules, family affairs, and social commitments uncover the demand for professional cleaning services companies. They take care of clean and well-organized spaces at the selected time.
After investing in cleaning products and supplies, you are all set to start the business. Then, your customers will inform you of the type of services they need, their frequency, and any special requests or instructions.
How to promote cleaning services online?
You need a clean-looking and uncluttered theme to make a fast-loading and easy-to-navigate website for your small business. Cleanster provides Brizy templates for you to spotlight your services, expertise, staff members, and contacts.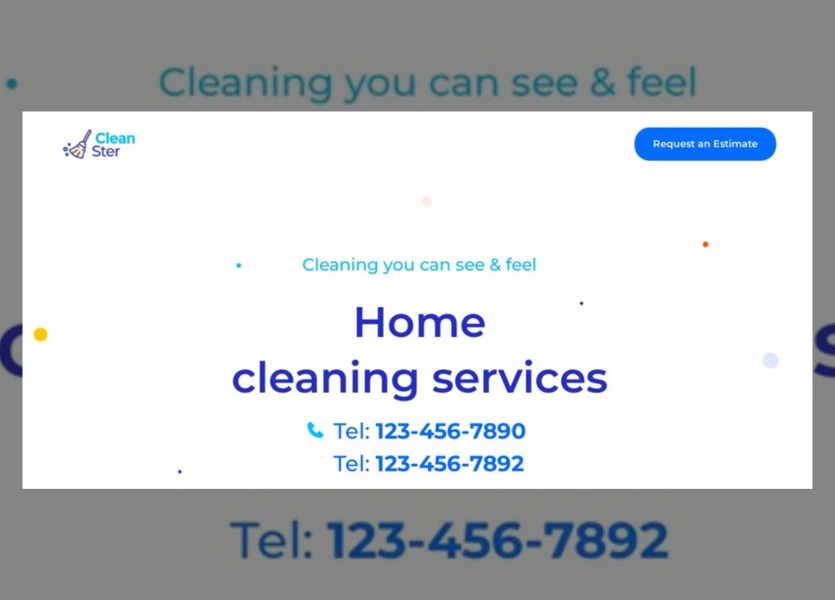 9. Photographer
Is taking photos your hobby you dedicate all your time to? Make it your full-time business! These days, photographers are not only about shoots at weddings, corporate events, festivals, etc. You can sell photos on stock sites, create NFTs and posters, or find another path.
Set custom rates, look for photography courses to improve your skills, and build a flexible schedule.
How to create an online portfolio with WordPress?
You need an online portfolio to build a strong photographer's reputation and attract new clients. WordPress offers you advanced solutions to make a website and allow for all aspects. For example, Pixetty is a photography booking WordPress theme that consists of portfolio tools and session scheduling functionality.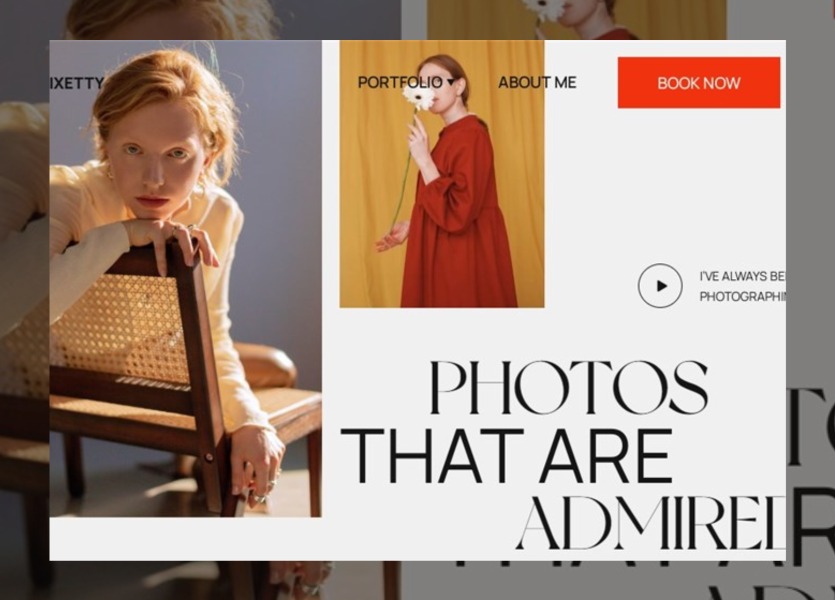 10. Property Management
If you have chops in property management, you could seize the opportunity to turn it into your small business. Many multiple property owners don't have time to run their accommodations. So, they rely on professionals. This option lets you perform your organizational and administrative skills. Especially, if you have a website with fully-featured software.
What is the best property management software?
The WordPress Hotel Booking plugin is an all-in-one solution for all WordPress vacation rental website owners. It has a property management system, a booking engine, a channel manager, online payments, and more features under one roof. It allows you to manage unlimited properties and bookings, set up dynamic rates, customize flexible booking rules, and use the Hotel Booking mobile application.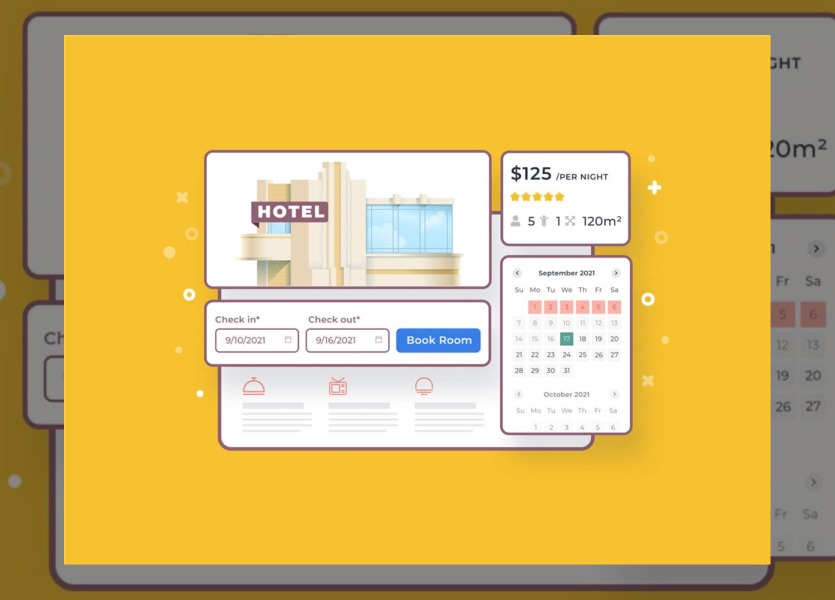 How to Make Your Own Small Business Website?
Your business's online presence comes with many perks. As your website represents your brand, it should look professional and reflect your business's values.
Besides website businesses ideas, we'd like to list general steps to take:
Define your website's purpose and the audience you're targeting.
Choose a website builder or platform: WordPress, Wix, Squarespace, Shopify, or any other.
Select a domain name and hosting provider.
Find a dedicated template or theme to design your website and customize it to suit your needs.
Integrate the functionality essential to your business.
Fill your website pages with clear, concise, and engaging content.
Use SEO techniques to improve your site's visibility in search results and reach more visitors.
Bottom Line
Jeff Bezos, a founder and CEO of Amazon, said, "I knew that if I failed, I wouldn't regret that, but I knew the one thing I might regret is not trying." So, you can't predict for sure whether you will choose a successful path for your business. However, you'll never know until you try.
This article is here to help you discover promising small business ideas worth giving your best shot. Please, let us know in the comments below if they come in handy for you or if you select one of them!