Today, we are publishing 10 best WordPress themes for food blogs & websites (restaurants, shops, catering services, etc).
As much as modern food websites may look similar at first sight, their functionality may differ from one niche to another. For instance, a food blog typically needs a dynamic blog page with extra functionality for posting step-by-step recipes. On the contrary, online food shops will focus on a more. extended WooCommerce functionality rather than blog options.
In the next listicle, we took into account both paid & free solutions so that all users can find the most suitable option for their budget.
But first, you'll probably ask: Where are the next WordPress themes for food blogs from?
Well, our main resource is Gutenix – our own multipurpose WordPress theme, and it's made specifically to fasten the work process for developers. So instead of creating a website from scratch, they can use pre-built skins like those from Gutenix and become more productive in their work volume.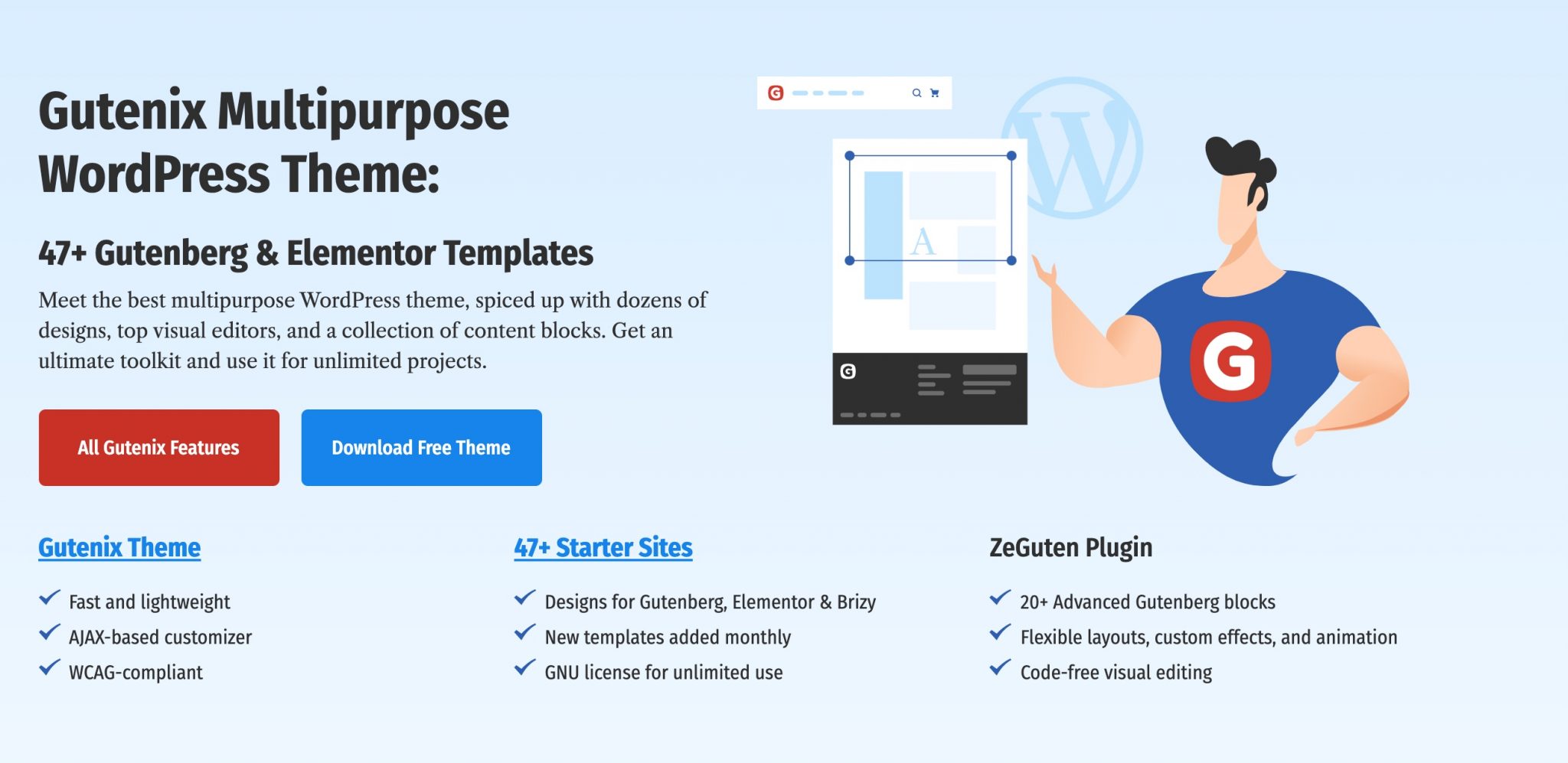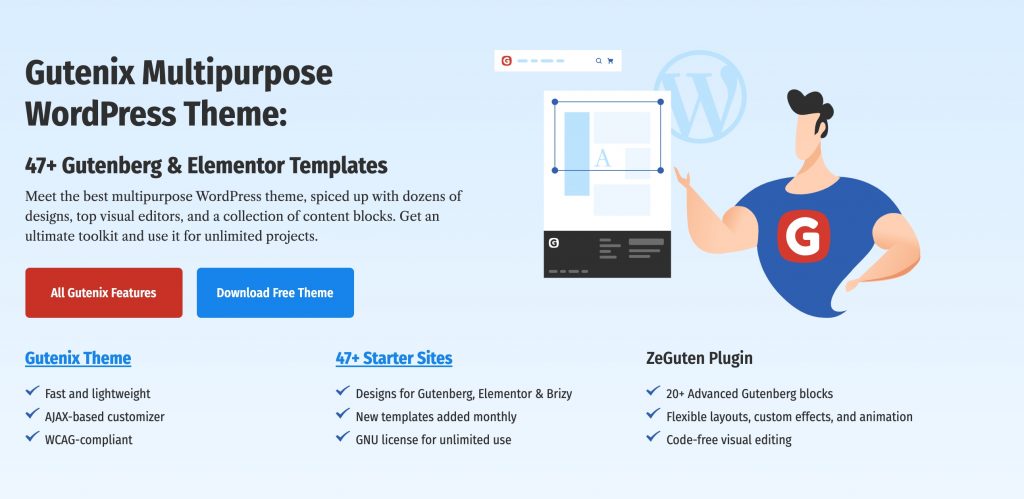 Gutenix Theme Highlights:
A collection of 47+ starter sites for small/medium-scale businesses;
Supports Elementor, Brizy & Gutenberg;
Superfast & lightweight design;
100% WooCommerce-ready;
AJAX-based customizer;
WCAG-compliant;
20 extra blocks by ZeGuten (for Gutenberg skins);
The LITE version provides 5 skins for free.
Food WordPress themes not from the Gutenix bundle are not part of any bundle. A lot of those solutions come from MotoPress – the company specializing in developing advanced WordPress themes & plugins. Individual templates work great for users looking for an efficient one-time solution.
All free templates on our list are located in the official WP repository.
Top 5 WordPress Food Blog Themes for Elementor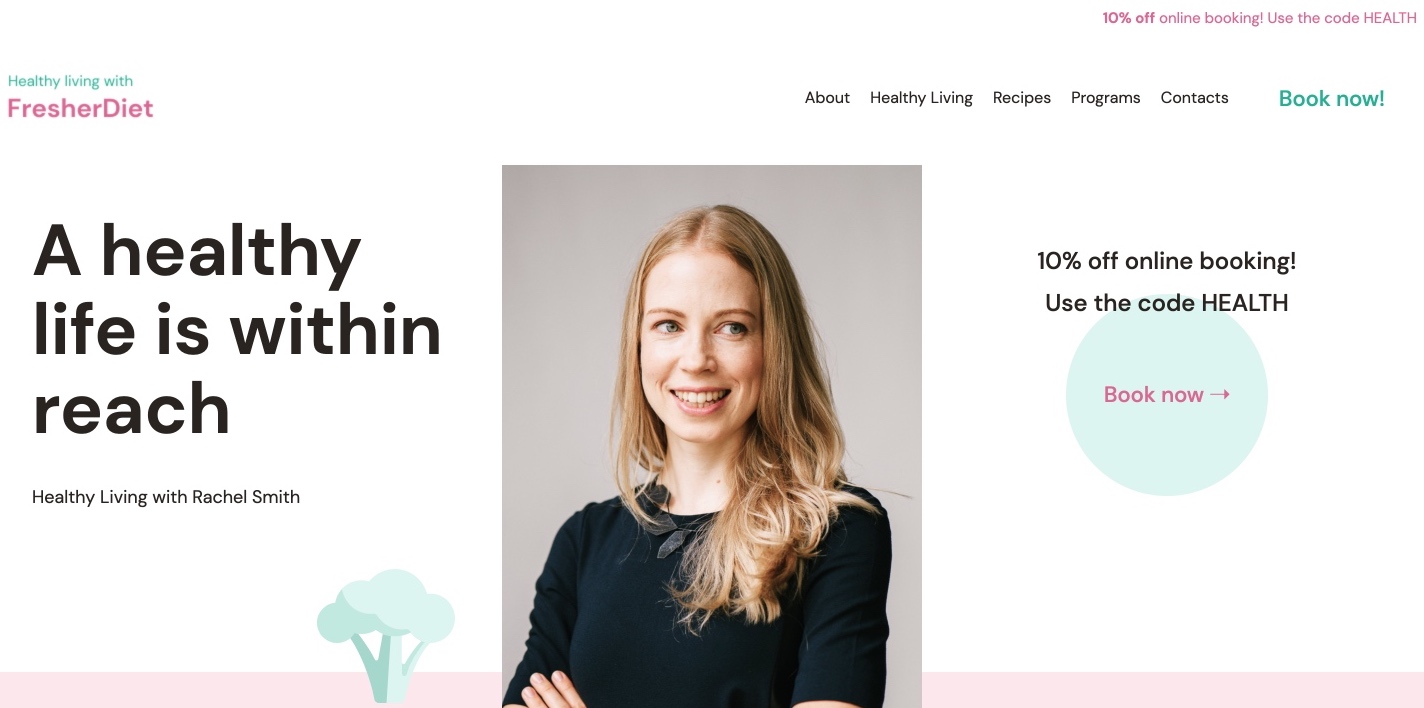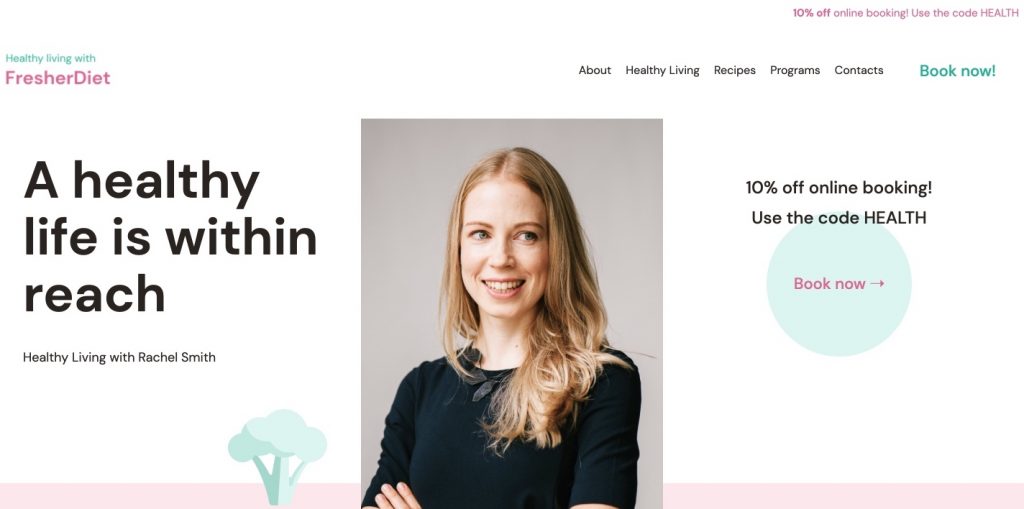 FresherDiet is one of the 3 food blog WordPress themes included in a Gutenix bundle and supports compatibility with Elementor. This skin is designed specifically for health coach & nutrition expert websites. It features a minimal design with a great focus on visual content, especially when it comes to specialist representation. All pre-designed pages let users get acquainted with the specialist, and learn more about one's experience & services.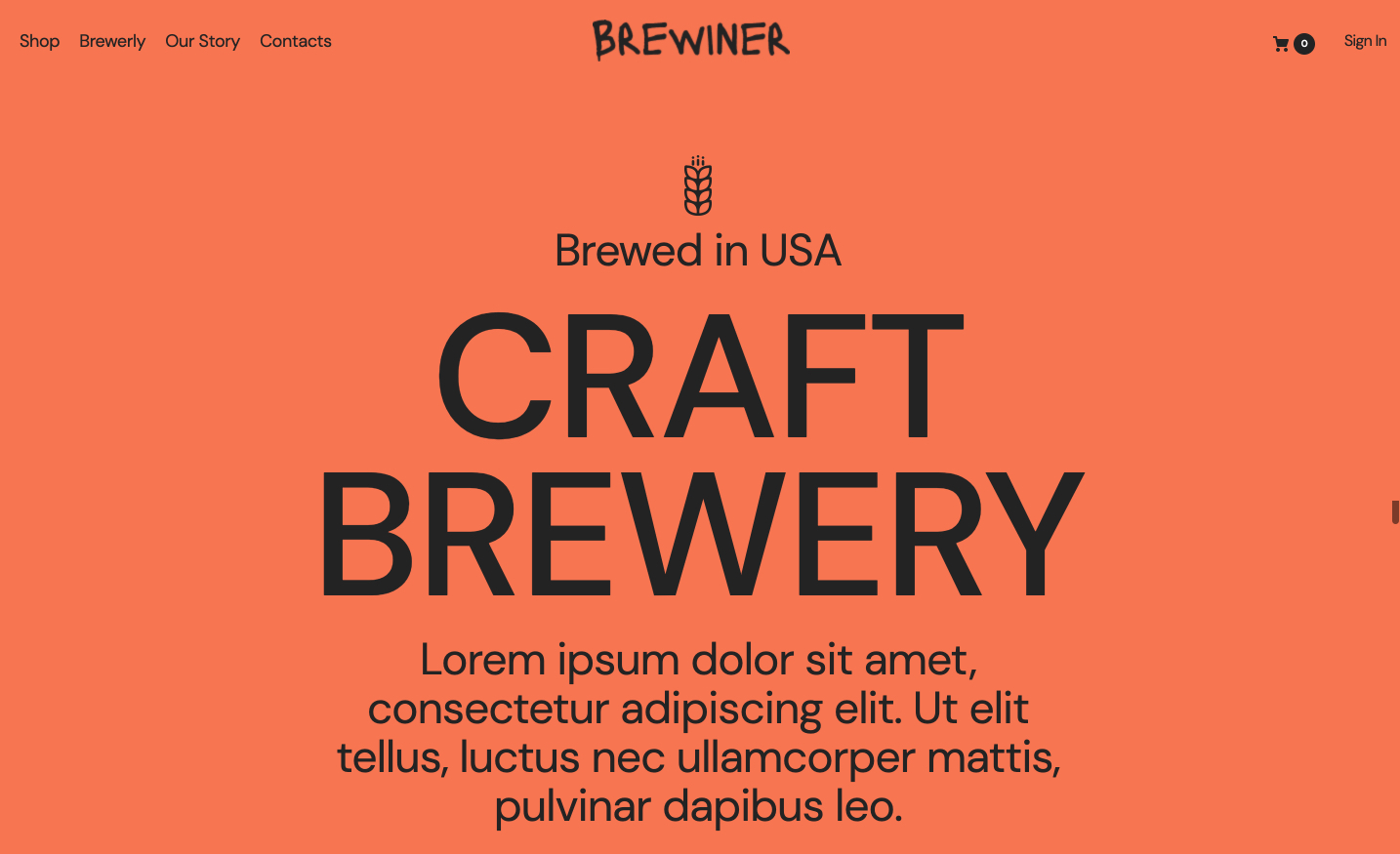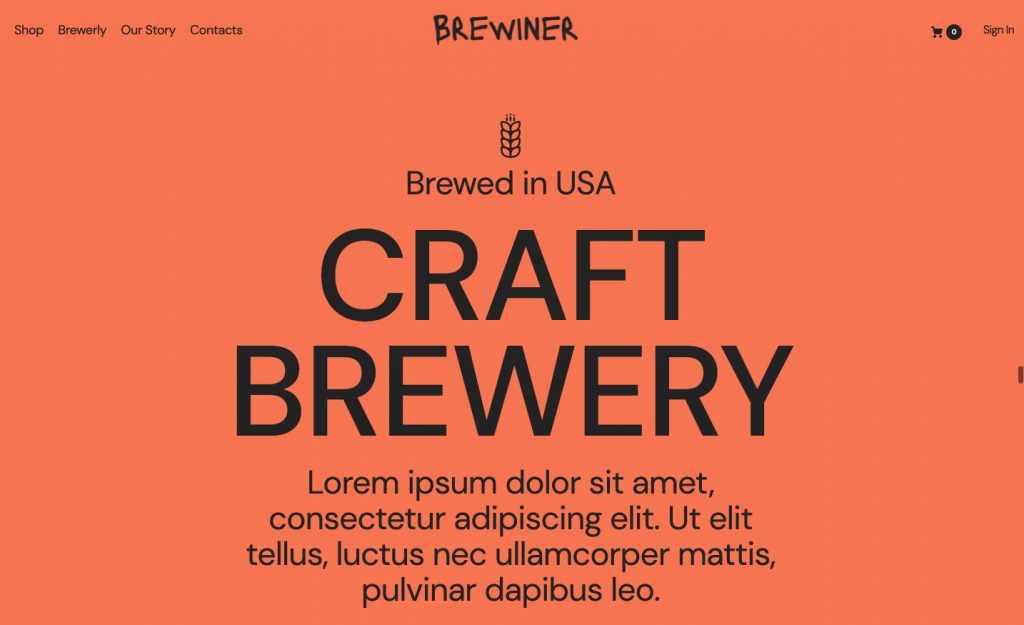 Here's another Gutenix skin for Elementor called Brewiner. Similar to the above-mentioned options, this one features a stylish, minimalistic design. Initially, such a layout works well for any food & beverage business. Yet, the skin is focused on craft breweries, wineries, and wine shops.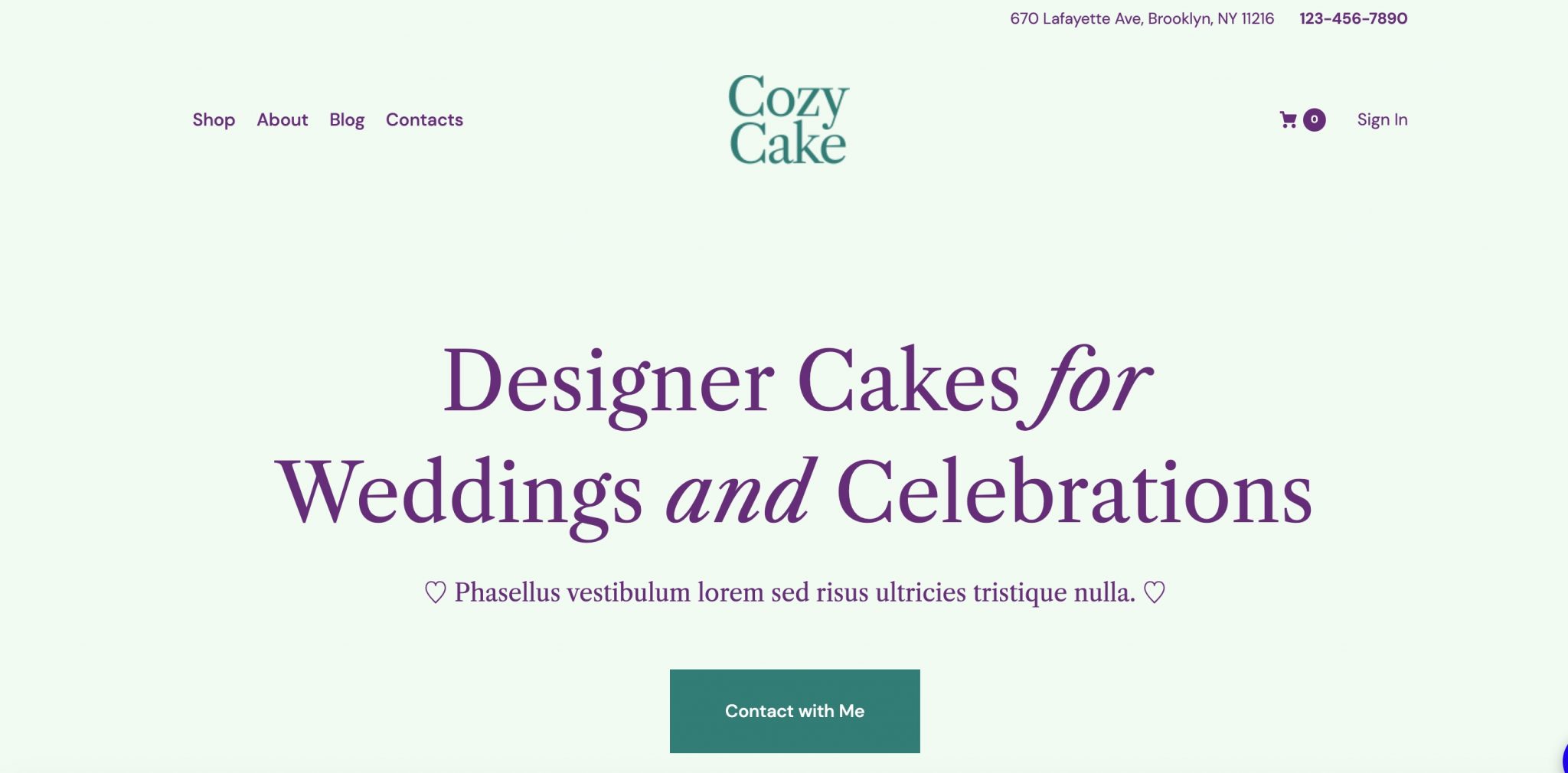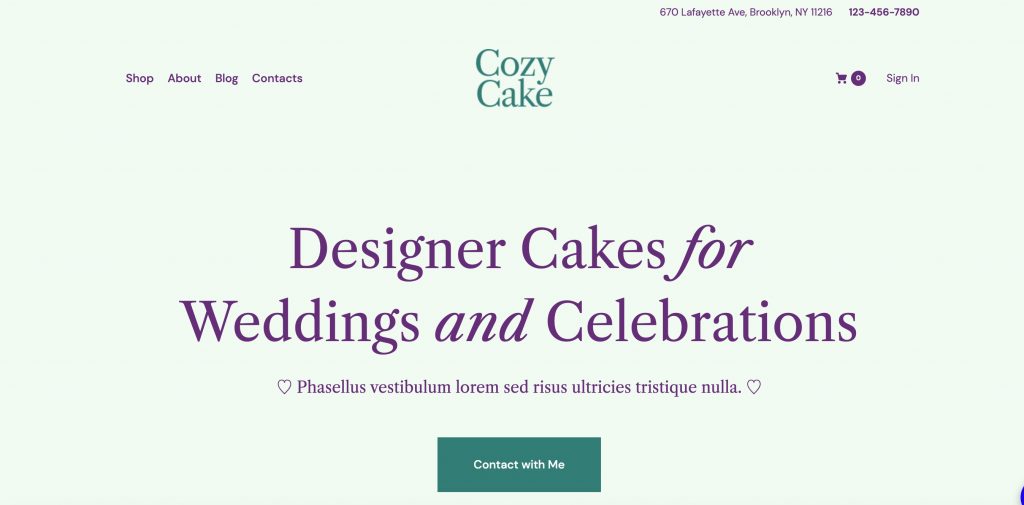 CozyCake may be a perfect solution for solo bakers and confectioners, although it can satisfy the needs of a small cafe, catering services, and just a foodie blog. With a wide-width layout, you don't have to worry about space and the major focus of your website. The skin creators made sure you put your work and products "upfront".
The pre-designed skin already includes pages for eCommerce and blog activities. You can make any changes to the skin design using your favorite Elementor.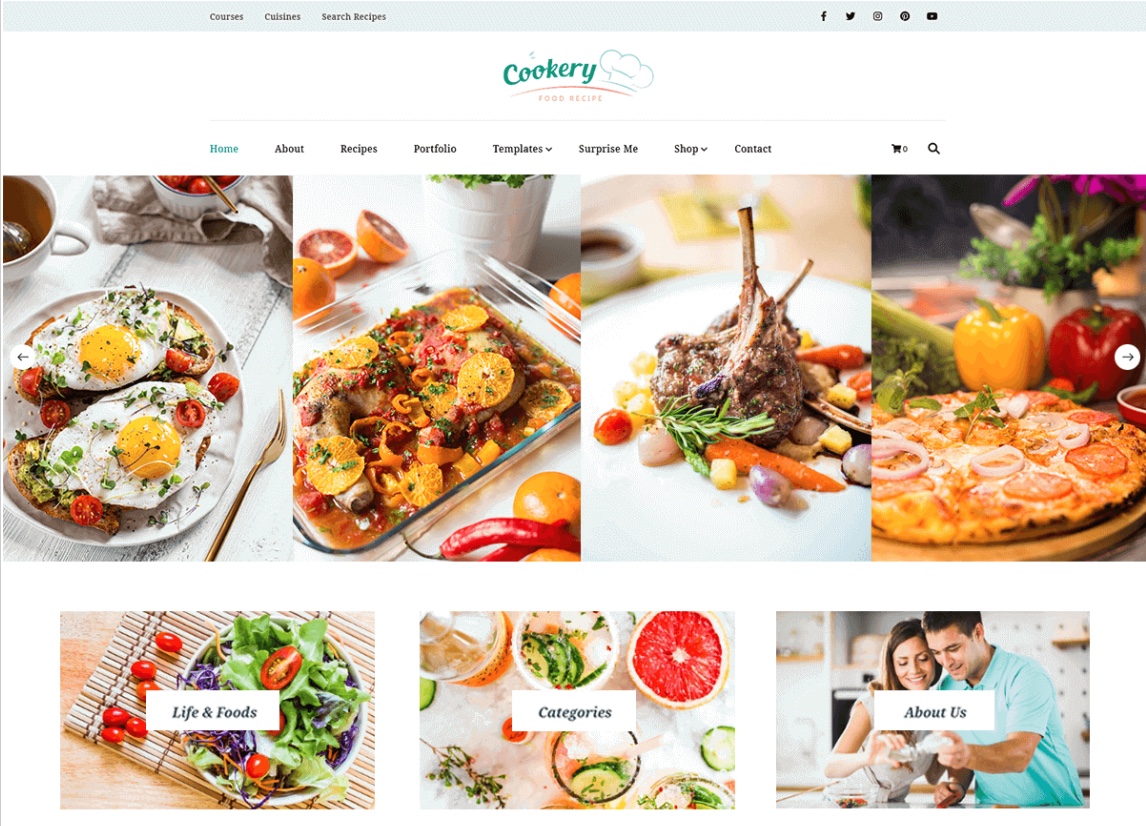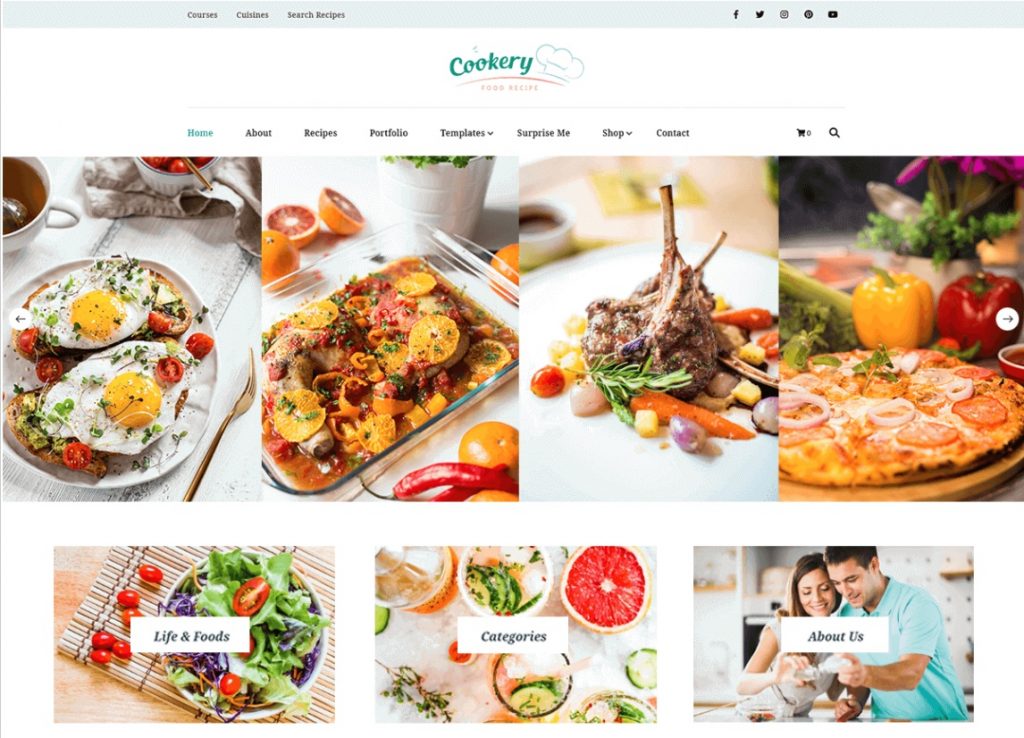 Cookery Lite is one of the Elementor-based food blog WordPress themes free of cost. The template design is effortless and will work for any other blog theme (fashion, lifestyle, etc).
The free version of Cookery is SEO optimized, mobile-friendly, Schema friendly, RTL and translation ready, and elegant in design. It's compatible with WooCommerce in case you want to expand the purpose of your blog and start a business in sales.
Cookery Lite includes the Delicious Recipes plugin to help you build recipes in a better visual manner with all step-by-step instructions.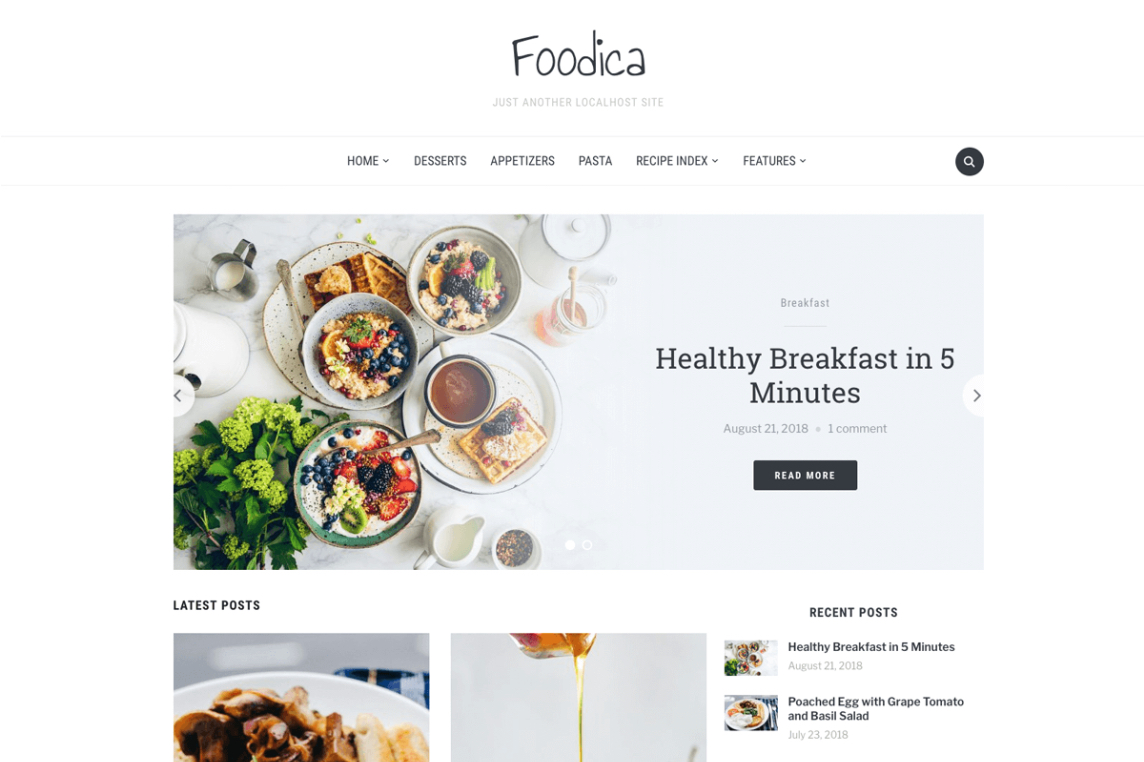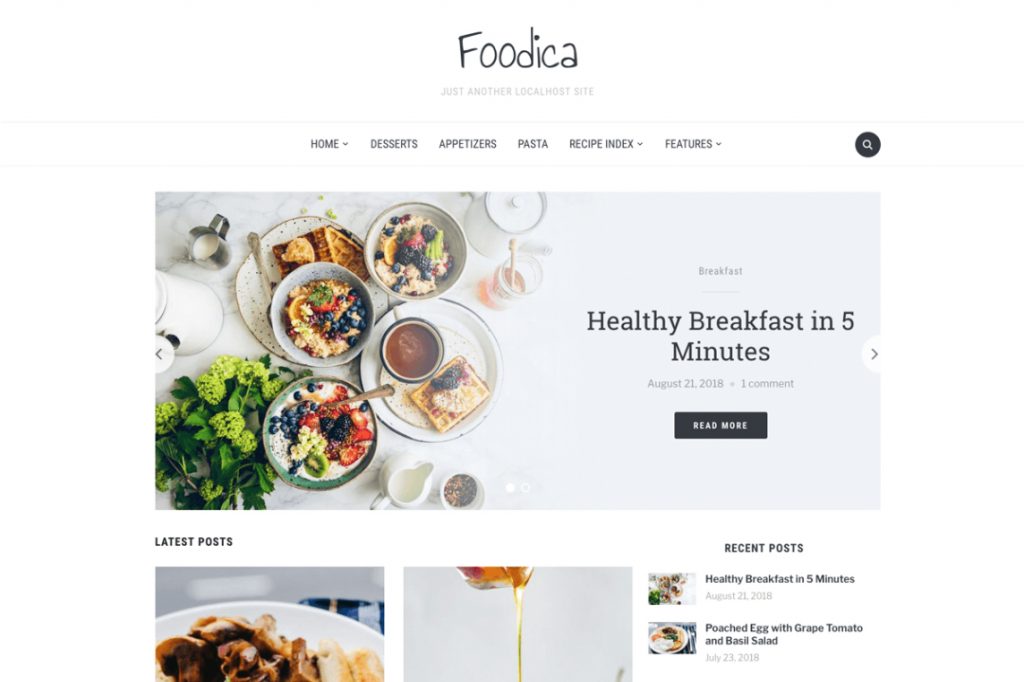 Foodica Lite is as intuitive, flexible, and easy as its premium analog. Also, it's one of the most popular WordPress themes for food bloggers available in the free WP repository. Foodica is quite multifunctional and works great for both blogs, and magazines, as well as small cafes and restaurants. It features a solid and stable structure combined with a minimal design.
The free template provides a dedicated post slider and WooCommerce compatibility. It offers many custom blocks accountable for publishing blog content and recipes.
Top 5 WordPress Food Blog Themes for Gutenberg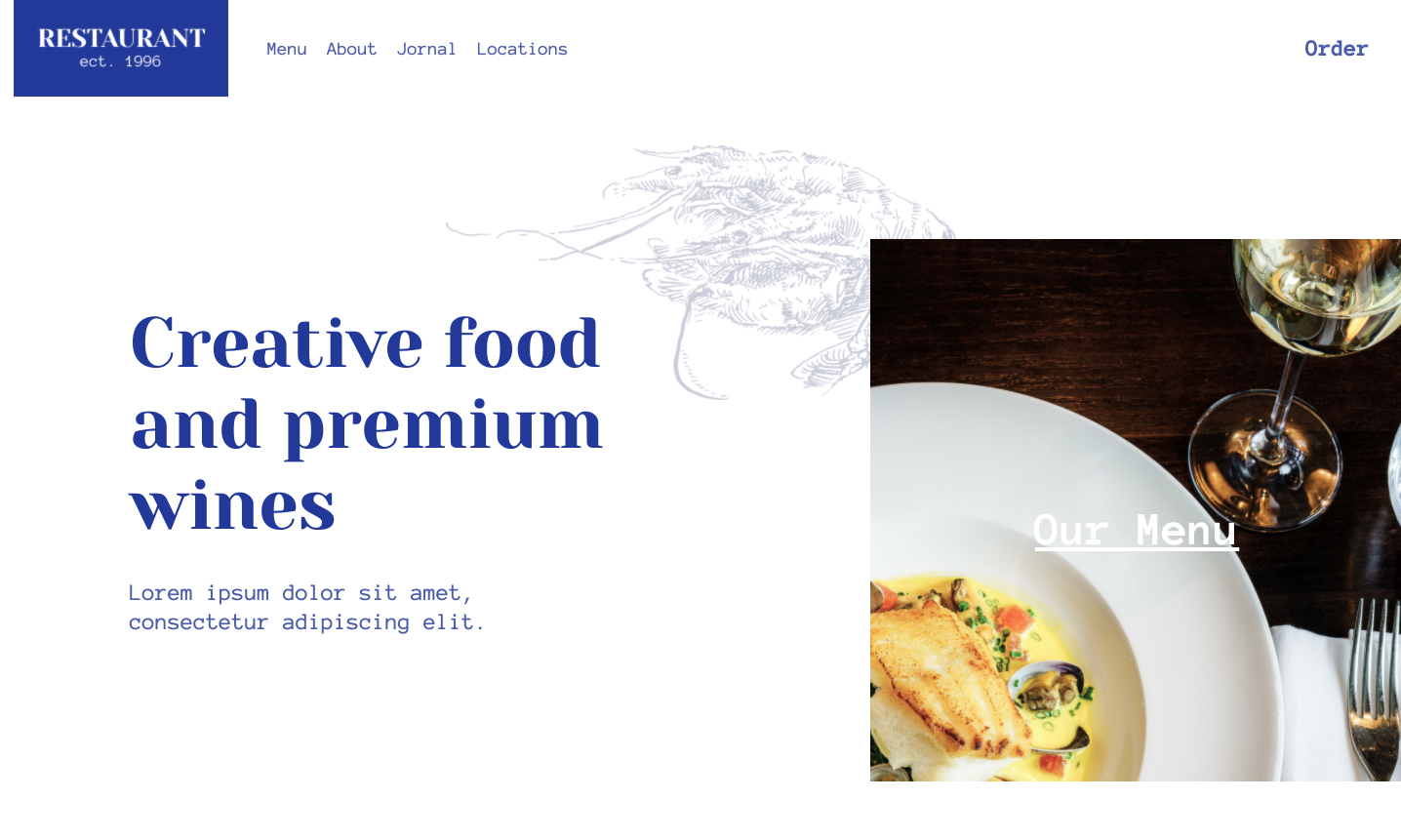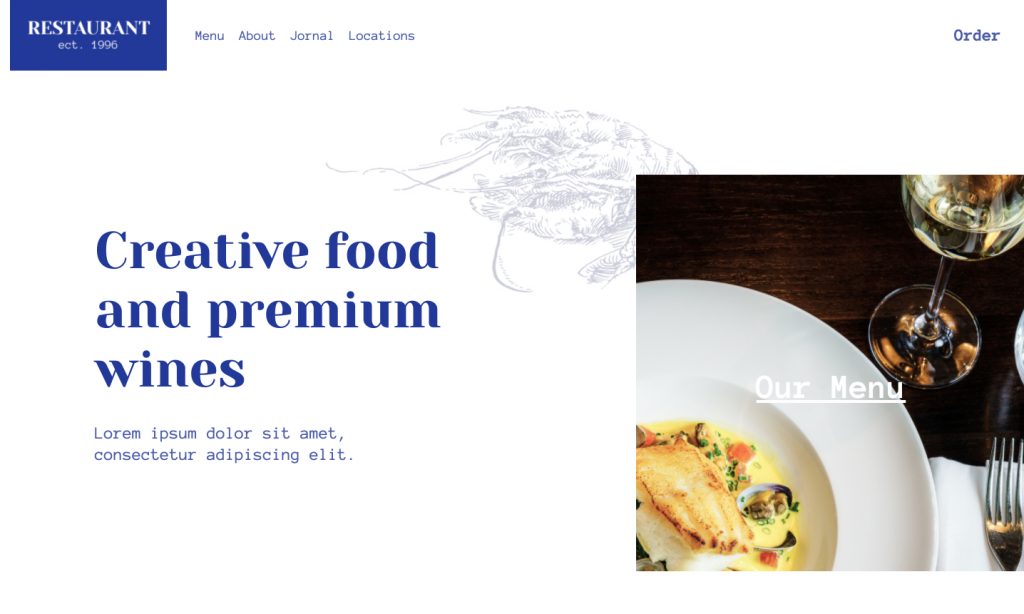 Choosing Yummix as an alternative to other WordPress food blog themes makes sense only if you specialize in gourmet recipes and topics. This Gutenix skin was pre-designed for gourmet or high-class restaurants specializing in fish recipes. Of course, the scope of application is wider, and it all depends on how you can cope with its redesign.
Fortunately for Gutenberg lovers, Yummix is based on core and 20 premium blocks included in the Gutenix theme by default.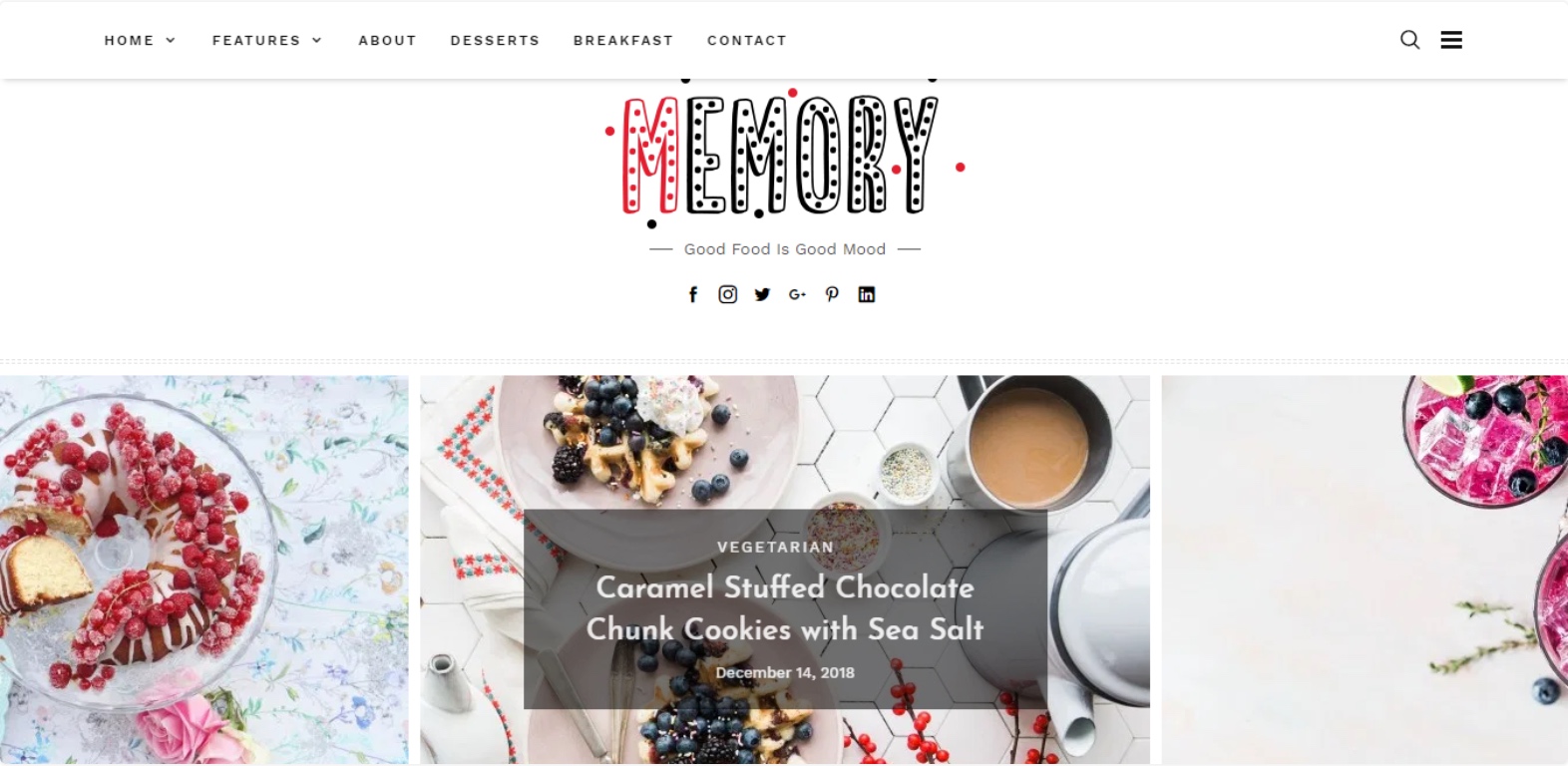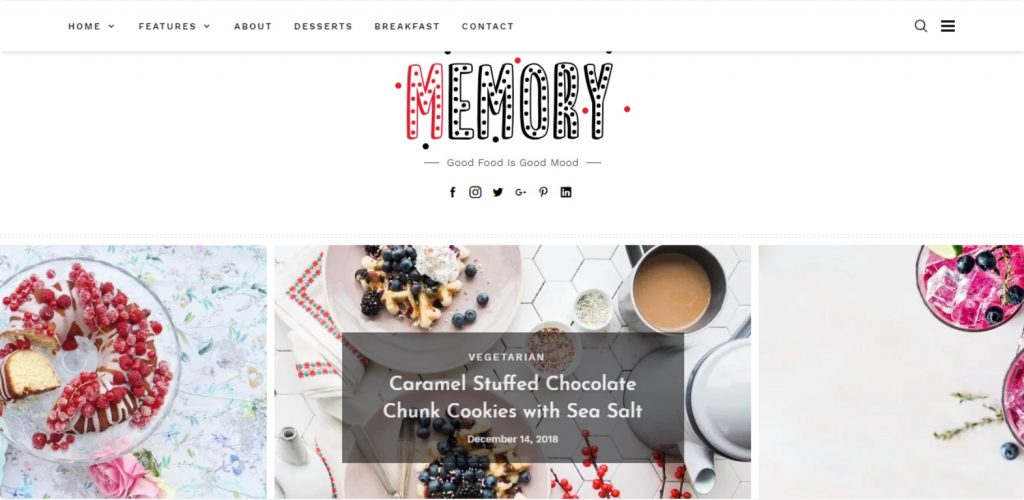 Memory comes as a bundle of blog skins for different topics, including the food topic. One way or another, Memory brings your food blog a youthful and lovely look. Creative fonts make it stand out from other similar food blog templates.
The functionality includes advertisement banner layouts, post slider & slide-out menu, SEO markup, and Jetpack. Memory is fully-responsive and fast.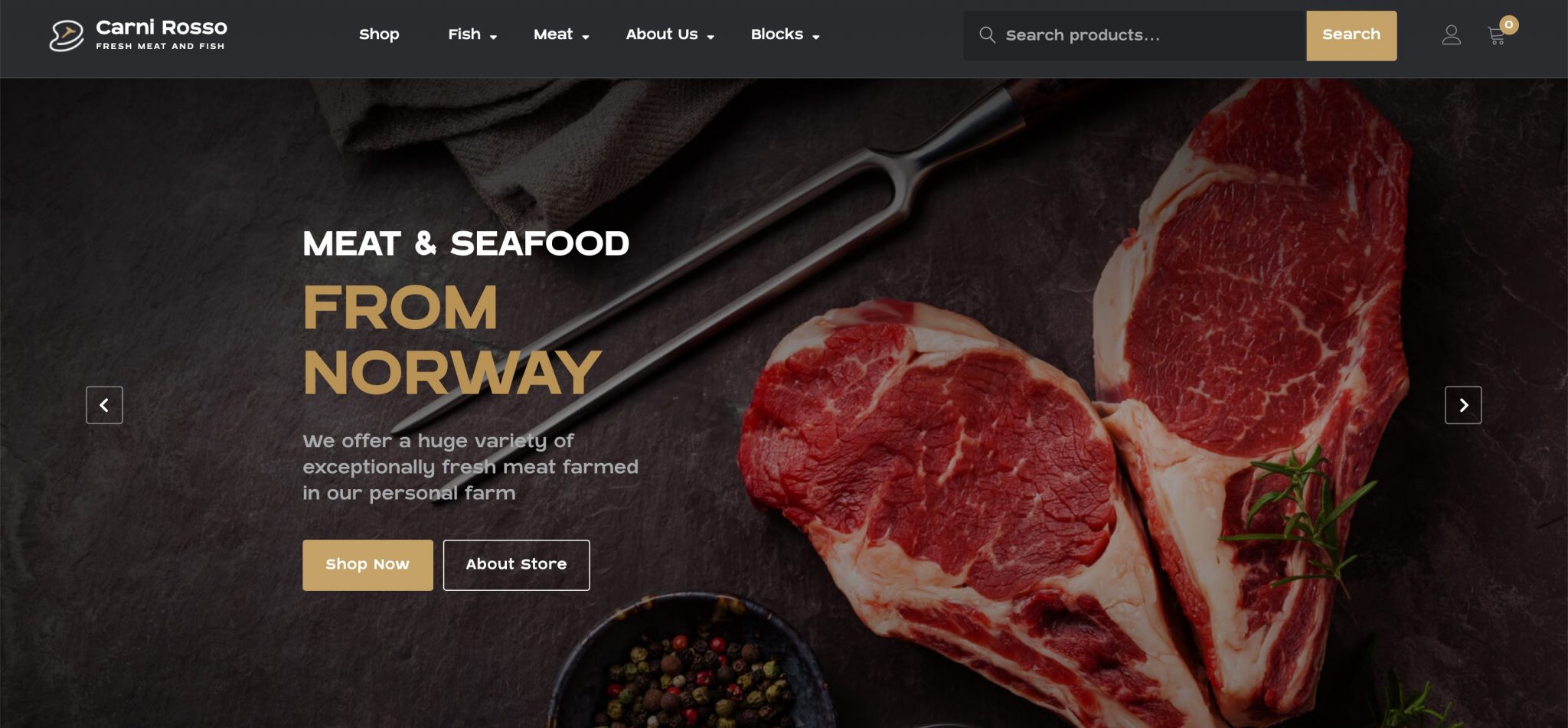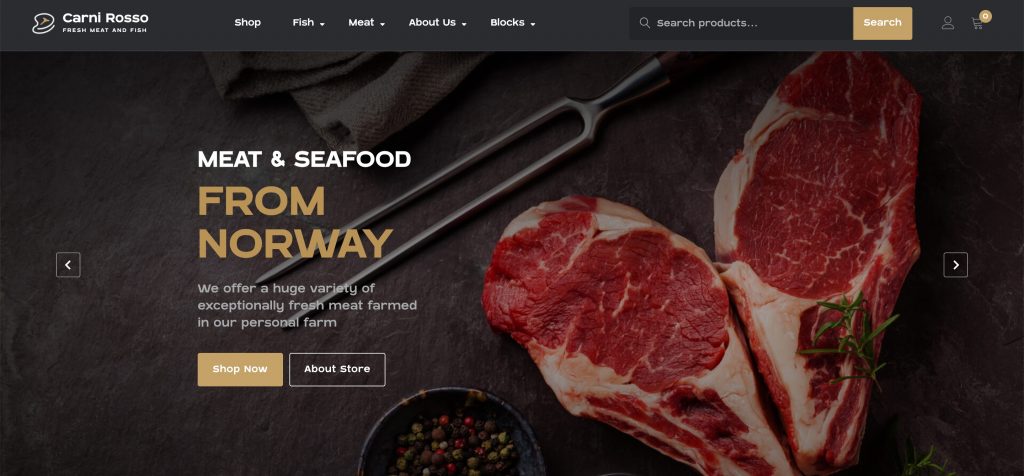 Carni Rosso is best for such businesses as meat & fish supply, food/beverage shop, or food delivery. With a pre-installed WooCommerce functionality, the template can start accepting sales, delivery, and takeaway orders without any extra settings. The pre-designed shop pages include product views, a shopping cart, checkout forms, and more.
To access more advanced Gutenberg customization, developers of Carni Rosso included an extra collection of 40+ advanced blocks by Getwid.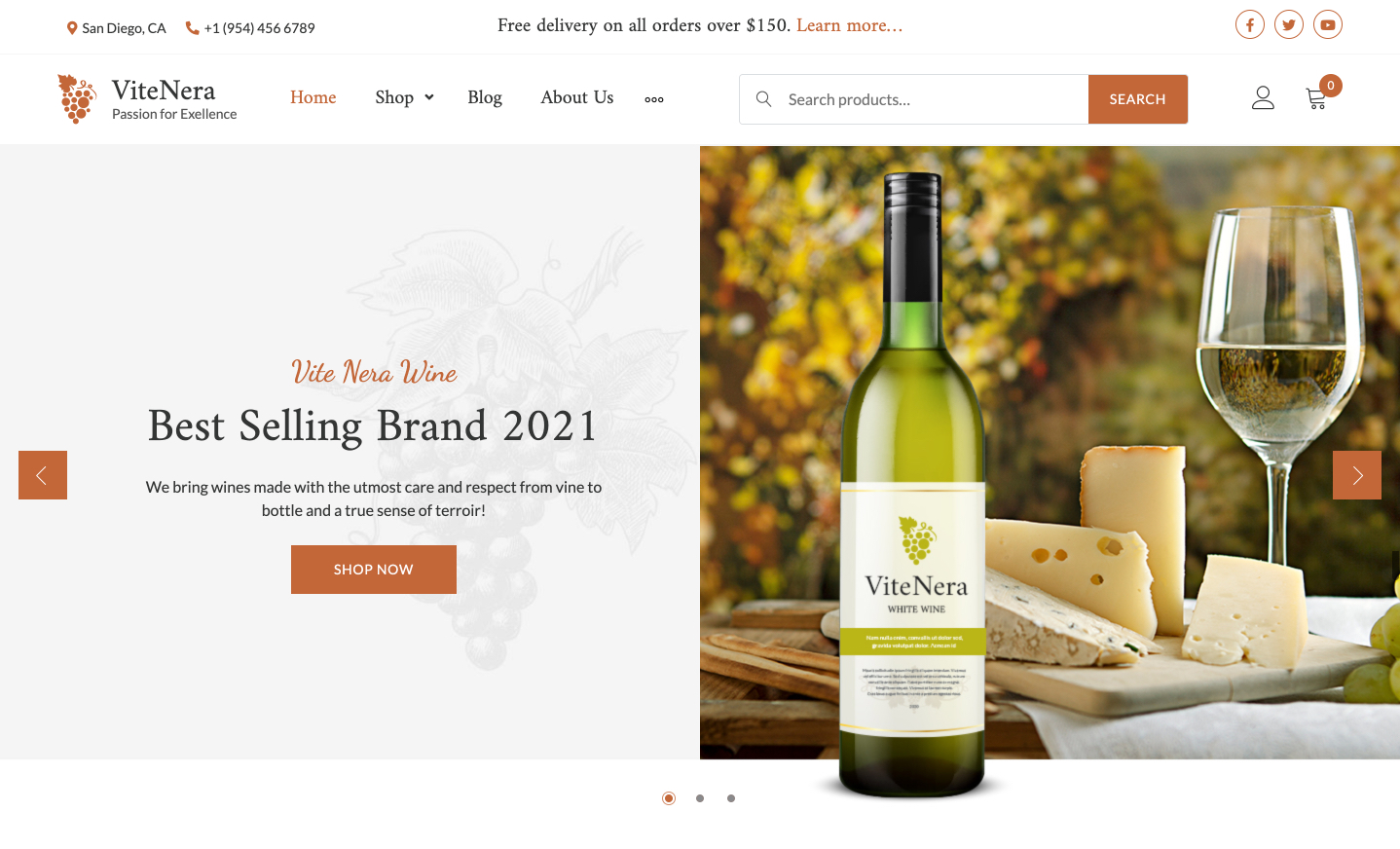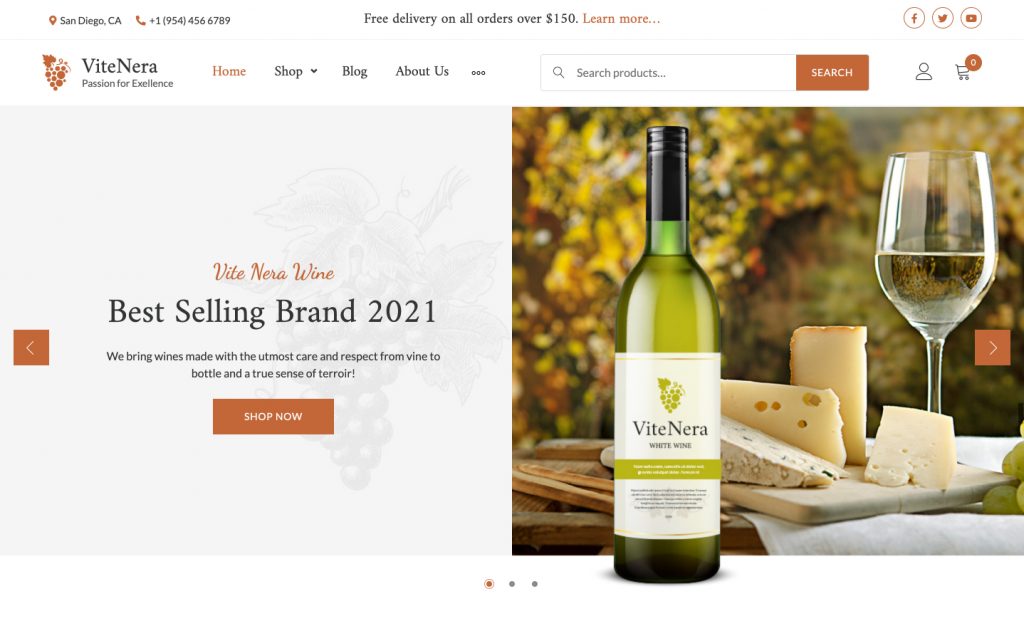 The Vite Nera demo is optimized for selling alcoholic beverages. Vite Nera looks very elegant and classy, which is perfect for showcasing both luxury and affordable brands.
Of course, it provides an implemented WooCommerce functionality with the next sections: wine lists, products, branded image galleries, etc. These are all blocks taken from the Getwid plugin. Other noteworthy features are accurate SEO-friendly markup and integrated Mailchimp.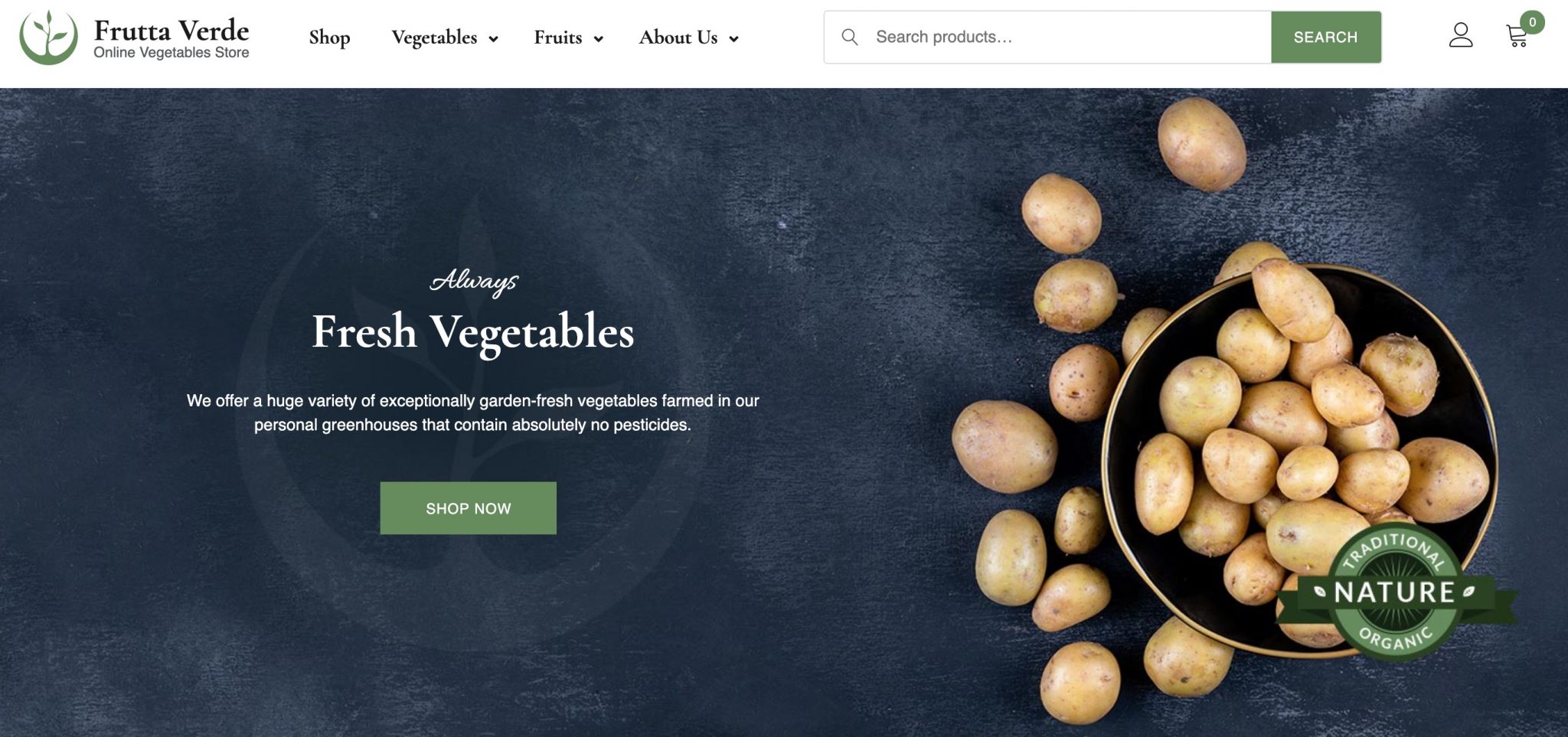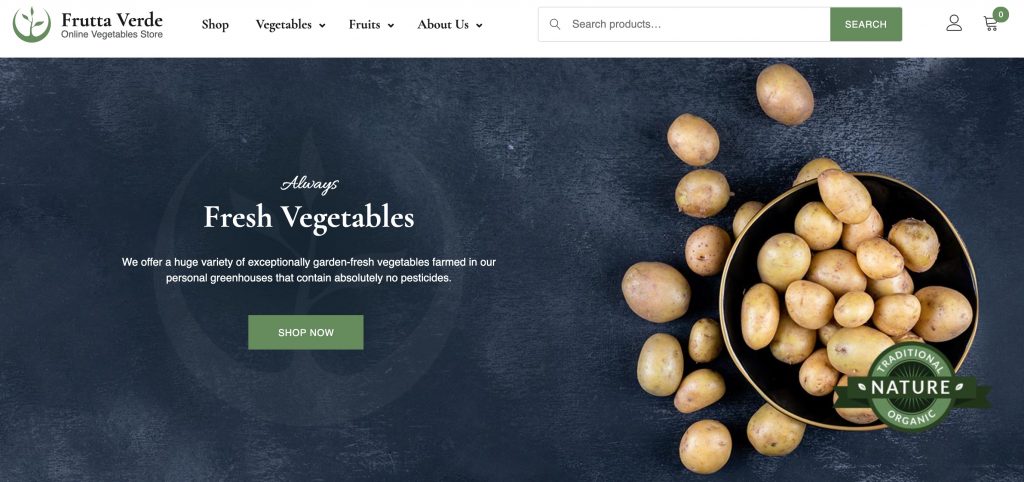 Frutta Verde is mostly relevant to food stores but also to websites of farms, organic food producers, and many more. The theme's design is 100% responsive and SEO-friendly. The Frutta Verde functionality is the same as Carni Rosso or Vite Nera. The WooCommerce compatibility ensures quick and easy checkout, convenient product display and filtering, the ability to make payments, and more.
Final Word
Go ahead and take a look at all demos of these 10 best WordPress themes for food blogs & websites.
It's worth noting that one premium WordPress theme (or a Gutenix bundle) will still cost you less than individual site development.
When it comes to WordPress food blog themes free options, they have less functionality to tweak with. You can use them at the start of your WordPress experience or if you want to test the core options of its premium solution.