Purchased or registered a free account with Gutenix?
In this quick guide, we're going through the steps you need to take to set up Gutenix starter sites before you can customize them with popular WordPress page builders: Elementor, Gutenberg, or Brizy.
Whether you registered a free account or purchased Gutenix, you get your personal Gutenix account credentials in the first email. Use them to log in to your account to access settings, license keys, profile, and affiliate areas.
How to get started with Gutenix?
Before we get down to the tutorial, choose your case first:
A. You're already using a free version of Gutenix and have just upgraded to PRO.
In this case, you only need to activate your license key. It will unlock access to more premium Gutenix templates and advanced theme functionalities.
To find your key, go to the My Account tab > copy your License key. Then navigate to your WordPress dashboard > Gutenix Wizard > License tab > paste and validate your license.
Voila! You are ready to get the most out of Gutenix.
B. You've just registered an account to download a free version of Gutenix.
C. You've just purchased Gutenix and you don't have it installed on your WordPress yet.
For B and C scenarios, follow all the steps in this tutorial to see how to get started with Gutenix. They are almost the same, but we'll emphasize where they differ.
Step 1. Download Gutenix Wizard
First, once you're in your Gutenix account, you need to download the toolkit that will run the Gutenix theme on your site: Account > Products tab > Easy Installation section > Download.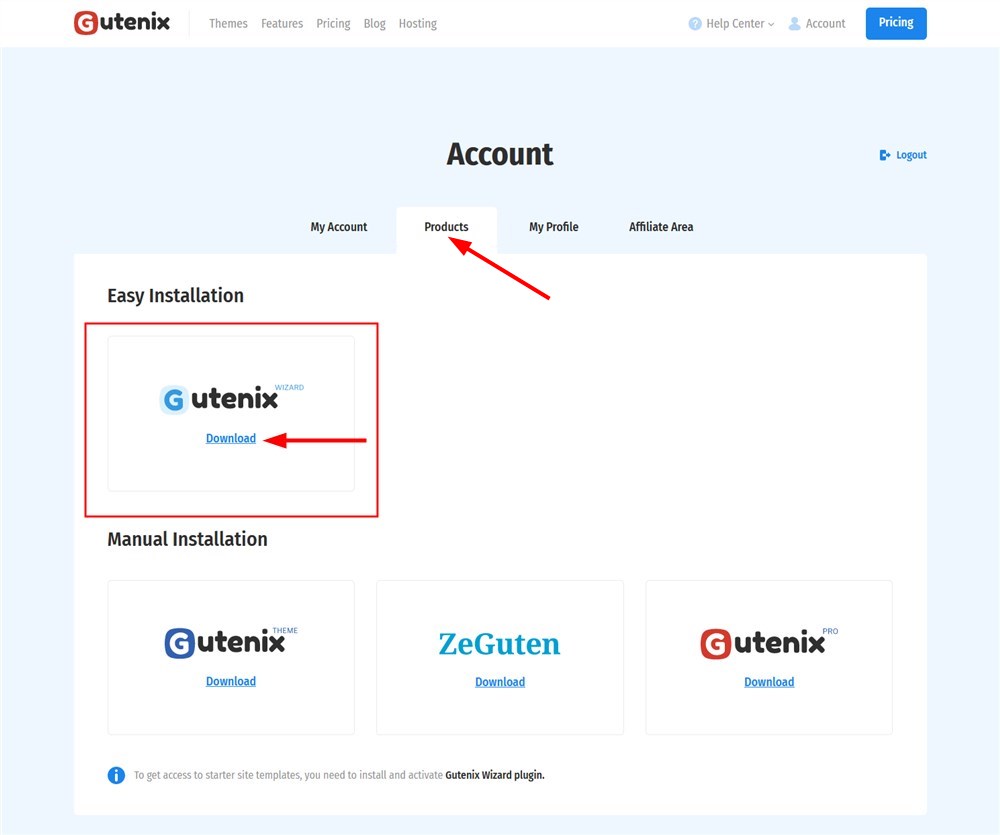 The uploaded gutenix-wizard.zip file must be installed on your WordPress site via Plugins > Add New > Upload > Install Now.
Yes, this is a bit different from the normal WordPress theme installation process because Gutenix is not a mere theme, it's a pack of templates and extra plugins you can choose to use.
Once the plugin is successfully activated, you'll notice the Gutenix Wizard menu on your WordPress dashboard.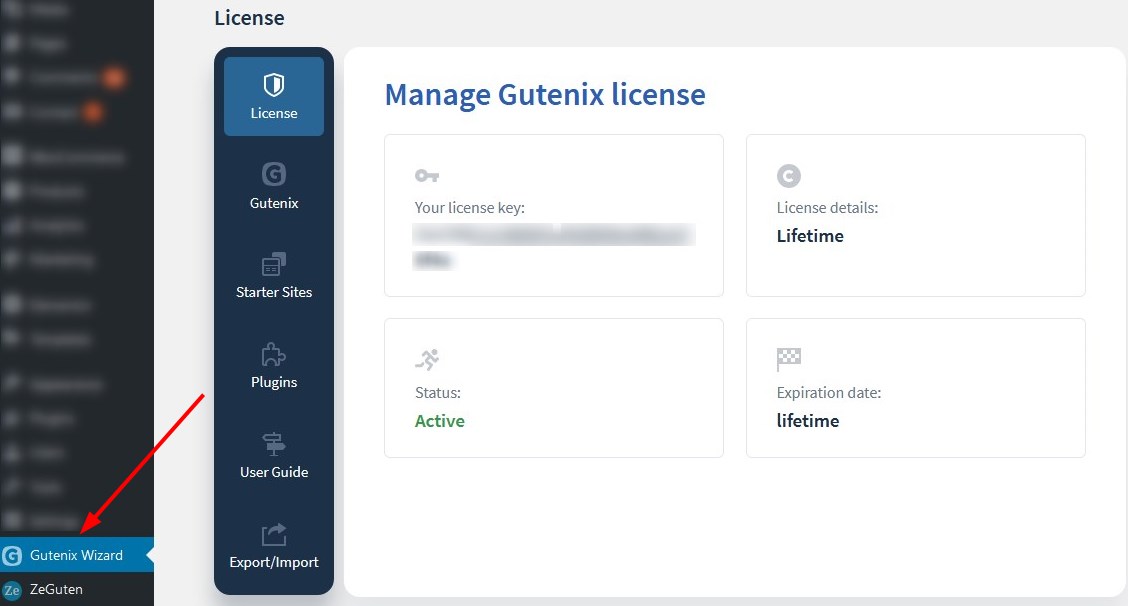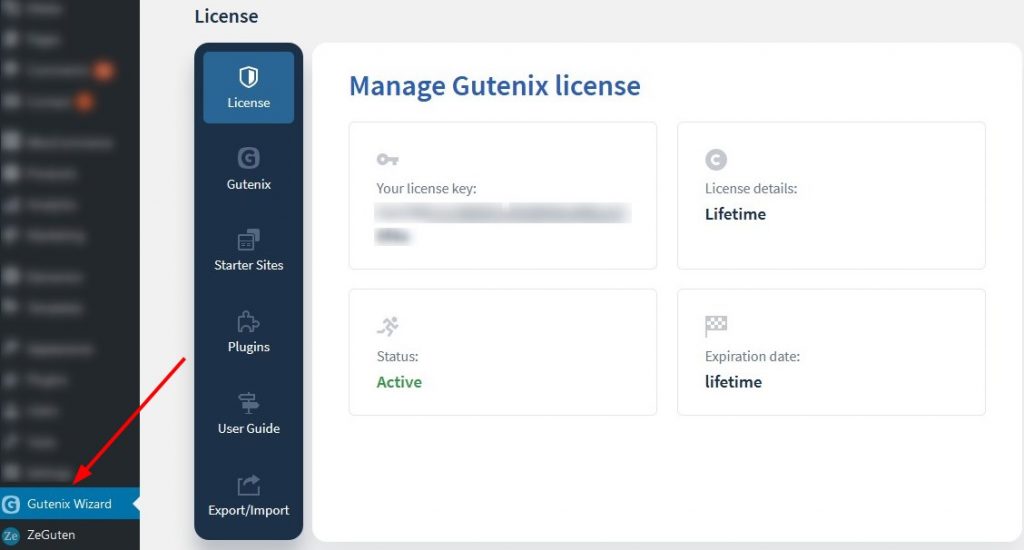 This awesome tool is made to help you smoothly perform the setup process, step by step.
Step 2. Run Wizard for Gutenix Multipurpose WordPress Theme
Open Gutenix Wizard and start with the following screen:
Choose "I have Gutenix PRO license key" if you've purchased a Gutenix subscription.
Choose "I want to use Gutenix FREE version" if you're on a free account.
Note: you can't get premium Gutenix templates up and running on your WordPress installation without your license key.
To find your license key, go to the My Account tab > License key: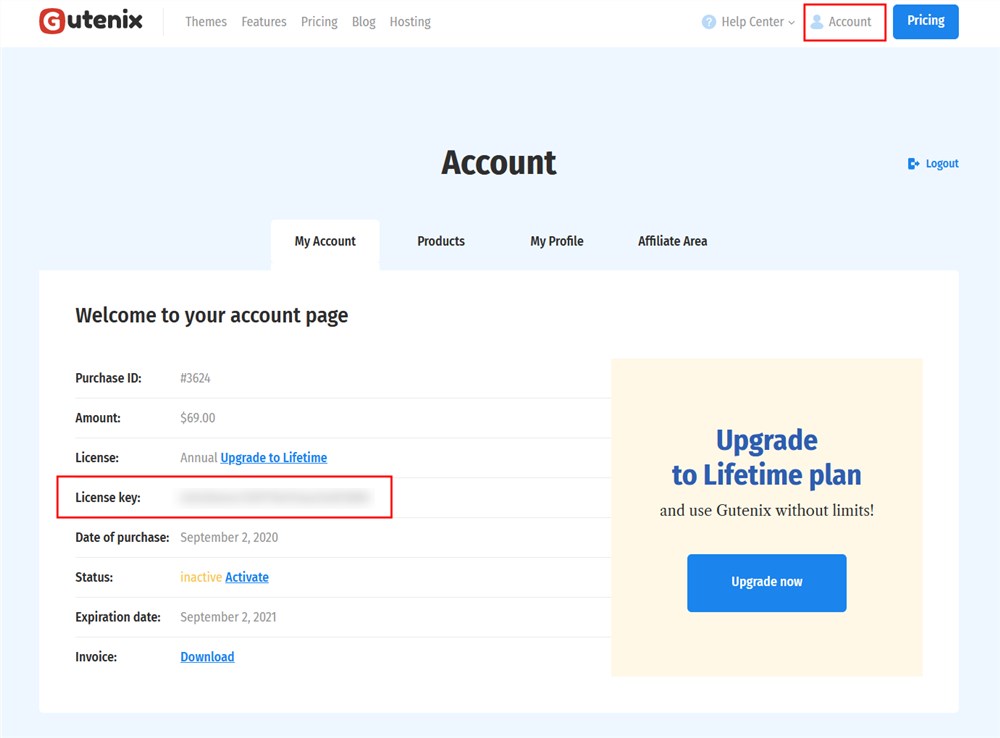 Copy the key, then paste it into the Wizard interface and press "Validate".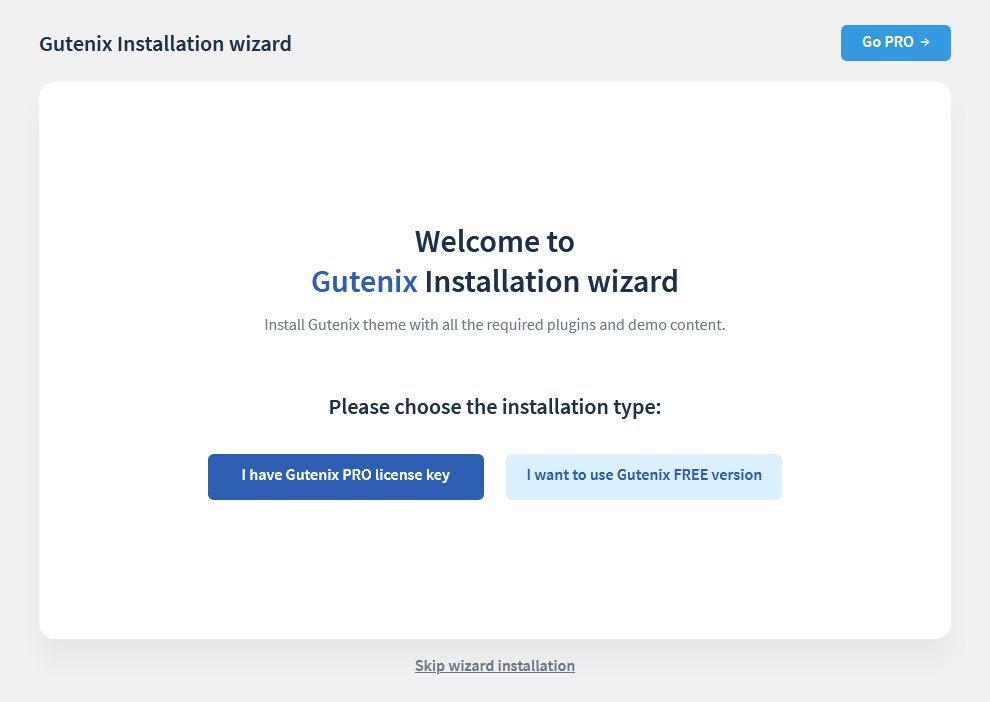 On the next step, you'll be asked to install Gutenix with or without a child theme. Opting for a child theme is usually safer – it allows you to make theme edits without worrying they can get erased after the next theme update.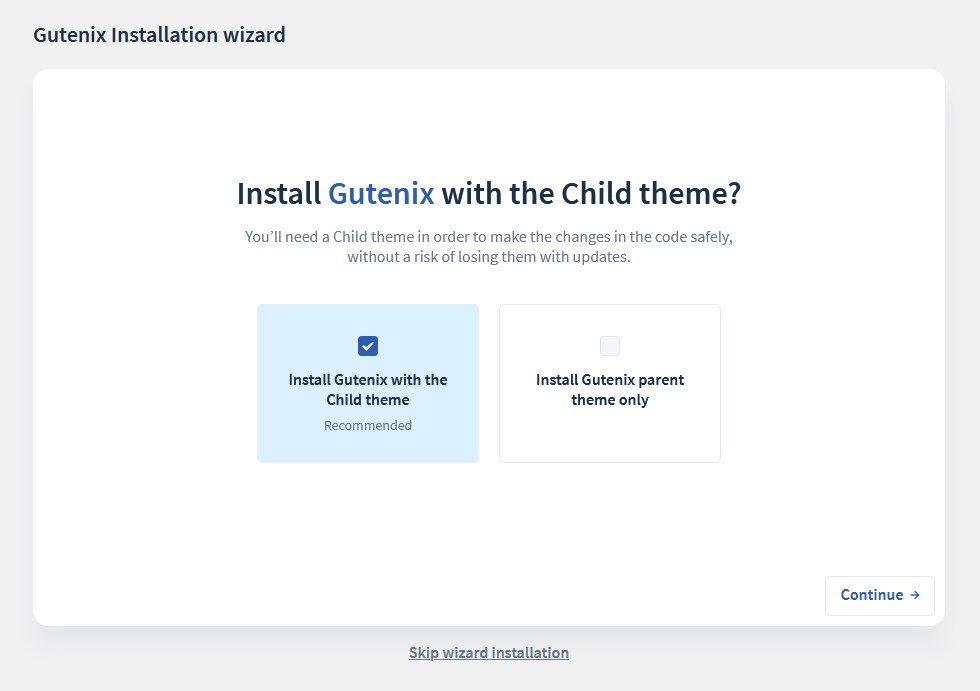 Step 3. Choose a starter site design
Once the installation process is complete, you're redirected to the starter sites you can use on your future website. Some ready-made designs are available only in a Pro version.
The templates are categorized by semantic topics (business, fashion, charity, etc.) and page builders (Elementor, Gutenberg or Brizy). Pick a template and click "Install".
Read a detailed overview of fresh Gutenix starter sites.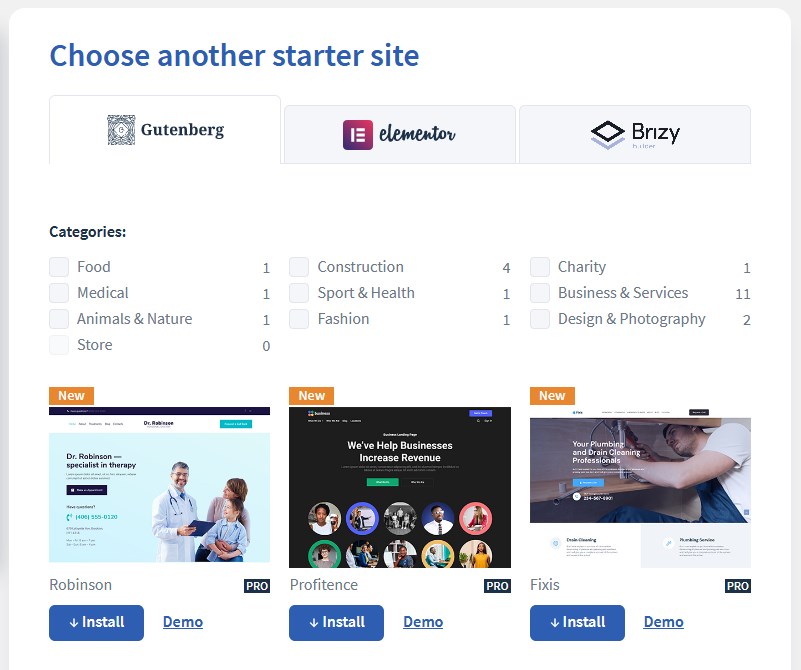 Feel free to view a theme demo before choosing it as your website design.
Step 4. Install recommended plugins
Based on your starter theme choice and the page builder it comes with, the Wizard will ask you to add more helpful plugins to assist you in design and functionality edits.
For example, one of the most popular block editor templates, Bisiz, will ask you to install ZeGuten (a collection of premium content blocks we give you for free with the theme), Gutenix Pro and Contact Form 7.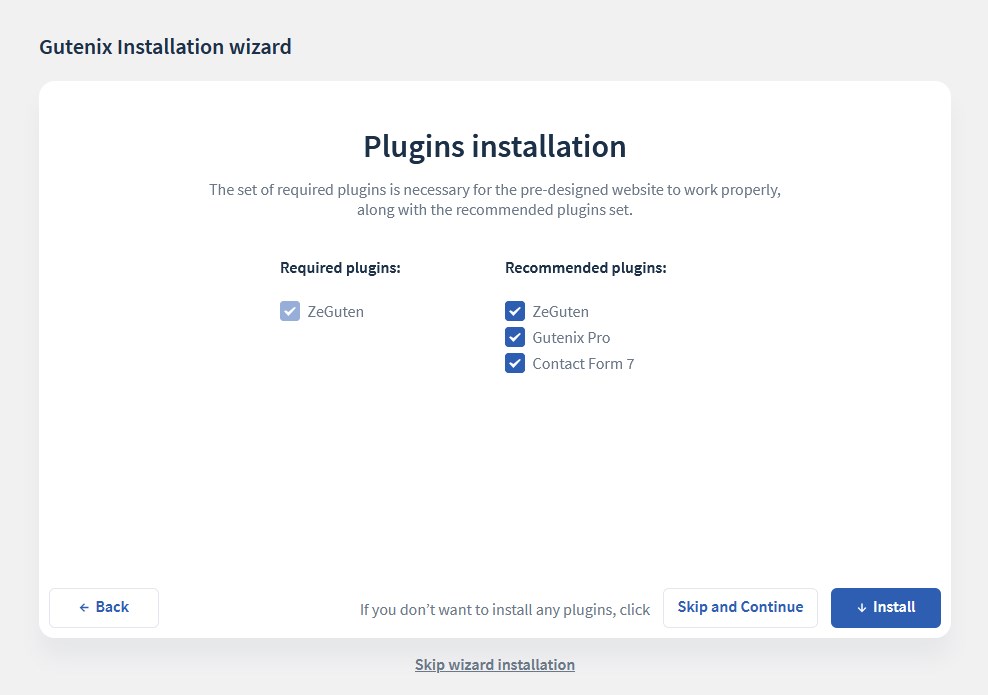 Step 5. Import theme demo content
To get your website look exactly like in a professional demo, you need to import sample data an initial starter theme comes with.
For fresh installations, i.e. your current WordPress installation doesn't contain any custom content, feel free to click "Replace".
If you're afraid to lose any content you already added, choose ""Add demo content to my existing content".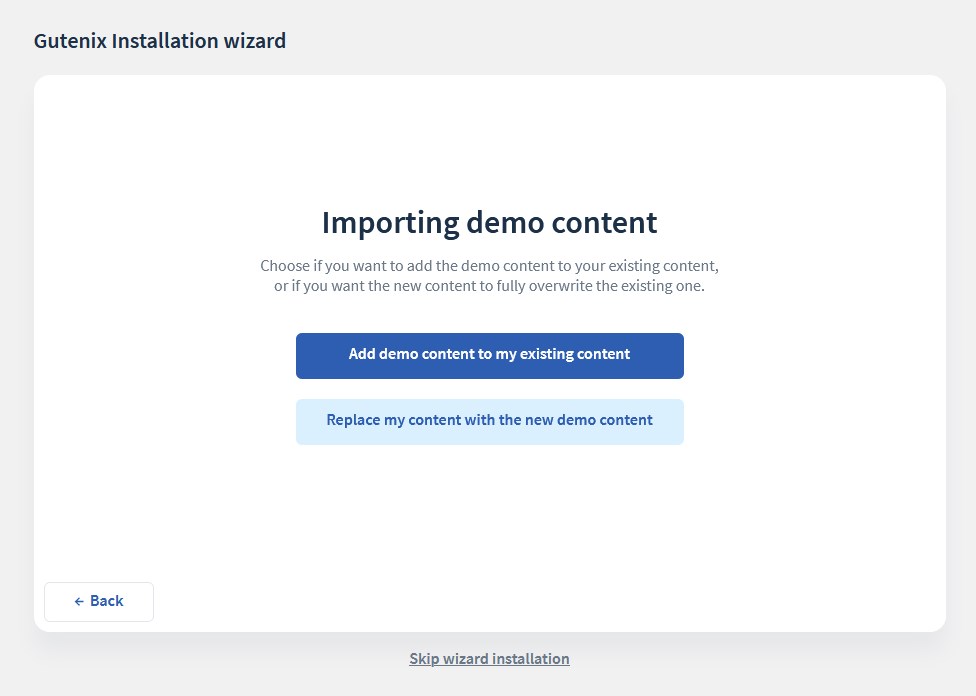 Once the process is finished, the final screen will ask you to choose how you want to proceed to work on your site: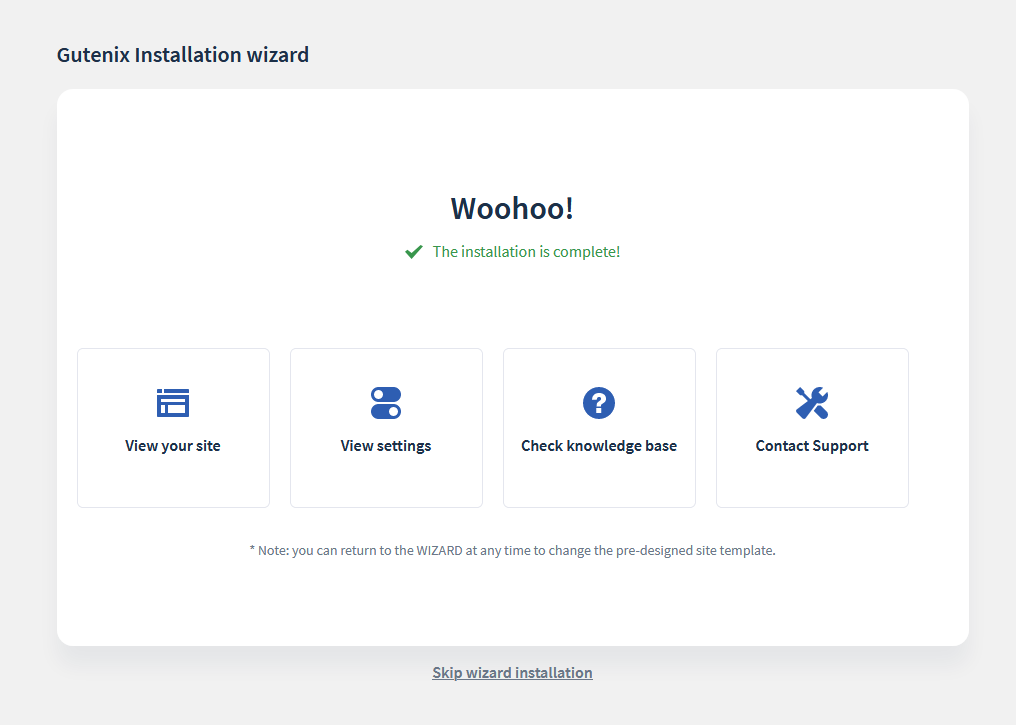 As you see, it's easy to get started with Gutenix!
Start with global site settings in WordPress Customizer
Your Gutenix customization routine will depend on a page builder used in a starter theme.
But Gutenix can also boast of tons of options you can set globally (sitewide) via WordPress Customizer: Appearance > Customize.For example, you are free to fully recreate header and footer areas in your theme, go with a different color scheme and typography choice, add several cool marketing and SEO tools, to name just a few things.
Note: the settings might differ depending on a Gutenix version you use.
Let's go through some essentials you can change for your site:
Site identity & general settings:
Completely alter website typography (you can change Google fonts, its color, weight, etc.) for buttons, headers, body text, and more.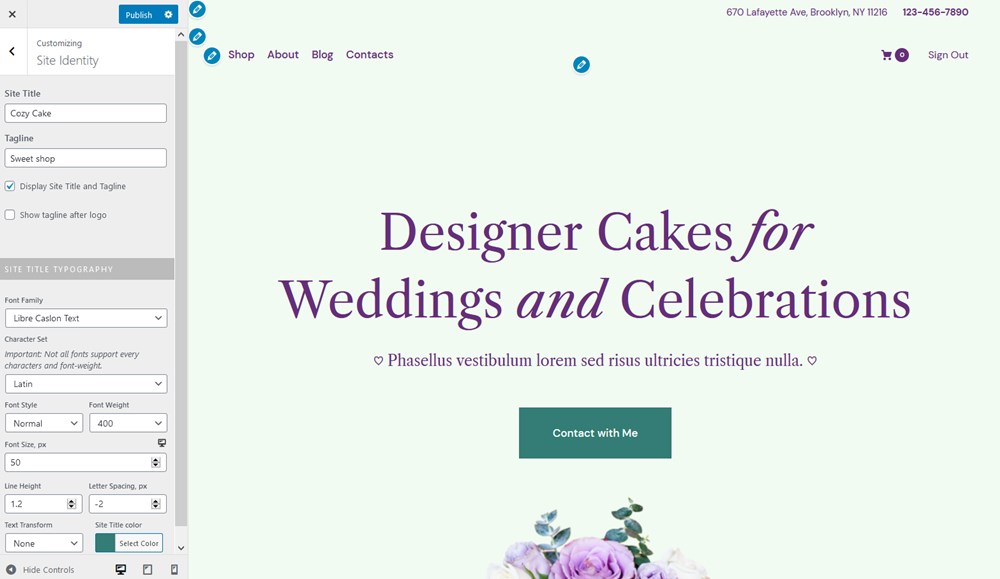 Decide on a preferable page layout, e.g. full-width or boxed.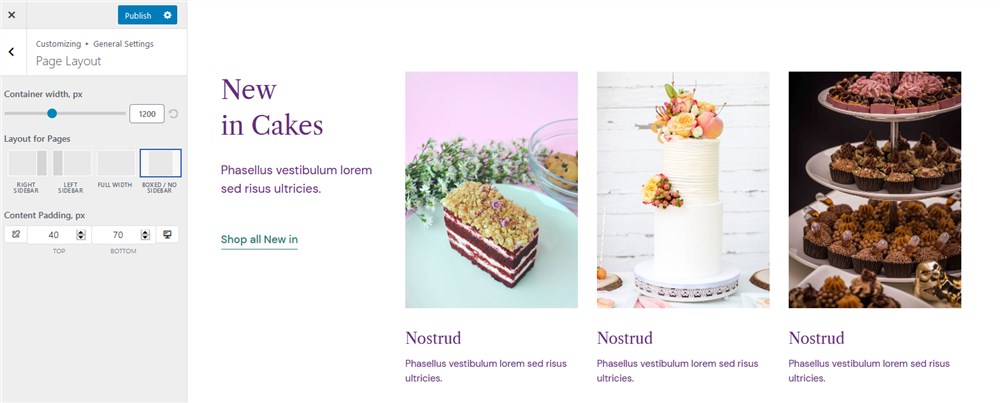 Change styling of the back-to-top button (or optionally remove it).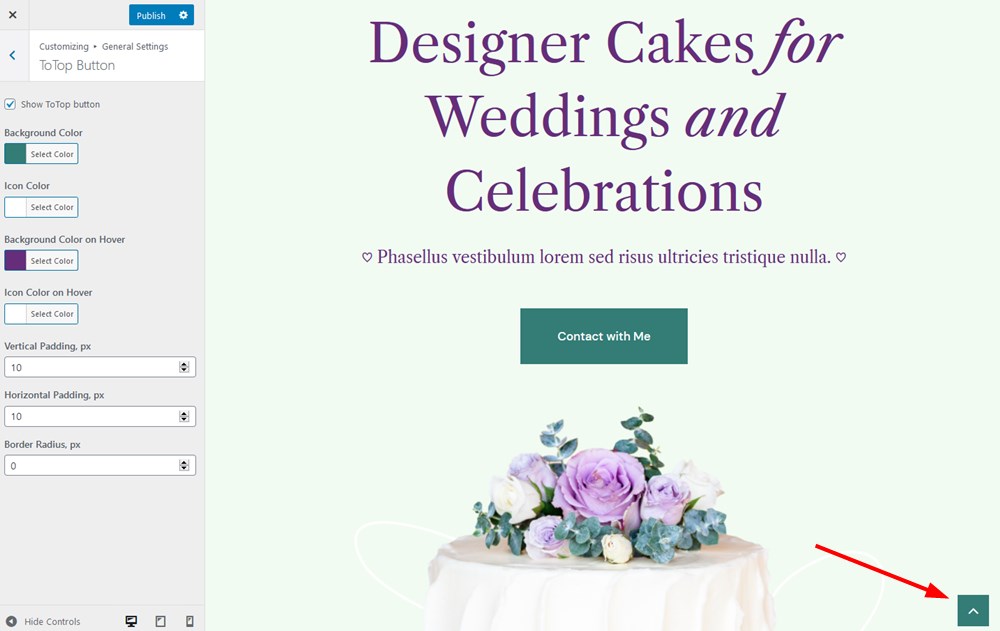 Customize your 404 page.
Add and customize a popup subscription form (you can add your image and text).
Set up Google Maps.
Tweak your site color scheme.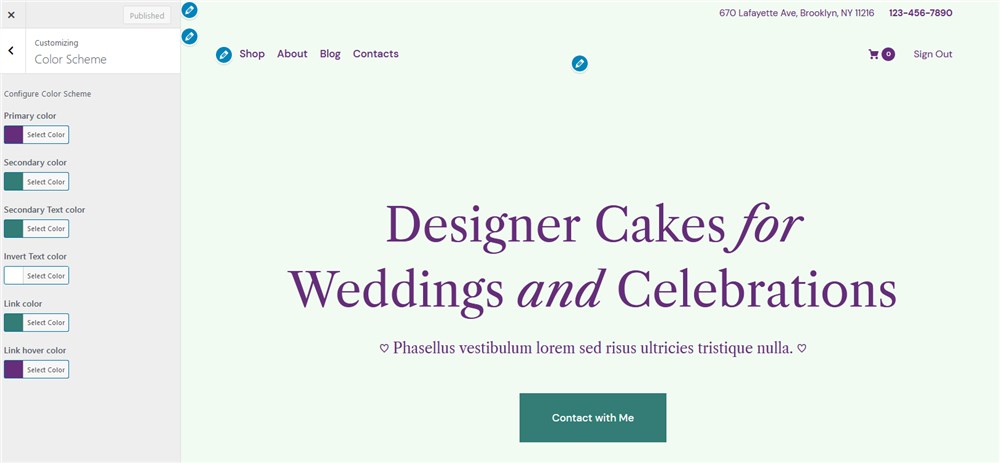 Enable and use a top site panel for advertising or announcement purposes.
Customize a header section of the Gutenix Multipurpose WordPress Theme: use a sticky header to fix a header on your site when a user scrolls a page; apply individual settings for vertical and mobile menu; add a transparent header to specific pages.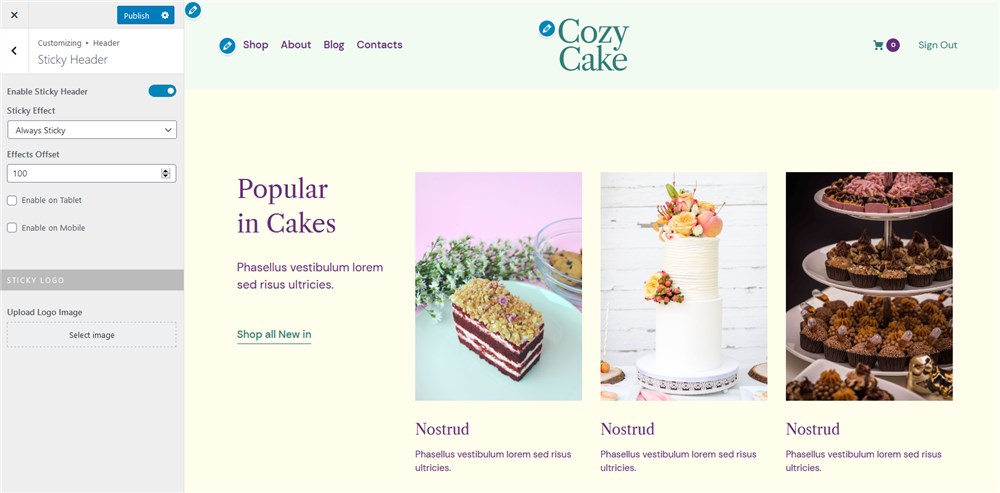 Edit navigation menu.
Fully tweak a theme footer – add, edit or delete widgets.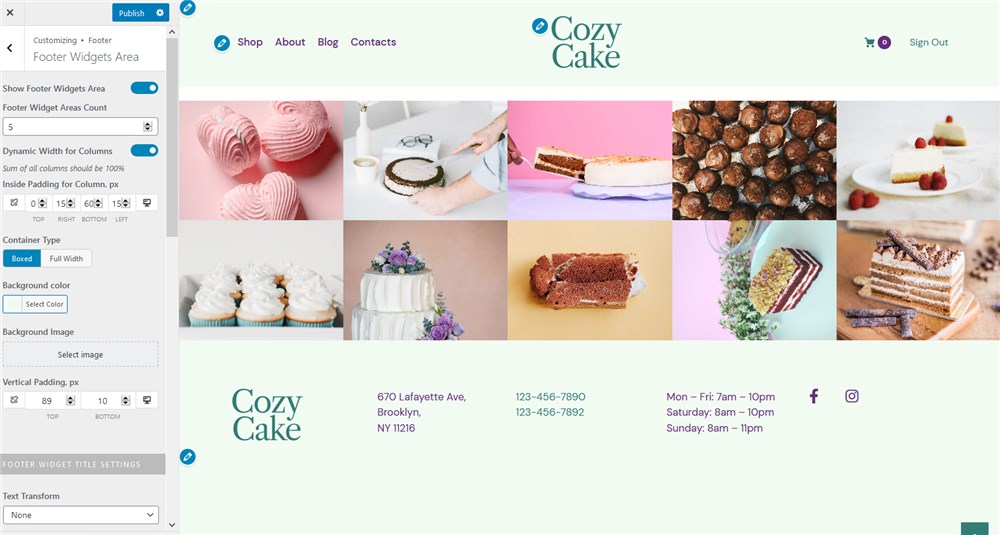 Gutenix blog settings
Gutenix ships with tons of settings to make your blog stunning and informative. For example, in the Customizer Blog settings, you can: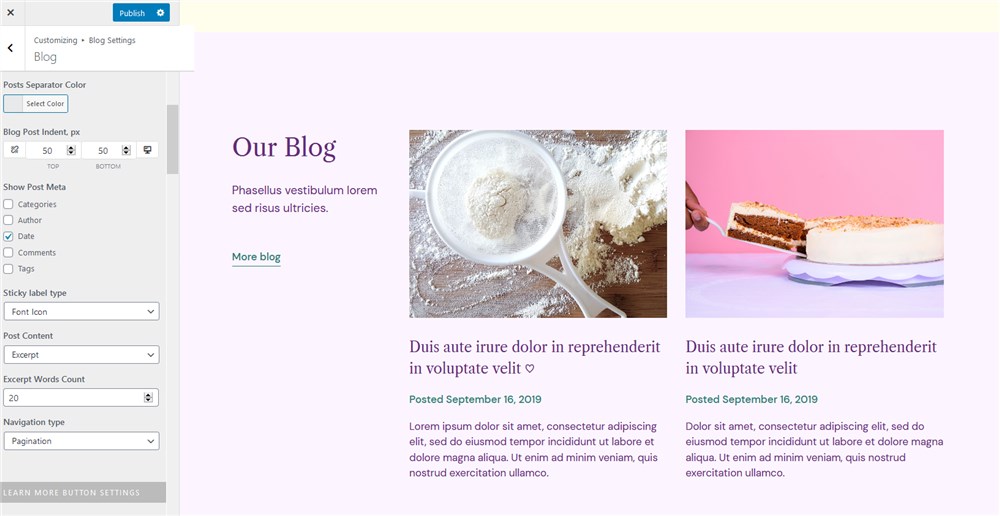 Go with a preferable layout (without or without sidebar).
Set color preferences.
Show or hide post meta (e.g. post categories).
Choose fonts and alignments.
Gutenix shop settings
If you choose a template with a built-in WooCommerce store, you'll also see an extra panel for the store settings: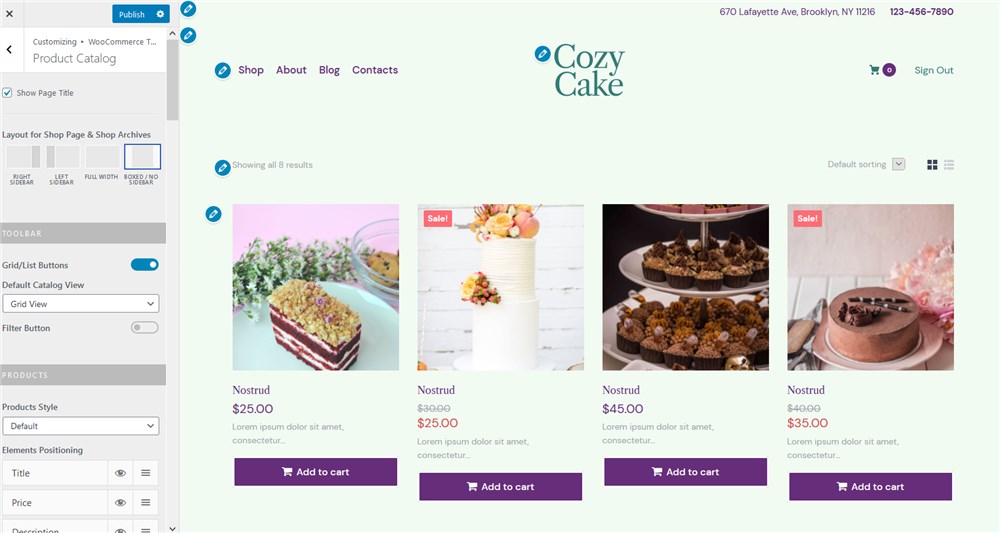 Different layouts for store categories and individual products.
Add a shopping cart to the navigation menu.
Opt for displaying tags and badges.
Apply custom typography and colors.
Set grid or list store views.
Add sharing buttons.
Display a sticky checkout.
Read more step-by-step tutorials on how to get started with Gutenix Multipurpose WordPress Theme
We've seen people build all types of WordPress websites with the Gutenix multipurpose WordPress theme, ranging from a blog to a fully-functioning business site. Here are a few guides that might help you get started with different page builders and starter sites.
How to Create a Website with Elementor & Gutenix
How to Create an Elementor Portfolio Website with Gutenix
GutenMag — True Gutenberg WordPress Theme for Magazines & Blogs
Gutenberg landing page design with explanation
How to Build a WordPress Hero Block with Gutenberg
We hope this guide helped you get started with Gutenix with minimum effort! Join our Facebook community to get more useful tips on time.