The term "business" is a broad concept. Depending on the niche and individual peculiarities, each business website ends up with a different look and functionality. If you are looking for narrowly-focused and Gutenberg-optimized solutions for business, the next list is for you. We collected 12+ WordPress business website templates with block customization support.
P. S. A lot of these WordPress business website templates come from a single Gutenix package. Gutenix is a multipurpose WordPress theme that counts 47+ ready-to-go skins for either Gutenberg, Elementor, or Brizy.
Gutenix is a great bargain for users looking for WordPress business themes in one bundle:
Main Features of Gutenix:
47+ starter site designs for a variety of business niches
3 major WP builders: Gutenberg, Elementor, and Brizy
Live Customizer
Advanced design options
Fast & lightweight
WooCommerce-ready
SEO-friendly
Translation & RTL ready
View demo of all Gutenix skins.
See also: How to Get Started with Gutenix? Quick Guide
Top 10 WordPress Business Website Templates (Paid)
Yummix – Restaurant & Winery WordPress Theme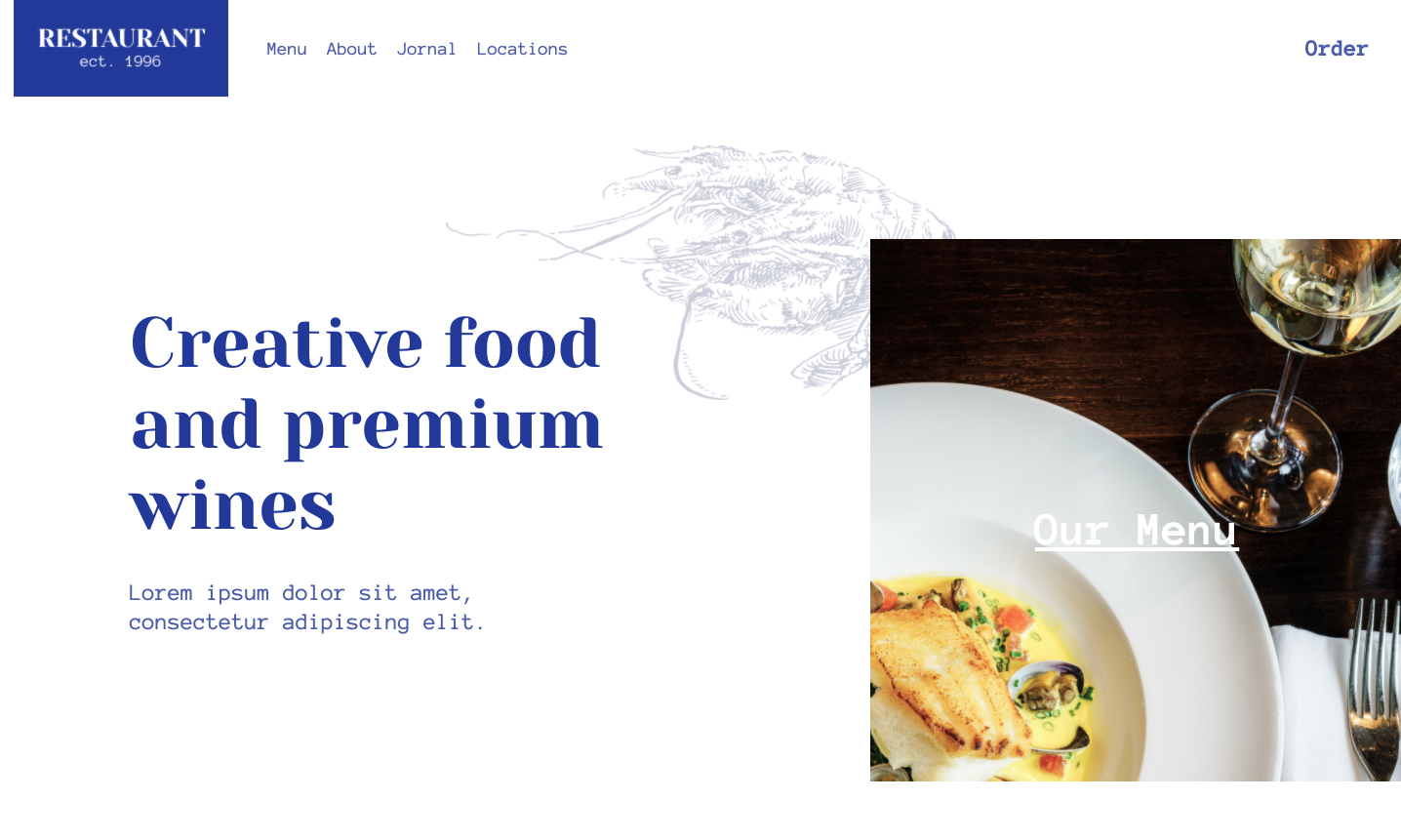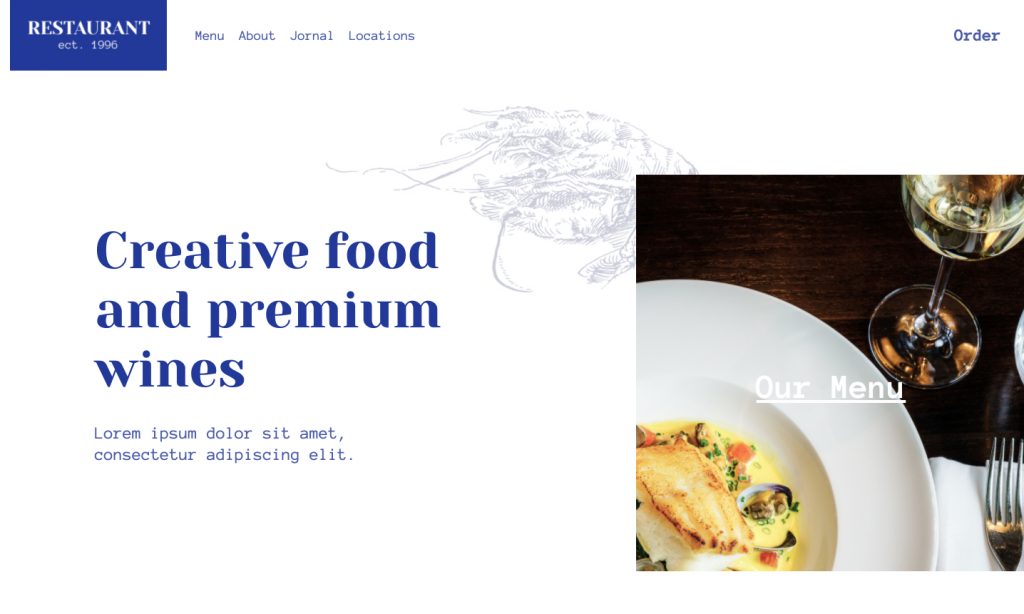 Best for restaurants, cafes, wineries, wine shops, meat/seafood suppliers
We are starting the list with Yummix – a stylish Gutenix skin created under the needs of a restaurant business. The demo design of this Gutenix skin is narrowly customized to a seafood restaurant or a seafood supplier. But with the ability to visually customize Yummix in the block editor makes truly universal. Just like all premium templates optimized for Gutenberg, this one comes bundled with 20 premium Gutenberg blocks by ZeGuten.
Overall, the skin has an easy-to-follow layout with plenty of visual content. You can use Live Customize to easily change the site colors. Of course, Yummix is ready for WooCommerce in case you want to sell items online.
Carni Rosso – WordPress Fish & Meat Website Template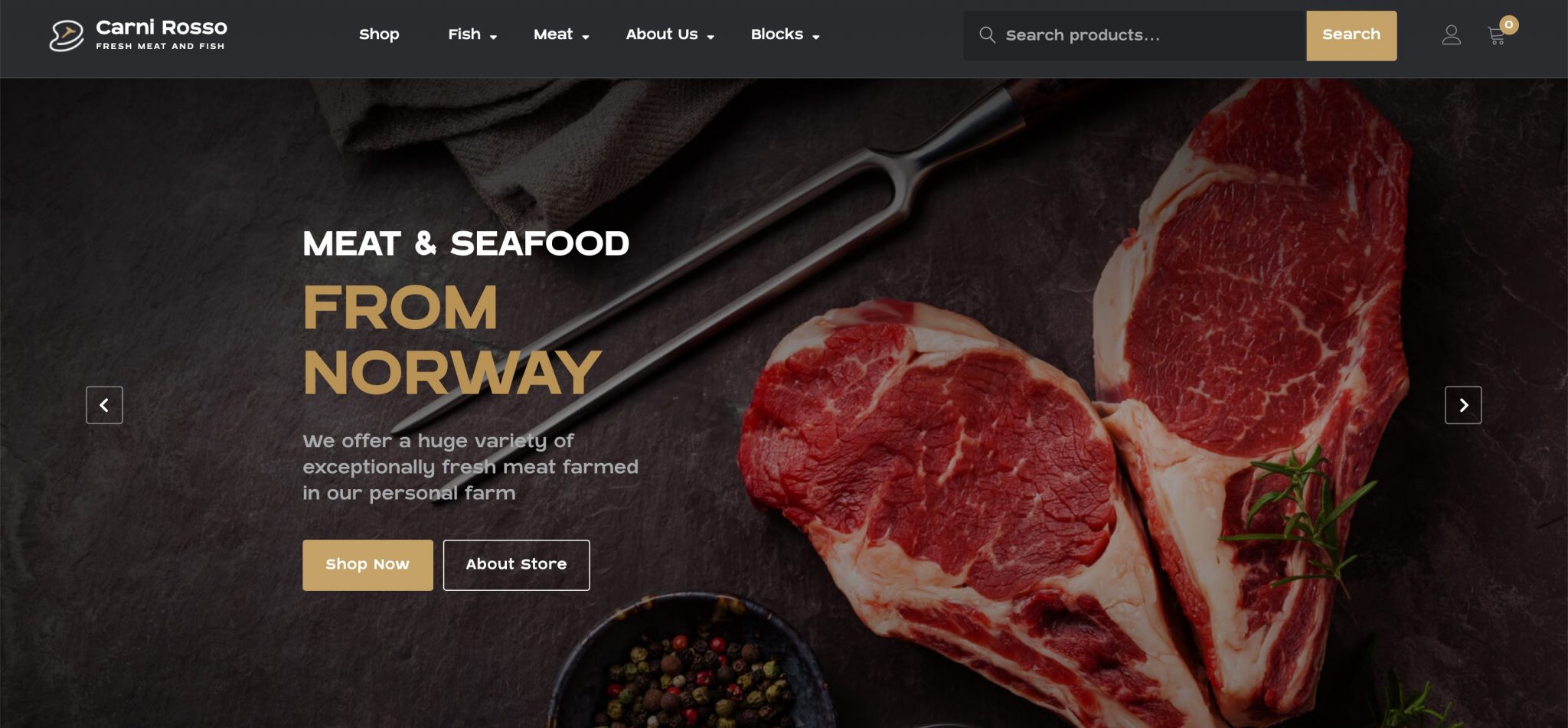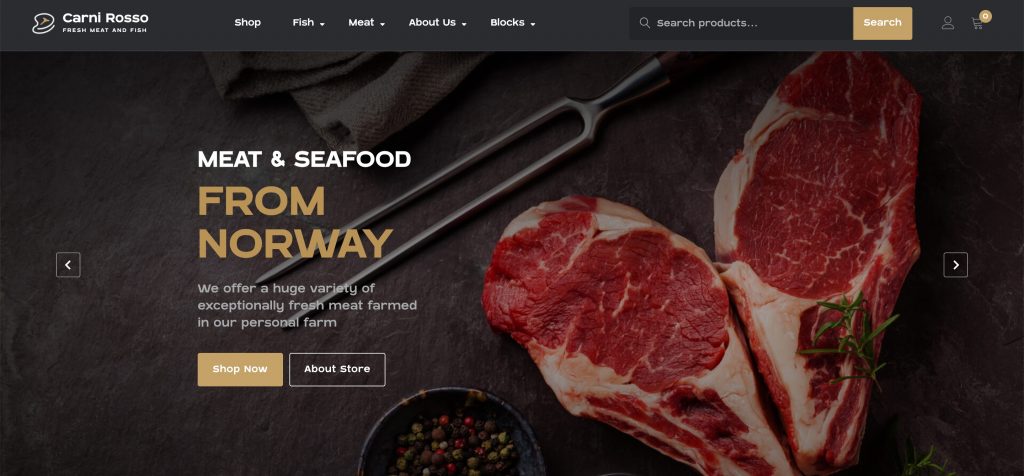 Best for meat & fish suppliers, food/beverage shops, food deliveries
Unlike Yummix and other restaurant themes, Carni Rosso is a better fit for businesses with a prime focus on selling food items online. The current demo is 100% ready for butcher's shops or meat delivery services.
Carni Rosso offers a pre-installed WooCommerce functionality meaning the template has all the needed elements for accepting sales, delivery, and takeaway orders. This includes pre-designed shop pages, product views, a shopping cart, checkout forms, and more. To access more advanced Gutenberg customization, developers of Carni Rosso included an extra collection of 40+ advanced blocks by Getwid.
Read also: WordPress Makeup Artist Themes
Craftix – Gutenberg Template For Boat Rental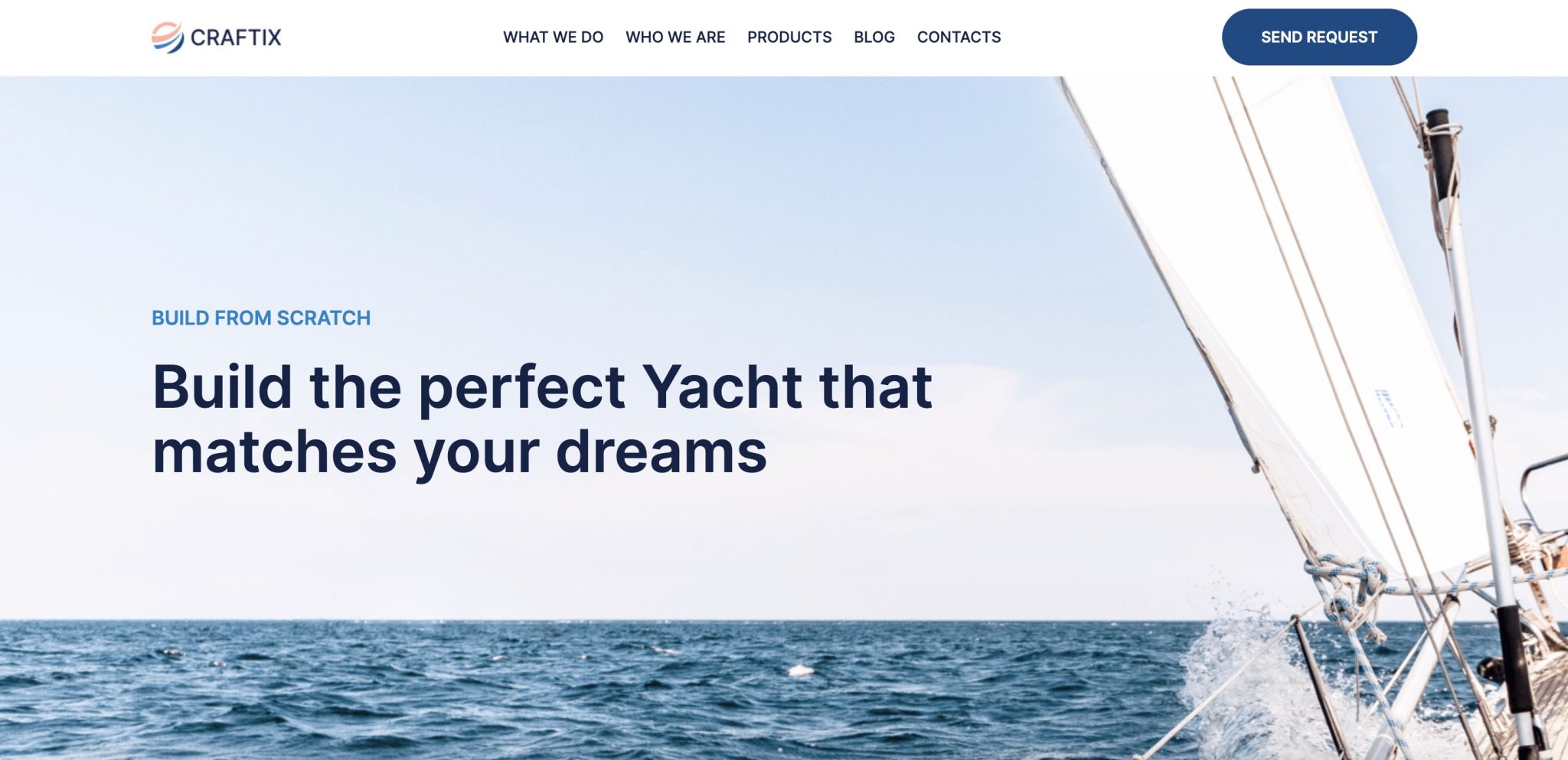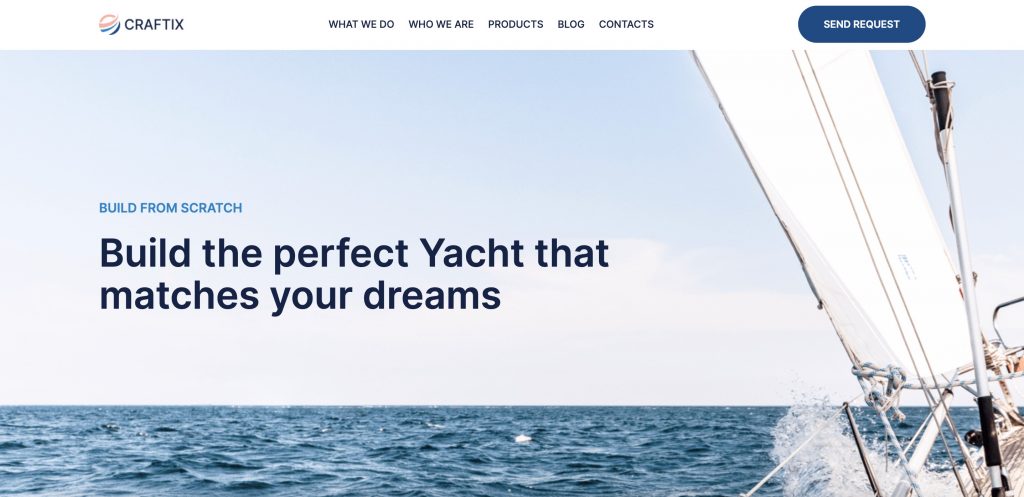 Best for boat & vehicle rental, sports equipment rental
Vehicle & equipment rental is a rapidly growing business. Craftix offers a minimalistic skin with a universal layout. It will suit any kind of rental: from yachts and cars to sports equipment. Craftix is rich in interactive page sections, including flip boxes on the homepage, sliders, galleries, progress bars, etc.
Fixis – Plumbing & Small Business Template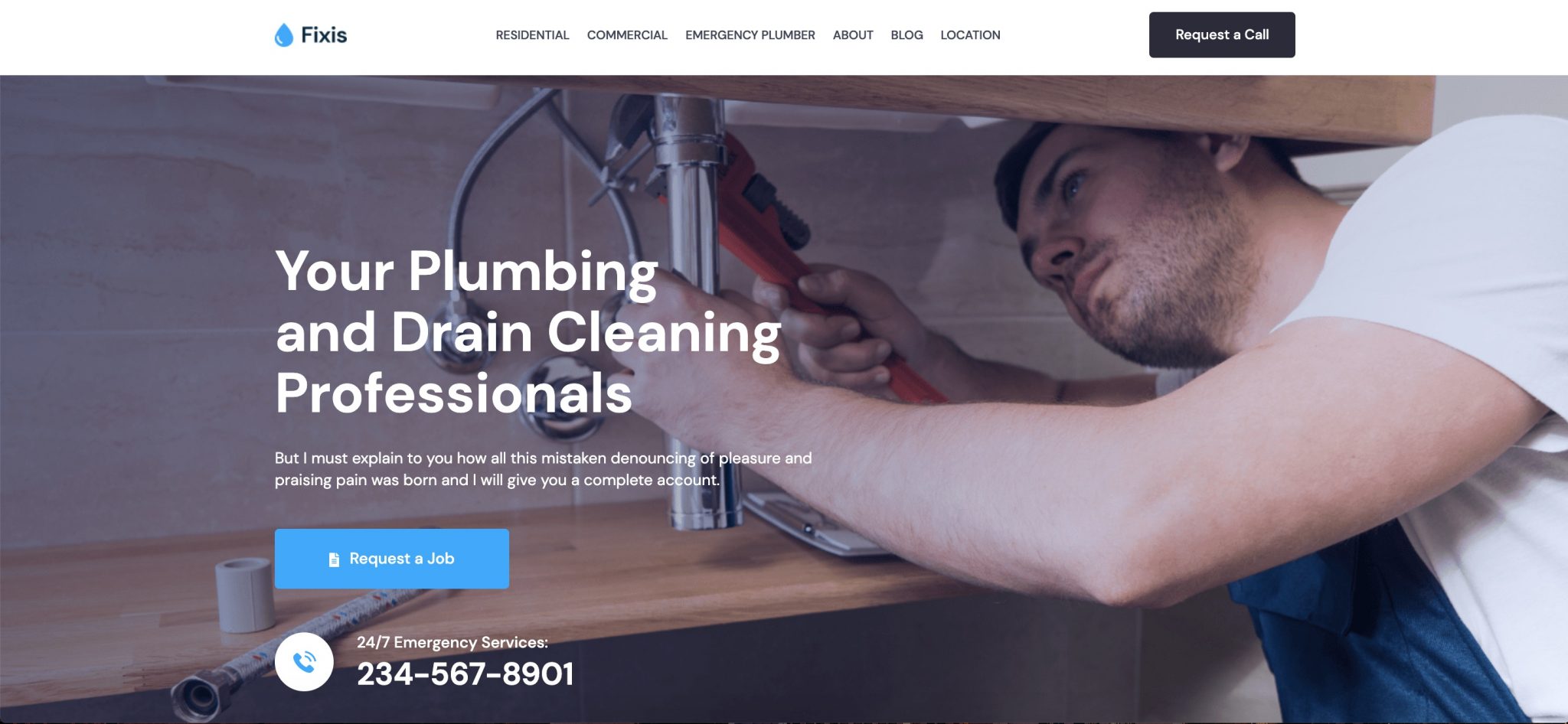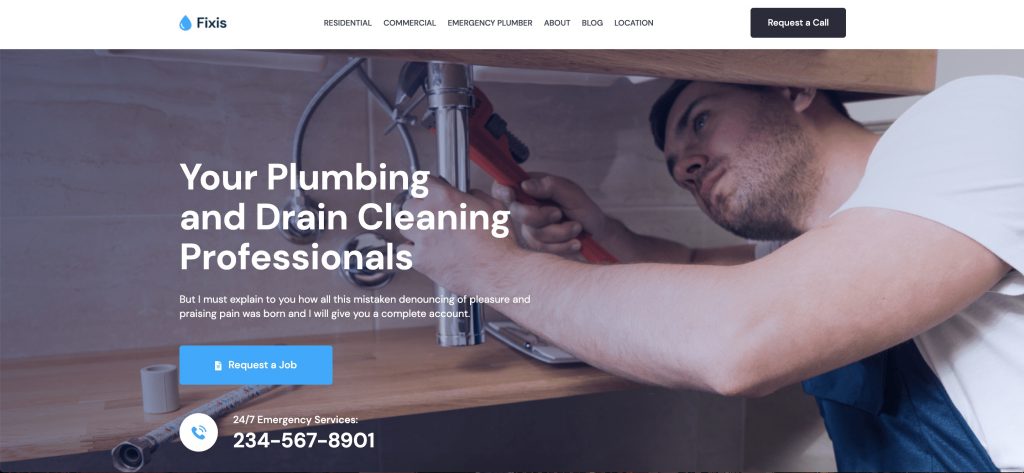 Best for plumbing service, emergency repairs service, construction service
The next one of Gutenberg business templates from the Gutenix bundle is Fixis. Globally, it works for services based on hourly appointments: from plumbing service and repairs to photographers and interior designers.
The overall Fixis design is moderate with a solid geometrical layout and inner elements. The color choice is neutral and features bright and dark tones on a white background. It offers pre-made pages for Services, Blog, Location, Request Form, etc. Fixis supports integration with WooCommerce and the ZeGuten addon.
Yogamo – Yoga WordPress Template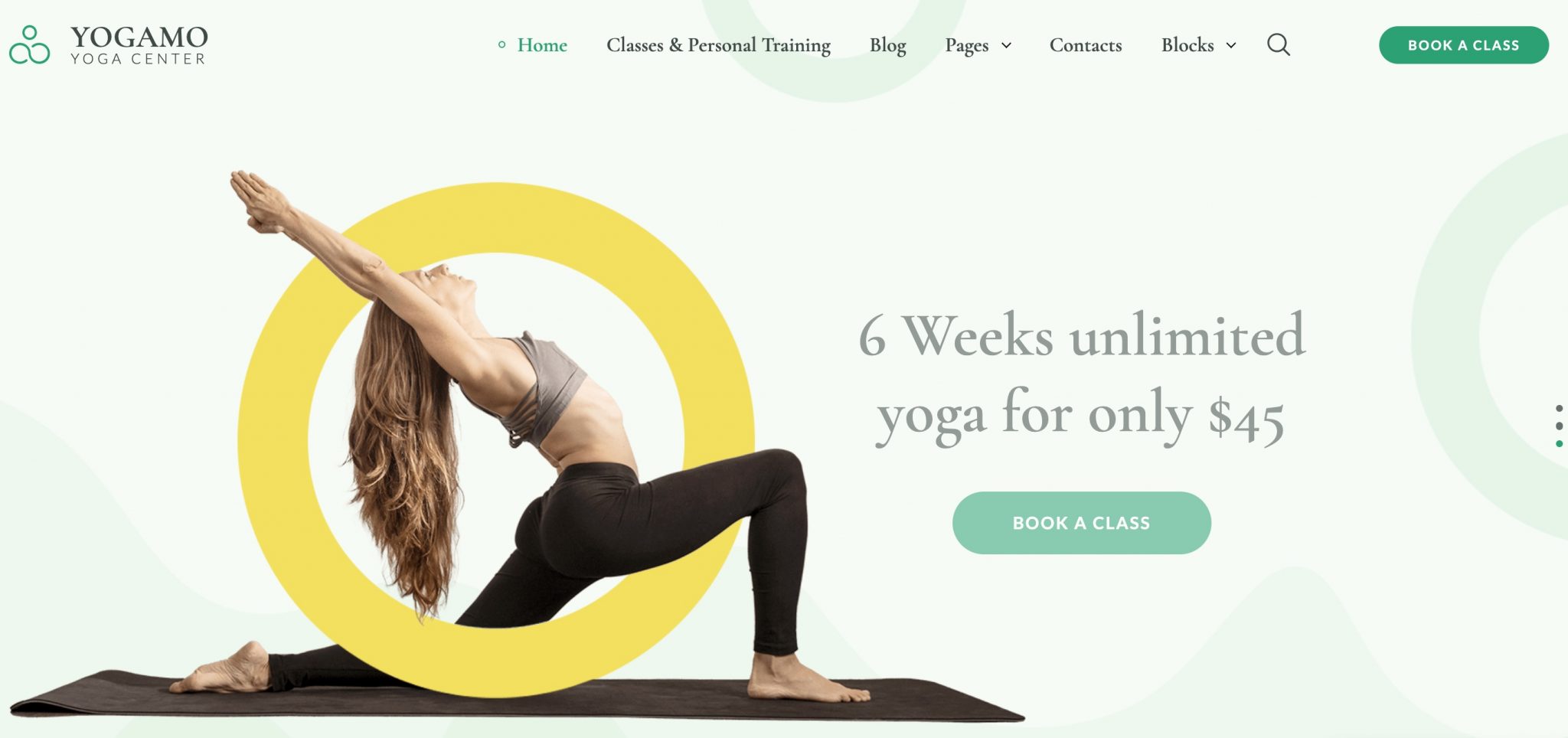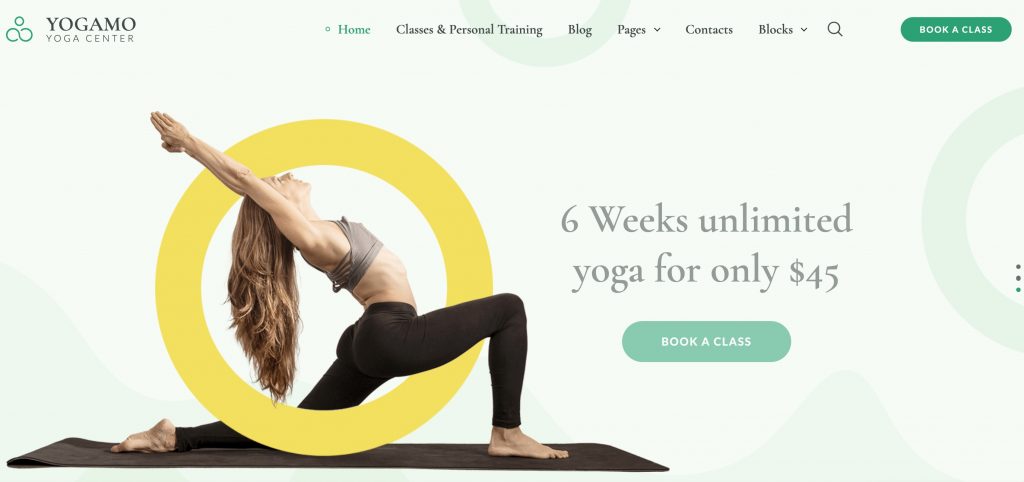 Best for yoga & dance classes, fitness & pilates studios, individual coaching
If you are looking for appointment-ready templates designed for fitness studios, Yogamo is our top choice. Not only does it feature a pleasant design but also offers a class scheduling functionality. Namely, Yogamo has free integration with this Appointment Booking plugin designed by the same developer.
The booking software lets you accept bookings and manage reserved appointments. It has no limitations on the number of services, staff members, and locations. You can set up individual time slots for each class, add buffer time, offer group sessions, and more. The class reservation process takes a few clicks thanks to a smart booking wizard.
LegalEnd – Lawyer WordPress Template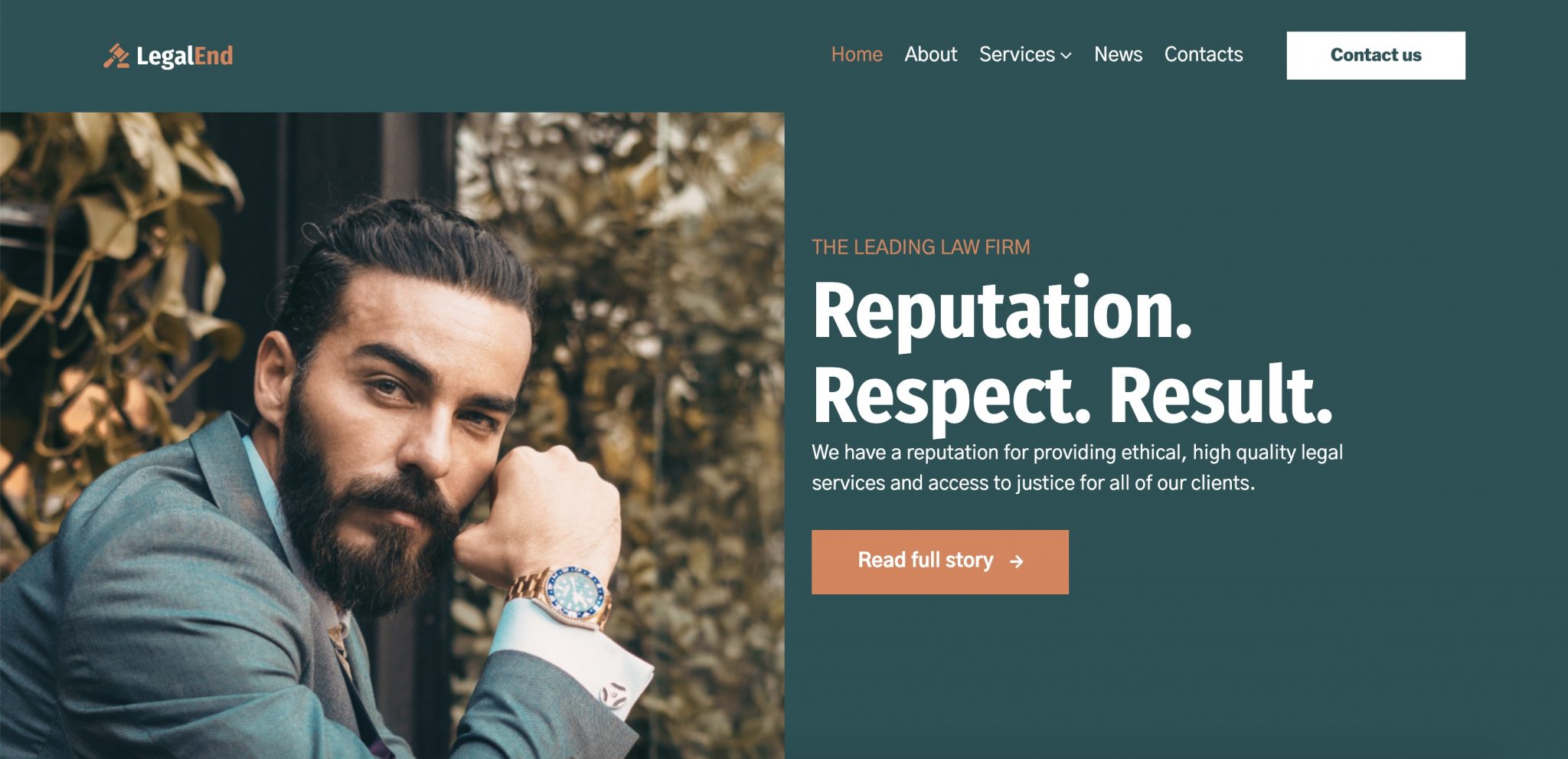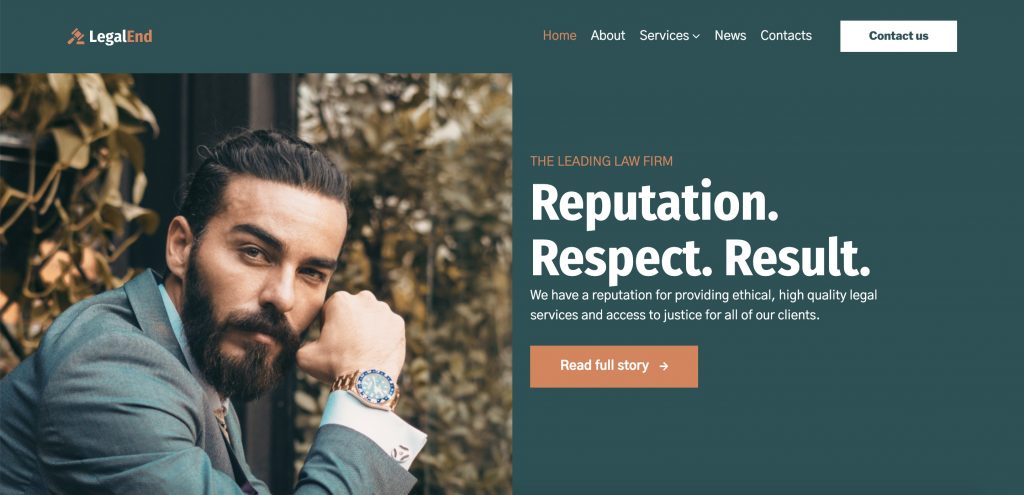 Best for freelance lawyers, law firms, legal offices, legal consultants.
LegalEnd is one of the Gutenix skins designed specifically for lawyer services. It features laconic shapes, eye-catching visuals with most information data. In general, LegaEnd has no abundant design elements to create an appropriate impression for first-time visitors. The list of pre-built Gutenberg pages includes Home, About, Services, News, and Contacts.
CoachZee – Gutenberg Template For Coaches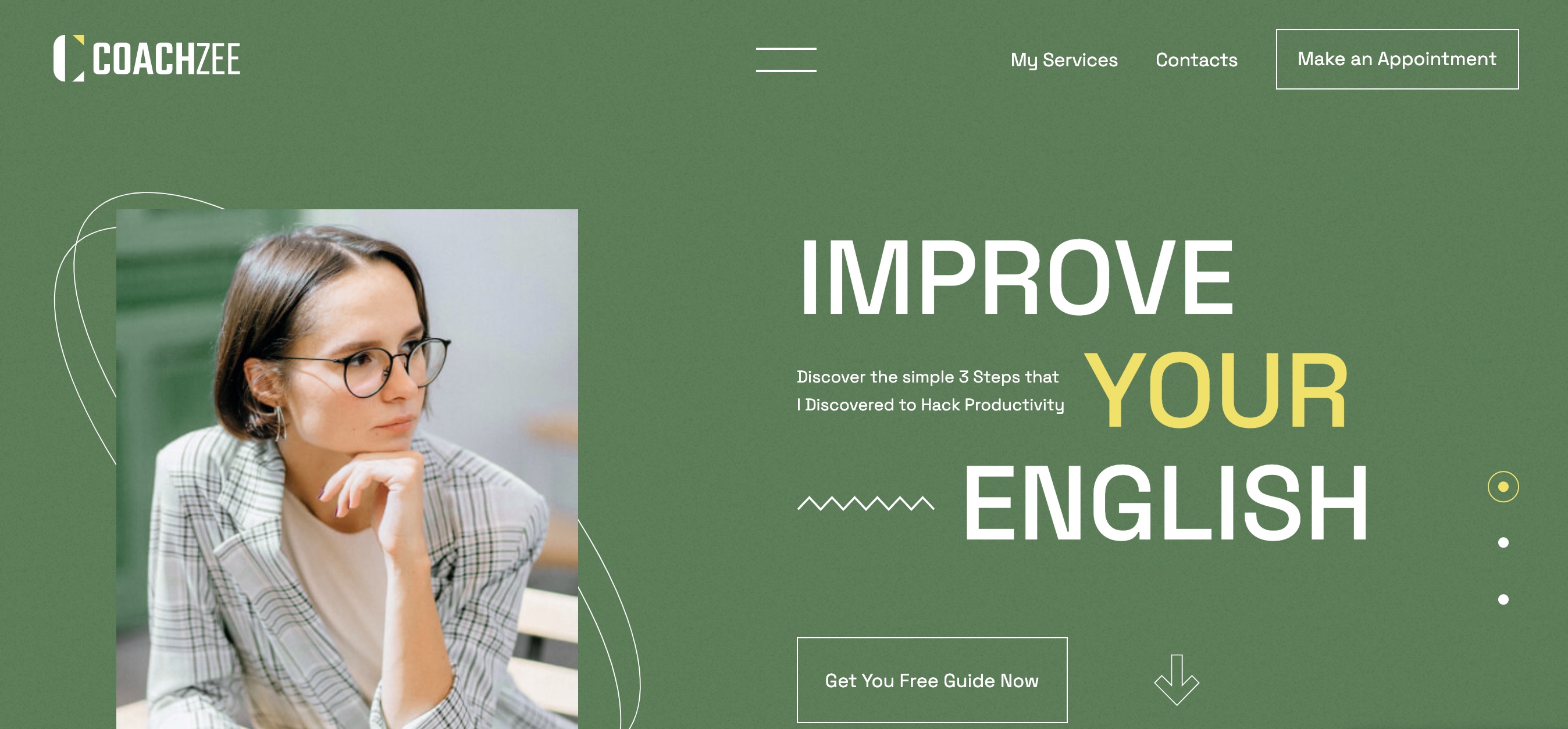 Best for life & career coaches, psychologists, teachers, tutors
CoachZee is another one of the appointment-based themes for small business. It consists of 5 Gutenberg demo designs, so they aim to visually demonstrate how CoachZee can work for different specialists. Each demo has a relatable name: Career Coach, English Teacher, Psychologist, Personal Coach, Driving Instructor. Each design is laconic and minimalistic but has a bit of a creative touch.
The integrated booking software for CoachZee users is free of cost. It offers a convenient booking widget, common payment option, unlimited employees & services, custom schedules for each staff member, and more.
Booklium – Vacation Rental Theme For Gutenberg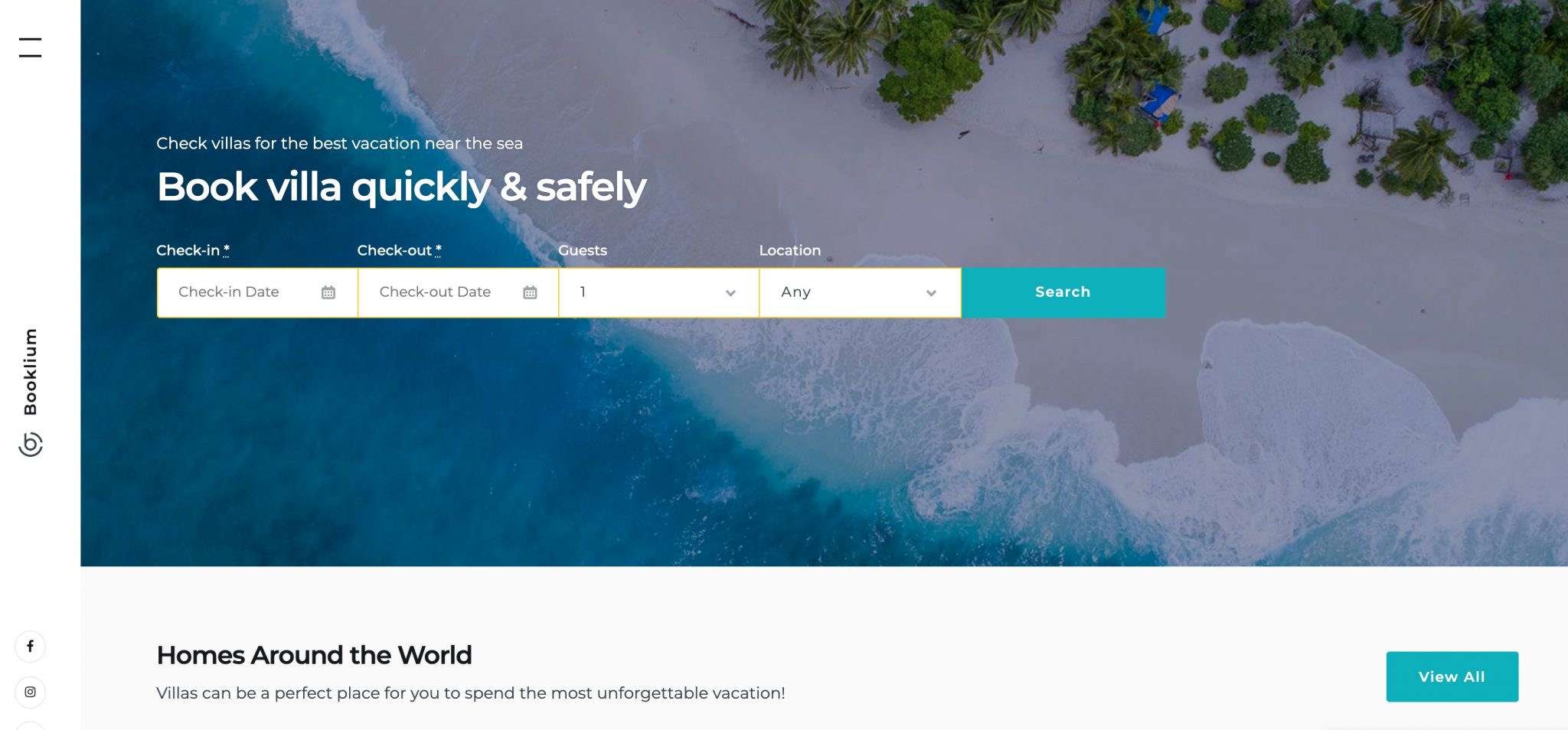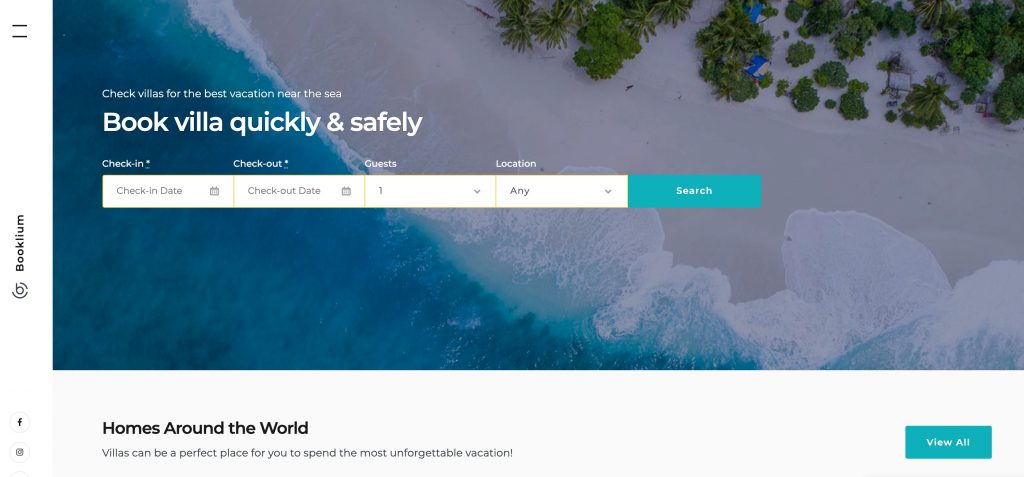 Best for vacation property rental: hotels, B&Bs, holiday homes, villas
The alternative type of booking is property rental. It typically involves the other type of booking software, just like the one offered by Booklium. This Gutenberg template is a multipurpose solution for vacation rental. Similar to CoachZee, it offers 5 ready-to-go demo designs for various types of vacation rental: B&B, hostels, apartments, villas, etc.
What makes Booklium even more desirable is the hotel booking software integrated into the theme for free. This is an all-in-one property booking management able to synchronize with OTAs (Airbnb, Booking) and manage real-time reservations. The engine allows you to feature dynamic & custom rates, accept online payments, send automatic email notifications, and many more.
IronBody – Fitness WordPress Template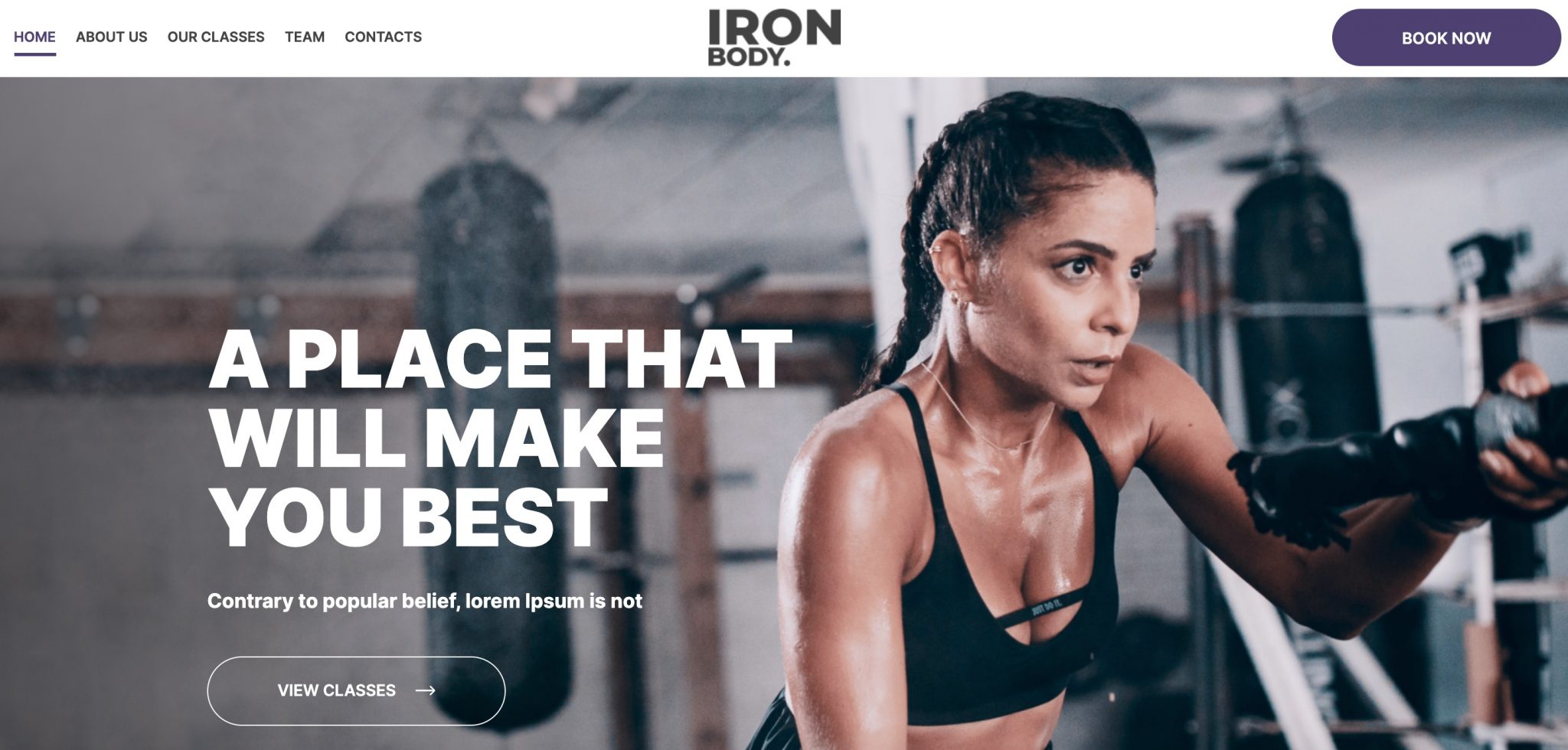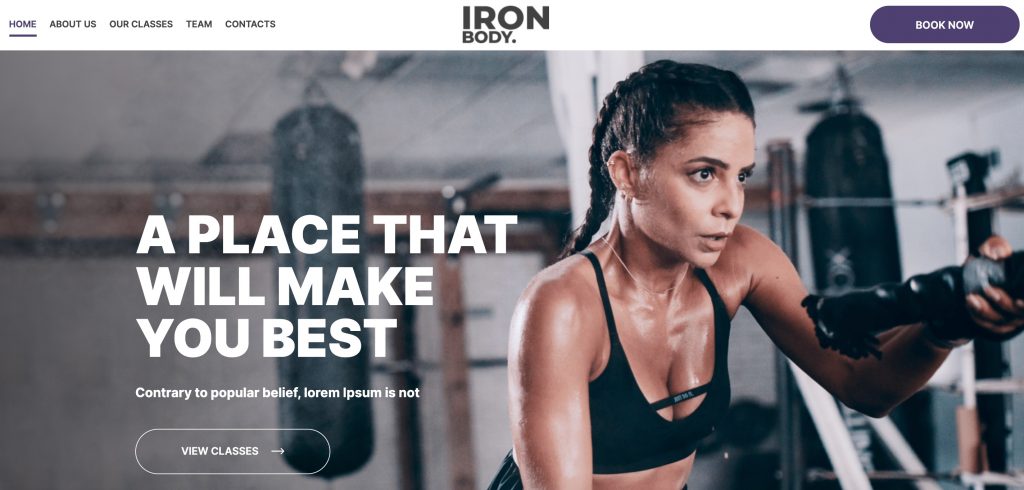 Best for gyms, fitness studios, individual coaching
IronBody is a Gutenix alternative to a coaching & gym website. This Gutenberg skin offers 5 ready-to-go pages with complete design and the needed blocks. The page design includes an eye-catching home banner, well-placed CTA elements, and a price comparison table.
Unlike Yogamo, IronBody does not include the appointment booking functionality.
However, you may install the booking plugin separately. This is how to build a website for fitness instructor with Gutenix. (Elementor & Gutenberg)
Robinson – Medical Template for Gutenberg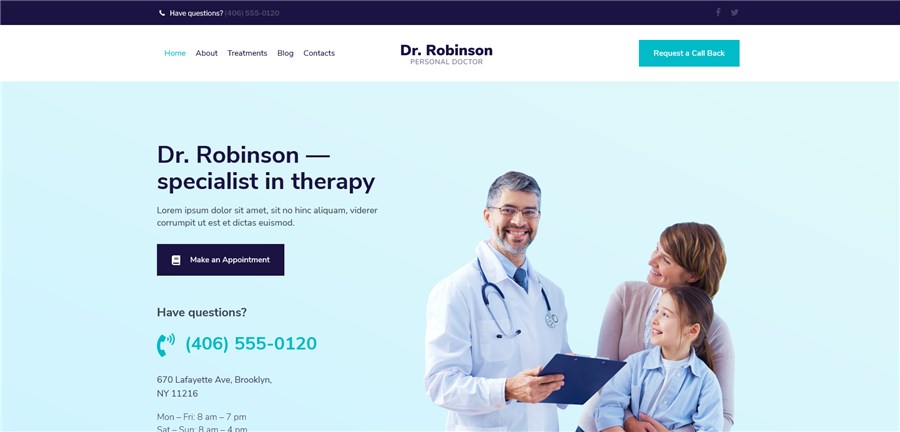 Best for individual medical specialists, medical centers, hospitals, clinics
Robinson is a Gutenberg medical template, which works for all types of healthcare institutions, whether it's a private doctor's office or a broadly directed hospital. The design is clean and neat, with calming colors and accents on the most important information. On top of that, Robinson provides incredible speed and performance.
Best Free WordPress With Gutenberg Themes for Business
It will not be fair to ignore some of the good WordPress business templates in a free segment. These are our top 2 favorites:
School – Free Gutenix Template For Education Websites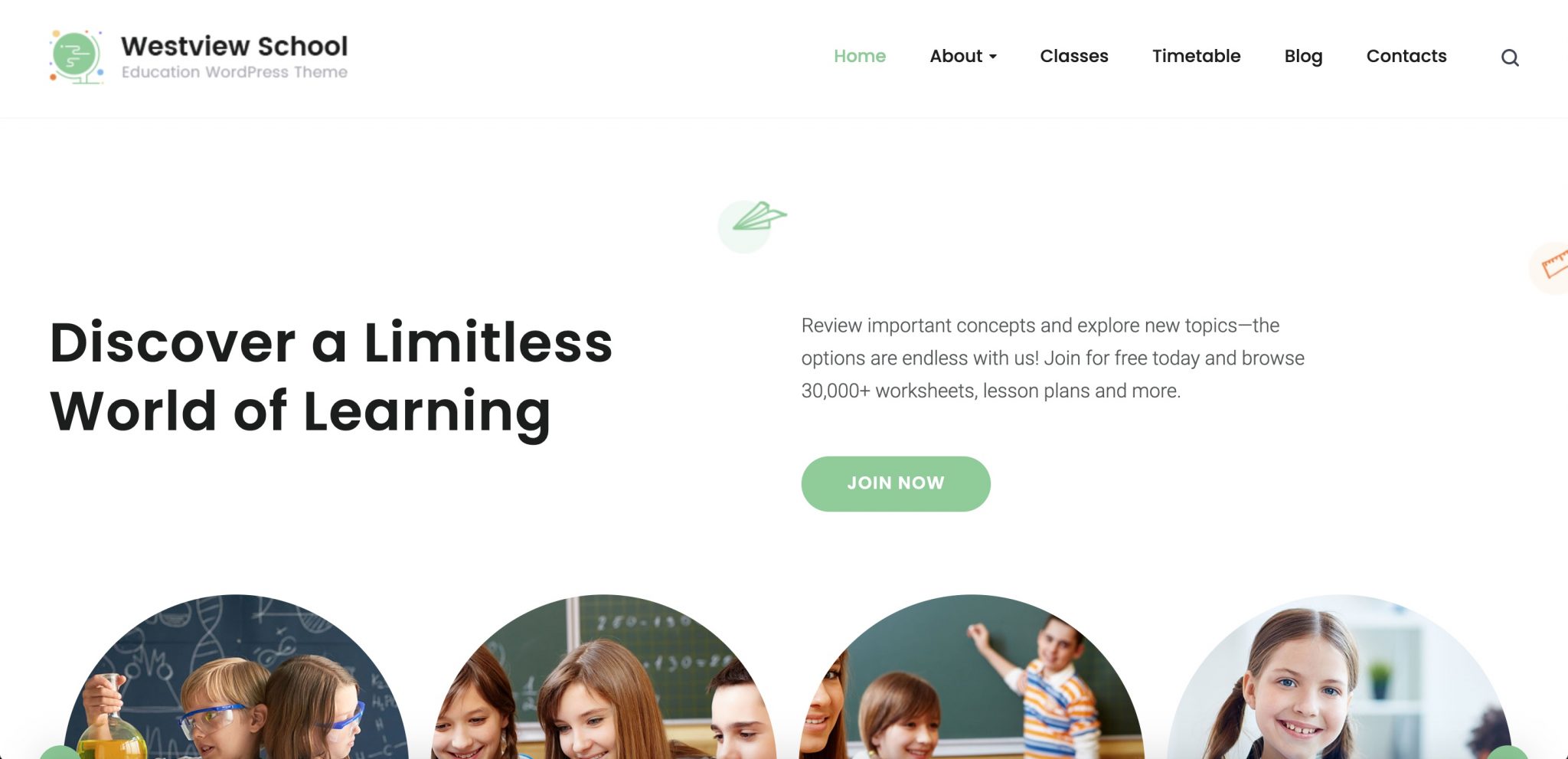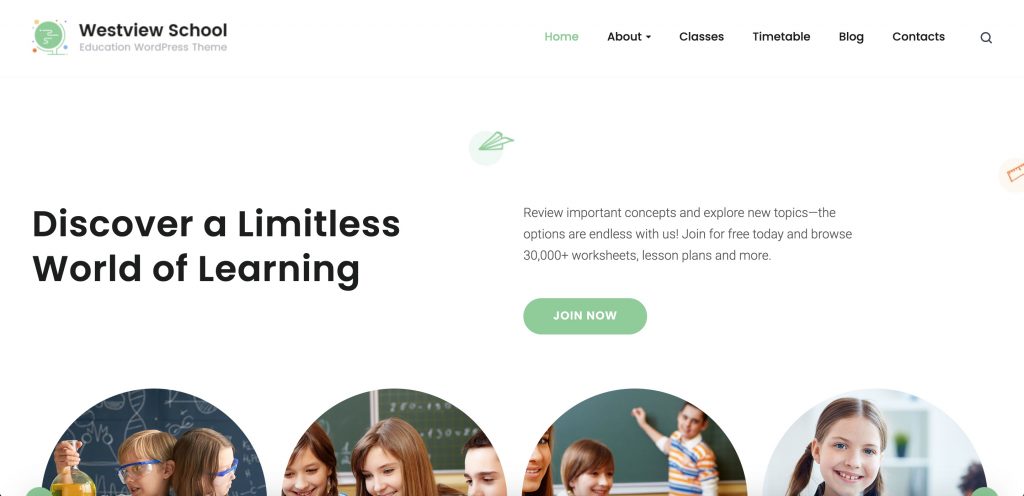 Best for schools, colleges, private educational centers, individual teachers & tutors.
The Scool template is a newly-released Gutenberg template. It's optimized for a sleek online presentation of any educational institution or an individual tutor. The skin comes with a minimalist & clean-looking layout. Thanks to 40+ extra Gutenberg blocks by Getwid, School ensures smooth customization for every user, in spite of its level of expertise. You will be able to easily change the content & styling of existing page elements: timetables, sliders, galleries, posts display, and more.
See also: How to Create a School Website with the Free WordPress Education Theme?
Getwid Base – Free Multipurpose Template for Gutenberg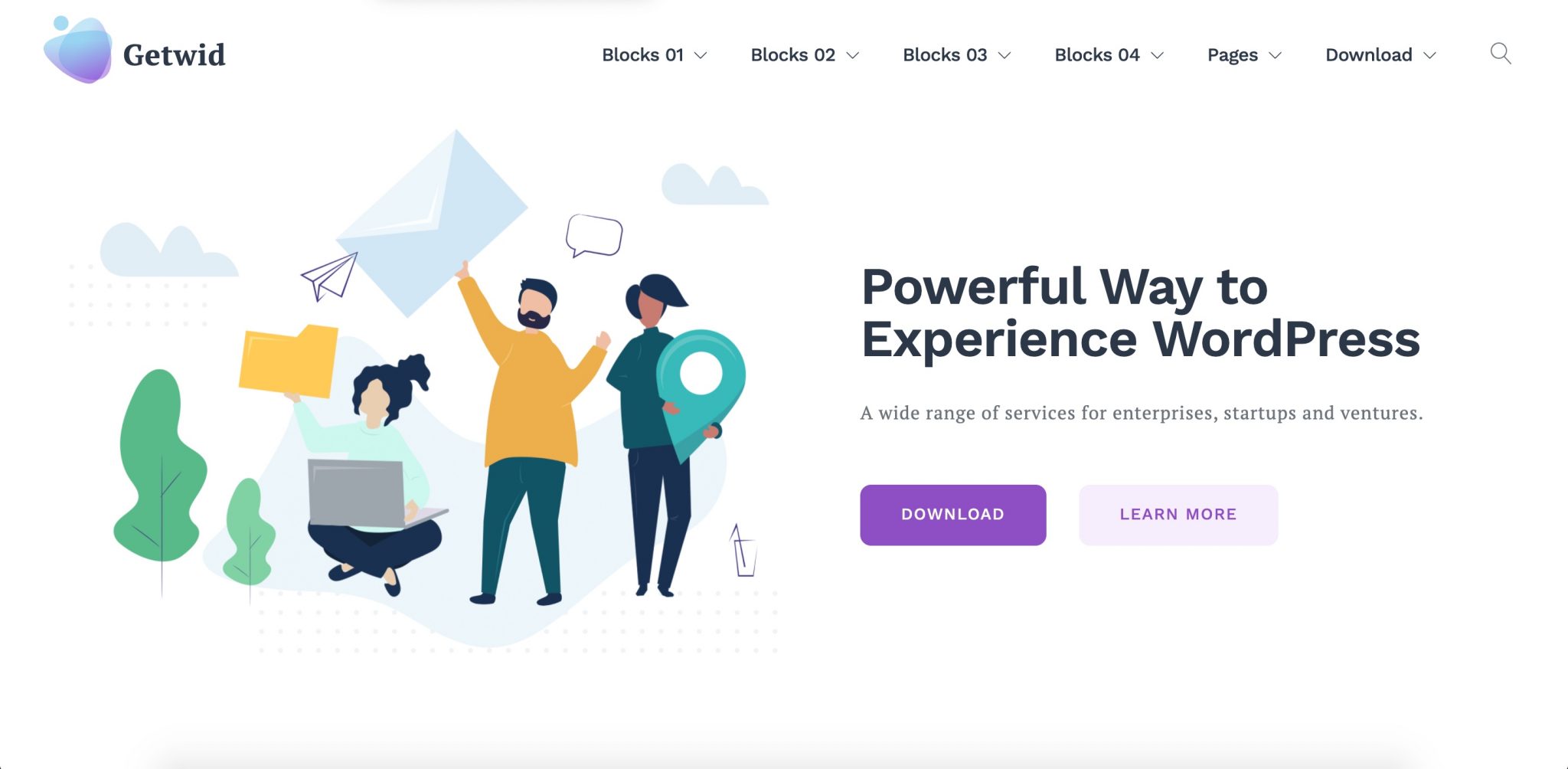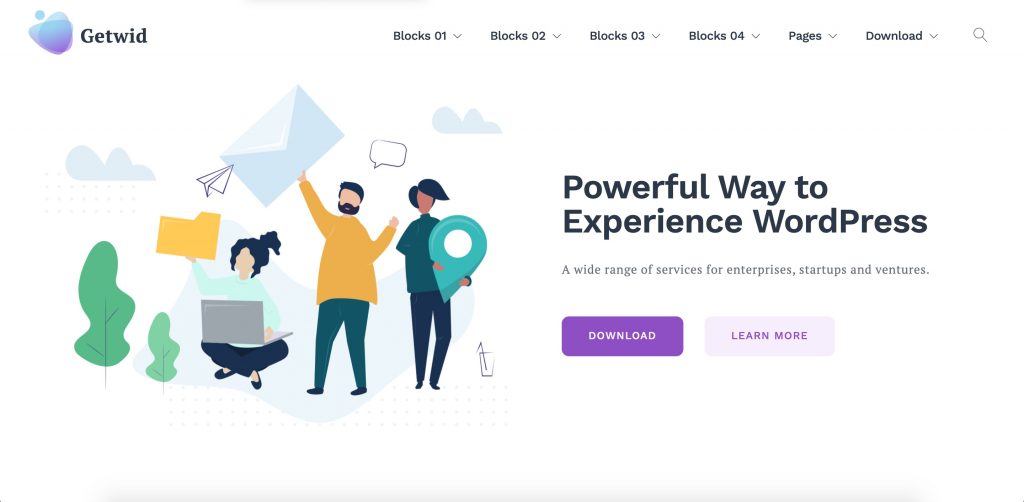 Best for multipurpose use
The only fully-multipurpose Gutenberg theme on our list is Getwid Base. Because of its minimalistic and "spacious" design), Getwid Base works perfectly for all niches. It's free on heavy JS and CSS assets, which ensures the fastest speed of all.
Obviously, Getwid Base is a starter template for the Getwid plugin – an extensive library of 40+ dynamic & static Gutenberg blocks. The plugin gives you a pallet of brand colors and explicit styling options (CSS control included).
The WP block editor has gone through many improvements, so now it's getting more attention among developers. The design and functionality of the best WordPress themes for Gutenberg are as complex as templates made by other page builders.
Meanwhile, this was our small compilation of 12+ WordPress business website templates in both free and premium segments.