Are you going to manage WooCommerce appointments on your WordPress small business website? Since WooCommerce doesn't provide booking features, you need fully-featured software to integrate an online booking system. How to find the best solution in the WordPress ecosystem? In this article, we'll cover the best plugins with their main features!
These appointment booking plugins suit different industries and work with WooCommerce via built-in functionality or a separate extension. Let's come through the top options!
Best WooCommerce Appointments Plugins For Small Businesses
No matter which service-based niche you operate in, you can find a plugin to connect WooCommerce payment gateways and let your customers schedule appointments directly on your website. Let's dive in!
1. MotoPress Appointment Booking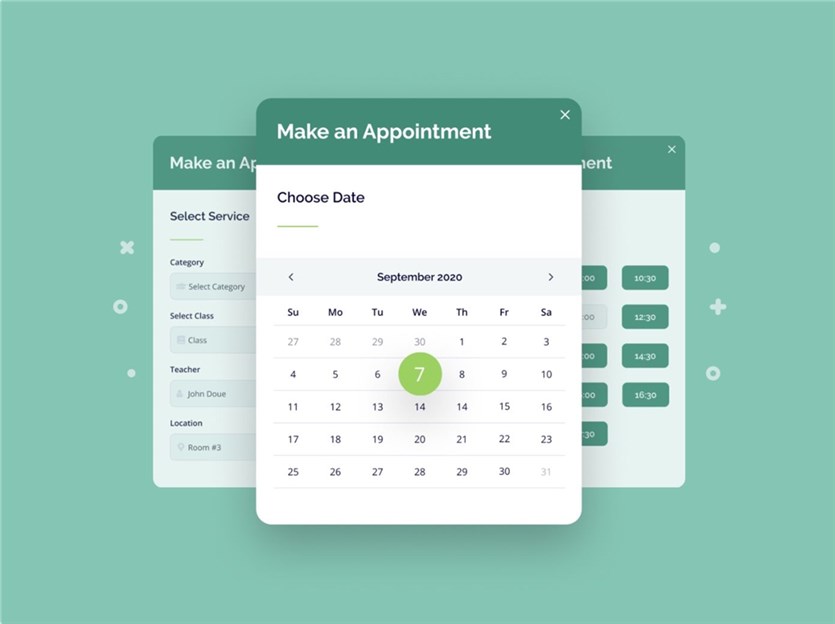 Name
Author
Price
WordPress Appointment Booking
MotoPress
Free version
For a single site – $59
For unlimited sites – $199
The WordPress Appointment Booking plugin by MotoPress stands first in this list as it ensures a step-by-step booking process. It allows customers to select a service, choose the preferred time, and pay for the service on your site.
The plugin works for unlimited appointment bookings, services, and locations. You're allowed to add personal schedules for staff members, set up service duration, and set up appointment notifications. View and manage bookings from the dashboard with no hassle!
When it comes to WooCommerce payment gateways, you can connect them via a dedicated WooCommerce Booking addon.
Key Features:
Built-in PayPal, Stripe, Direct Bank Transfer, or Upon Arrival payment gateways;
Bookings synchronization with an employee's Google Calendar;
Automated email notifications and appointment reminders;
Flexible schedules with days off, breaks, holidays, etc.;
Discount coupon options and deposit payments;
Multiple service booking;
Customer accounts for clients;
A collection of appointment booking themes.
Read Also: How to Integrate WooCommerce Into Your Appointment Booking Business?
2. WooCommerce Bookings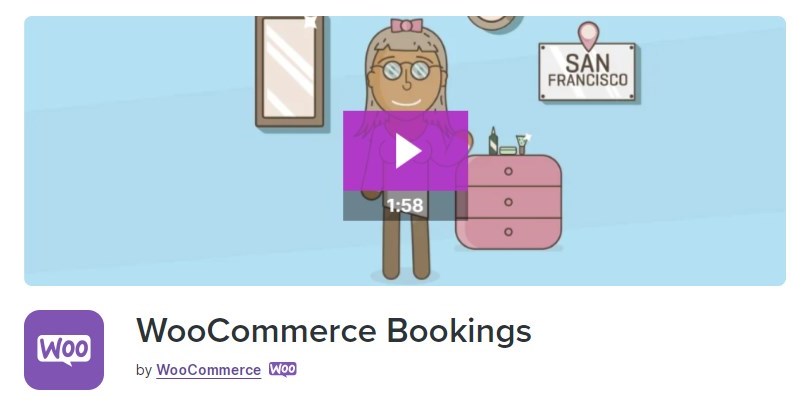 | Name | Author | Price |
| --- | --- | --- |
| WooCommerce Bookings | WooCommerce | $249 |
As the name suggests, the WooCommerce Bookings plugin deals with a WooCommerce bookings calendar. This plugin can be used for one-on-one appointments or multi-person events. You can set up confirmation and reminder settings.
WooCommerce Bookings enables you to view bookings in a calendar and add them from the backend by hand. It's possible to set fixed service duration and block time slots from being booked.
Key Features:
Flexible options for discounts and dynamic pricing;
Syncing bookings to admin's Google Calendar;
Buffer times between bookings;
Minimum and maximum number of participants;
WooCommerce Booking addons for enhanced functionality.
3. WooCommerce Bookings And Appointments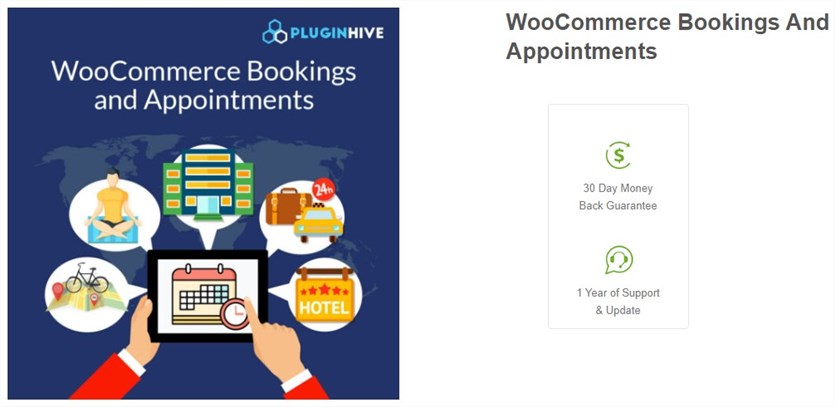 Name
Author
Price
WooCommerce Bookings And Appointments
PluginHive
Single Site – $99.00
5 Sites – $149.00
25 Sites – $259.00
WooCommerce Bookings And Appointments by PluginHive makes it possible to arrange online bookings via a classic calendar and allows users to book multiple appointments in one go. Booking pricing options include flexible pricing rules & settings.
With this plugin, you are free to create staff members, add bookings manually, and customize the calendar design. You take complete control over bookings and payments.
Key Features:
Booking cost and availability management tools;
Email notifications and reminders;
2-way synchronization with Google Calendar;
Booking cancelation and confirmation options;
Flexible booking duration.
4. RnB WooCommerce Booking & Rental Plugin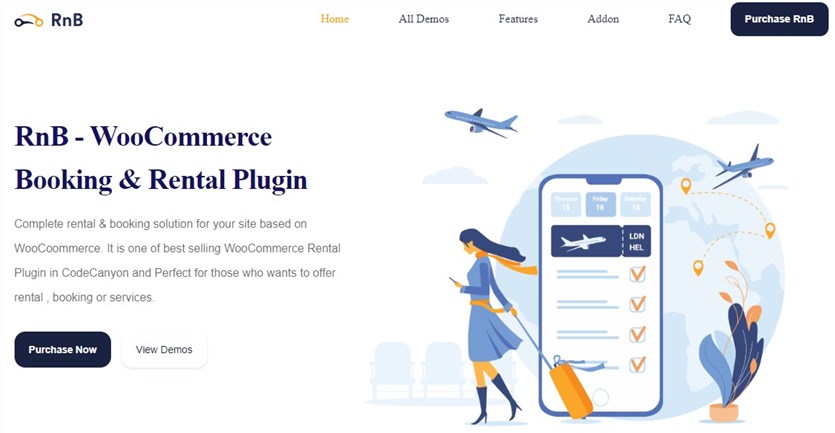 | Name | Author | Price |
| --- | --- | --- |
| RnB | RedQ | $29 |
The RnB plugin is a popular plugin suitable for appointments and equipment rentals. It supports WooCommerce payment gateways and offers a lot of useful settings. For example, you get a flexible pricing system, block booking options, and local & global product settings.
With RnB, you can add discounts, choose a layout, and request a quote. Apply it to manage resources and availability.
Key Features:
Supports unlimited rental items;
Inventory management and attributes;
Integration with Google Calendar;
Custom pricing per service;
Booking rules;
RnB add-ons for extra features.
5. Bookly Pro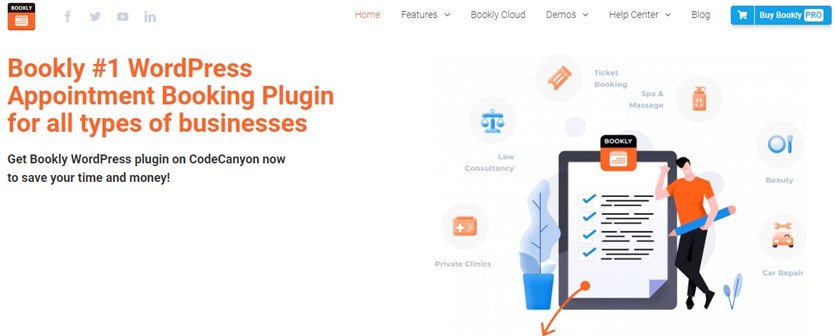 | Name | Author | Price |
| --- | --- | --- |
| Bookly | Nota-info | $89 |
Bookly is packed with such features as a customizable booking form, individual schedules, SMS and email notifications, etc. Bookly is not designed specifically for WooCommerce. However, it ensures a hassle-free connection with WooCommerce gateways.
Bookly unlocks synchronization with Google Calendar and integration with PayPal. Also, you'll be able to track analytics via a built-in functionality.
Key Features:
Supports unlimited bookings, services, and staff members;
Customer base with data about clients;
Integration with Zoom and Google Meet;
Booking export in CSV. files;
A set of premium Bookly add-ons for more functions.
6. Appointments for WooCommerce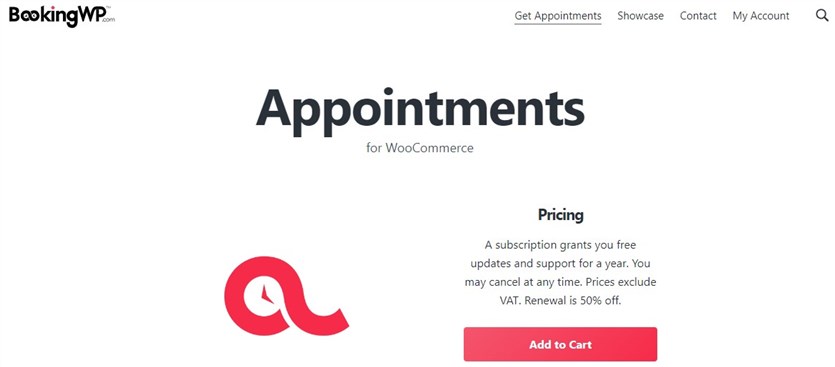 Name
Author
Price
Appointments for WooCommerce
BookingWP
$89 – Single site
$129 – 5 sites
$299 – 25 sites
Built on top of WooCommerce, the Appointments for WooCommerce plugin delivers flexible availability and capacity rules, WooCommerce payment gateways, and 2-way Google Calendar synchronization. 
Staff management implies individual calendars for employees, login options, and the ability to assign employees to appointments.
Key Features:
Custom pricing rules;
Shipping and delivery options;
Additional form fields;
Conversion of timezones;
Buffer times and scheduling windows.
7. Booknetic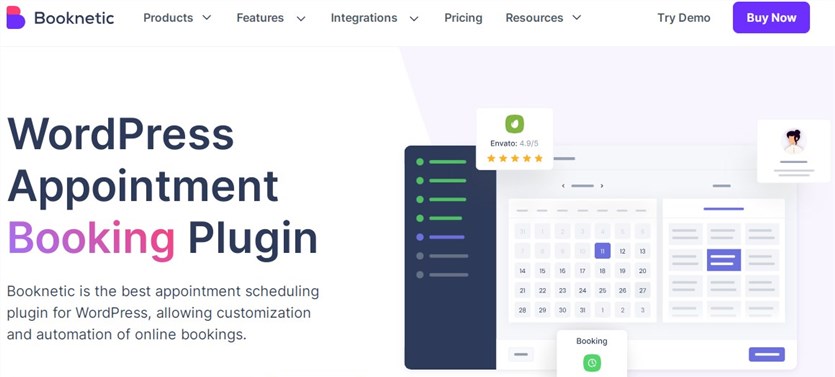 | Name | Author | Price |
| --- | --- | --- |
| Booknetic | fs-code | $79 |
Booknetic supplies you with appointment booking automation tools. They involve customizable booking forms, employees' profiles, payment options, a dedicated dashboard, and more features. Schedules may include breaks, lock-out hours, holidays, etc.
There is a calendar to view and manage bookings. If you choose Booknetic, the WooCommerce integration is provided as a separate add-on.
Key Features:
Multiple services bookable in one submission;
Supports multiple locations;
Recurring appointments;
Optimized for use on mobile devices;
Booknetic addons.
8. YITH Booking and Appointment for WooCommerce
| Name | Author | Price |
| --- | --- | --- |
| YITH Booking and Appointment for WooCommerce | YITH | $ 249.99 |
YITH is designed to help you implement an online booking system for services, houses, rental items, etc. The list of features includes custom booking duration, fixed or dynamic prices, free or paid extra resources, etc.
The YITH Booking and Appointment for WooCommerce plugin equips your website with search forms, useful shortcodes, and customization options. You can set up notifications sent to an admin and customers.
Key Features:
Available for vendors;
Any number of services;
Advanced price rules;
Last-minute discounts;
A control panel to manage bookings;
The ability to add bookings on the backend;
Synchronization with Google Calendar;
Integration with the YITH WooCommerce Deposits/Down Payments plugin.
9. Calendarista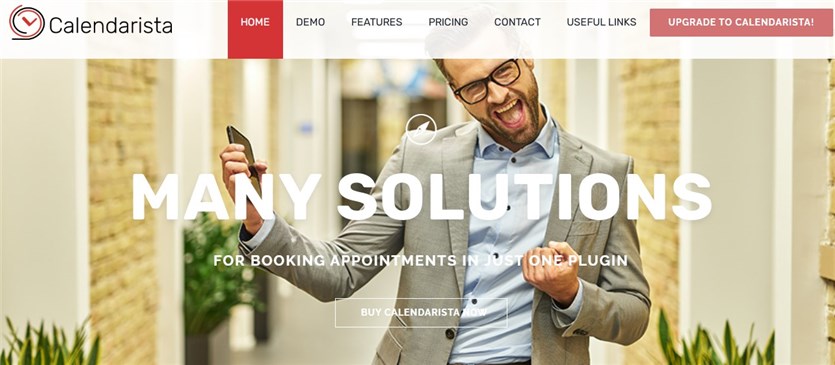 | Name | Author | Price |
| --- | --- | --- |
| Calendarista | Typps | $89 |
Dedicated to online bookings, Calendarista has built-in payment options and supports WooCommerce gateways. Feel free to add single or multiple services, adjust schedules, and set up recurring appointments.
Calendarista is a popular appointment booking solution thanks to its integration with top services and plugins. You can customize email templates, create discount coupons, and add a search form.
Key Features:
Synchronization with Apple Calendar, Google Calendar, and Outlook;
Support for Twilio reminders and Google Maps;
Deposit payments and seasonal rates;
Categorized extra services;
Custom fields for a form;
Bookable multiple dates and packages.
10. Booking & Appointment Plugin for WooCommerce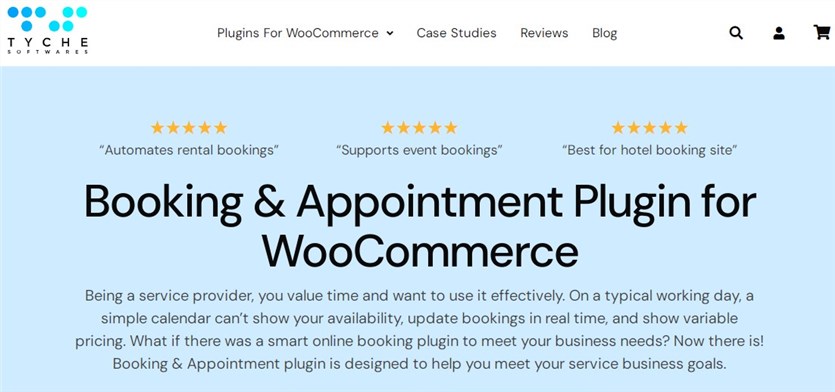 Name
Author
Price
Booking & Appointment Plugin for WooCommerce
Tyche Software
$199 – Single Site
$299 – 5 sites
$399 – 10 sites
The Booking & Appointment Plugin for WooCommerce allows you to enable bookings for products on your store. You'll be able to set up prices, create bookings manually, and display an availability calendar on a website.
With the Booking & Appointment Plugin for WooCommerce, you have access to the selection of resources. They include locations, service providers, extras, etc. Also, the plugin lets you send SMS and email reminders to reduce no-shows.
Key Features:
Compatible with marketplace plugins;
Bookings based on subscriptions;
The ability to approve, reject, and cancel bookings;
Integrations with calendars and CRMs.
11. Pinpoint Booking System WordPress Plugin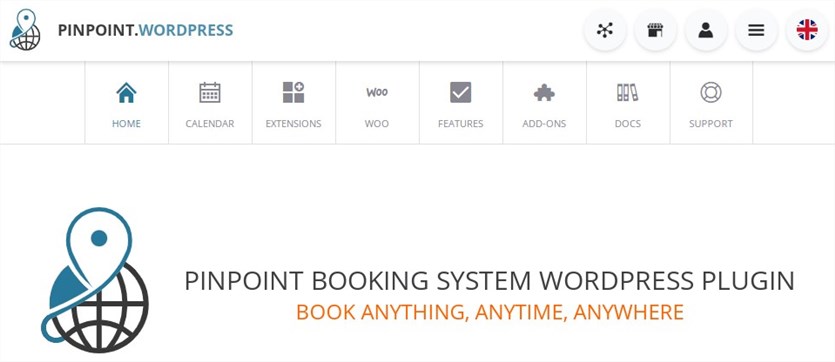 Name
Author
Price
Pinpoint
Pinpoint.World
$70 – 1 site
$140 – 5 sites
$280 – 25 sites
The Pinpoint booking system ensures a fast and smooth process of adding a booking interface to your WordPress site. This WordPress plugin gives you an AJAX-powered booking management calendar where you control reservations.
Integration with WooCommerce leads to embedding WooCommerce features such as shopping carts, various payment gateways, and more.
Key Features:
The ability to add, delete, edit, and cancel bookings from the dashboard;
Synchronization with Google Calendar and Outlook Calendar;
SMS and email notifications;
Full or deposit online payments;
A set of Pinpoint booking extensions.
12. Amelia

| Name | Author | Price |
| --- | --- | --- |
| Amelia | tms-plugins | $299 |
Amelia is one of the well-known appointment plugins for WordPress that feature WooComerce booking integration. There are built-in PayPal and Stripe gateways. This plugin also ships with custom event options and 2-way Google Calendar synchronization.
Amelia offers panels for employees and customers to view and handle their bookings. It supports multiple locations, recurring appointments, and different event calendar views.
Key Features:
Supports multiple employees with personal timetables, services, and categories;
Integration with the Zoom platform;
Specific schedules for particular dates;
Easy-to-use booking calendar;
Appointment extras (bonuses).
Conclusion
So, it was a detailed roundup of the best plugins to set up WooCommerce appointments on a WordPress site. It mostly consists of premium solutions as they come with advanced features.
It's worth noting that some of the plugins need different extensions to enhance your sites with additional functionality and let you enjoy their flexibility at full power.
Last but not least, here is a comparison table for the 5 popular WooCommerce booking plugins:
| Feature | WooCommerce Integration | Free Version | Integrations |
| --- | --- | --- | --- |
| MotoPress Appointment Booking | Addon | Yes | Google Calendar, Google Analytics, Twilio SMS |
| WooCommerce Bookings | Native | No | Google Calendar, WooCommerce addons |
| WooCommerce Bookings And Appointments | Native | No | Google Calendar |
| Appointment for WooCommerce | Native | No | Google Calendar |
| Booking & Appointment Plugin for WooCommerce | Native | No | Google Calendar, Outlook Calendar, Zoom, Twilio, Dokan, WCVendors, Zapier, Fluent CRM |
Disclosure: this article may contain affiliate links for third-party products. If you click a link and later make a purchase, we may earn an affiliate commission that doesn't result in additional charges to you.